slavia-slavialand14.tripod.com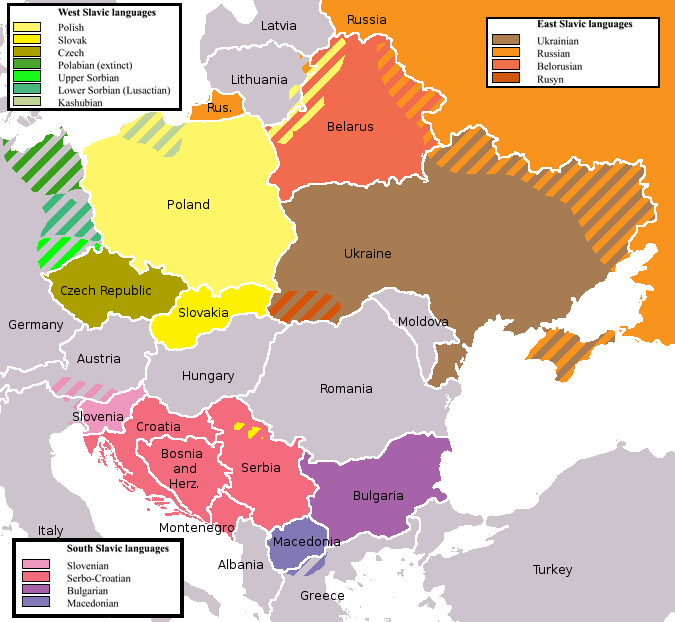 MAP- DISTRIBUTION OF THE SLAVIC PEOPLE BY LANGUAGE
MAP - DISTRIBUTION OF THE SLAVIC LANGUAGES IN EUROPE
BOROWIACY, WARMIAK, MORAVIAN-MORAVANĔ, POMAKS-ПОМАКИ, BANAT BULGARIANS-БАНАТСКИ БЪЛГАРИ, PALITYAN BOGOMIL-ПАЛИТИАНИ БОГОМИЛ, BESSARABIAN BULGARIANS-БЕСАРАБСКИЕ БЪЛГАРИ, BOSNIAKS-BOŠNJACI-БОШЊАЦИ, BOKELS-БОКЕЉИ-BOKELJI, BUNJEVCI-БУЊЕВЦИ, MOLISE CROATS-MOLIŠKI HRVATI, JANJEVCI-ЈАЊЕВЦИ, CARASHEVIAN CROATS-KRASHOVANI-KARAŠEVSKI HRVATI, BURGENLAND CROATS-GRADIŠĆANSKI HRVATI, GORANCI-ГОРАНЦИ, CARINTHIANS-KRANJCI, MOLISE SERBS-МОЛИШКИ СРБИ, MIYAKS-MIJACI-МИЈАЦИ, ТORBESH-TORBEŠ-ТОРБЕШИ, YUGOSLAVS-JUGOSLAVENI-ЈУГОСЛОВЕНИ ..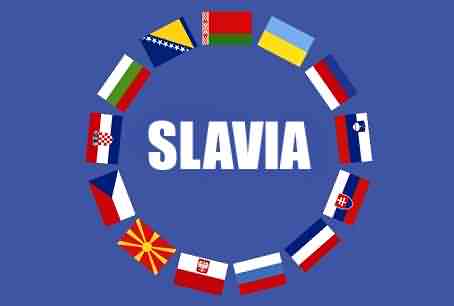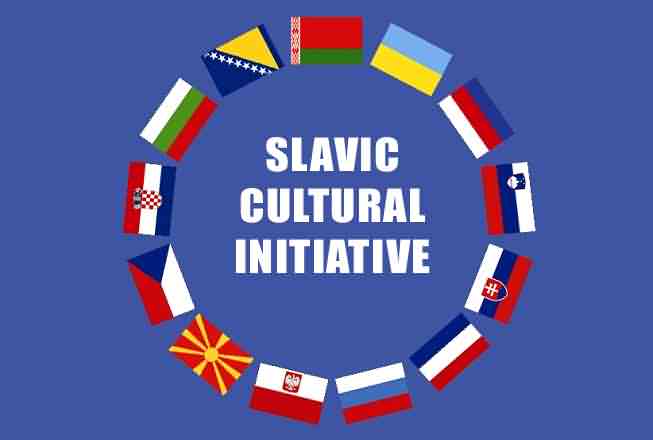 BOROWIACY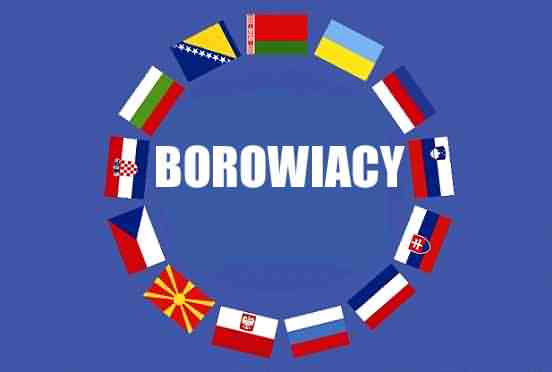 BOROWIACY
WEST SLAVS POLES - BOROWIACY
A Polish ethnic group, the Borowiacy traditionally inhabit the area of the Tuchola forests near Tuchola in Eastern Pomerania.The Kujavian-Pomeranian Voivodship (in Polish województwo kujawsko-pomorskie) is an administrative region or voivodship in central-northern Poland.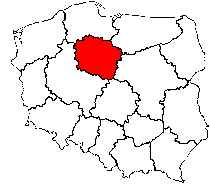 Borowiacy
(polsky)
SŁOWIANIE ZACHODNI .. POLACY .. BOROWIACY
Borowiacy Tucholscy - zwarta etnicznie grupa mieszkańców północno-środkowej części Borów Tucholskich. Główne miejsca zamieszkania Borowiaków to okolice: Czarnej Wody, Osiecznej, Osówka, Szlachty i Śliwic. Borowiacki obszar etnograficzny graniczy z obszarem kociewskim na północnym-zachodzie, z kaszubskim (Zaboracy lub Krebanie) na północnym-wschodzie i krajeńskim (należącym etnograficznie już do Wielkopolski) na południu.
Borowiacy (podobnie jak i inne grupy etograficzne Pomorza) oparli się zjawisku silnej germanizacji na obszarze Pomorza Gdańskiego w XVIII, XIX i na początku XX wieku. Kultywuje się tu nadal swoistą i odrębną kulturę regionalną (pieśni, tańca i gwary).

WARMIAK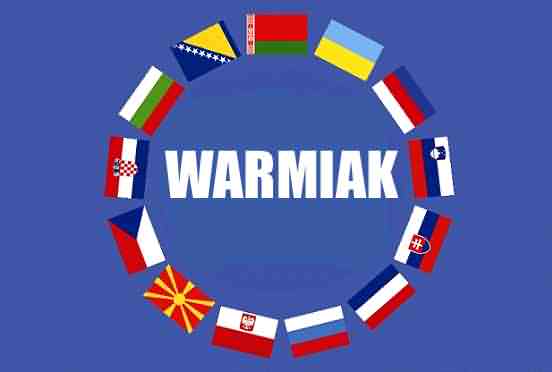 WARMIAK
Warmiak - a Polish ethnic group from Warmia, mostly Roman Catholics.
Between the XIV and XVII centuries, settlers from northern Mazovia moved to former teritories of Old Prussians following their conquest by Teutonic Order.
Since the bishopry of Warmia became part of Poland in 1466, most of Warmiaks remained catholics, while Mazurs became protestants. They populated the areas around Olsztyn/Allenstein.
Warmia i Mazury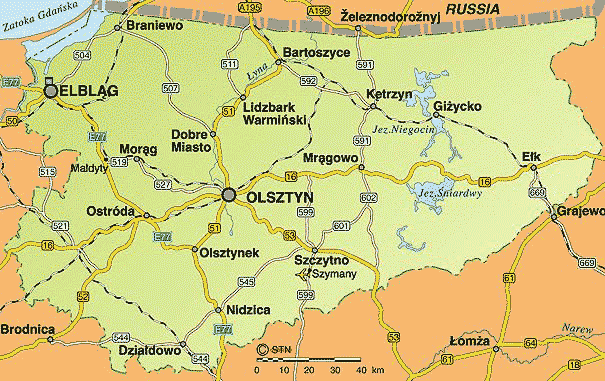 road map

administtrative map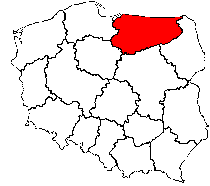 Warmiaks
Warmia i Mazury (officially, the Warmińsko-Mazurskie Voivodship) is an administrative region or voivodship of north-eastern Poland. The capital is Olsztyn.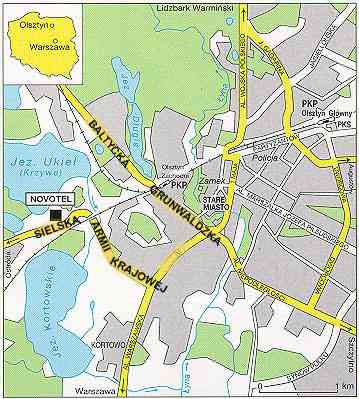 (polsky)
SŁOWIANIE ZACHODNI .. POLACY .. WARMIAK
Warmiak - mieszkaniec Warmii, określenie etnosu. W zasadzie ma odniesienie jedynie historyczne. Współcześnie, ze względu na napływ nowej ludności (po 1945 r.), zatarcie się różnic religijnych między Warmiakami a Mazurami oraz łączne traktowanie regionu warmińsko-mazurskiego, trudno jest mówić o wyróżniającej się grupie ludności wyróżniającej się językiem (gwarą), kulturą czy religią. Wraz z postępującymi procesami globalizacji i równoczesnym renesansem lokalności i regionalności, można jednak obserwować silniejsze akcentowanie przeszłości Warmii i samookreślanie się współczesnych Warmiaków.

MORAVIAN
MORAVIAN
Moravians (Moravané or colloquially Moraváci in Czech) are the Slavic inhabitants of modern Moravia, the easternmost part of the Czech Republic. They speak Moravian dialects of the Czech language or Standard Czech and are nowadays mostly considered a branch of the Czechs, though originally closely related also to the Slovaks (they were part of the same state during the time of Great Moravia).
1,363,000 citizens of the Czech Republic declared Moravian nationality in the 1991 census. However, the number dropped to 380,474 in the 2001 census - the persons previously declaring themselves as Moravians declared themselves as Czechs in this census.
The question of whether Moravians do belong to the Czech nation or not is still alive for some groups in Moravia. Some Moravians declare separate ethnicity in polls. However, the problem has almost no political dimension and for most people the question of a 'Moravian language' or a 'Moravian nation' is purely a part of folklore.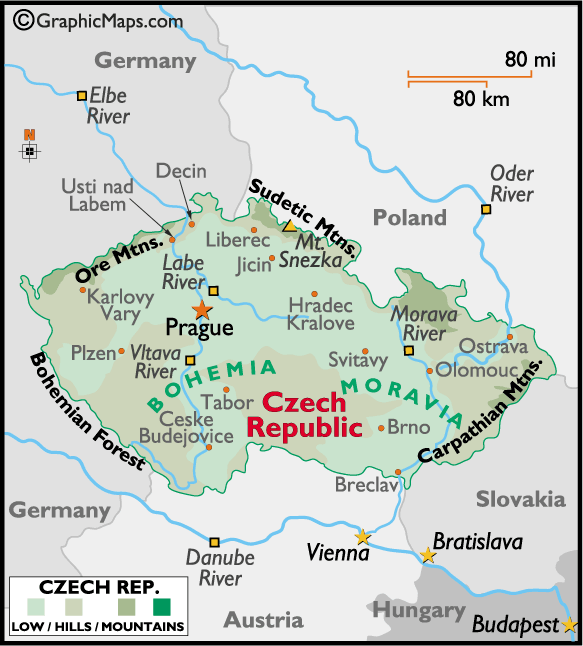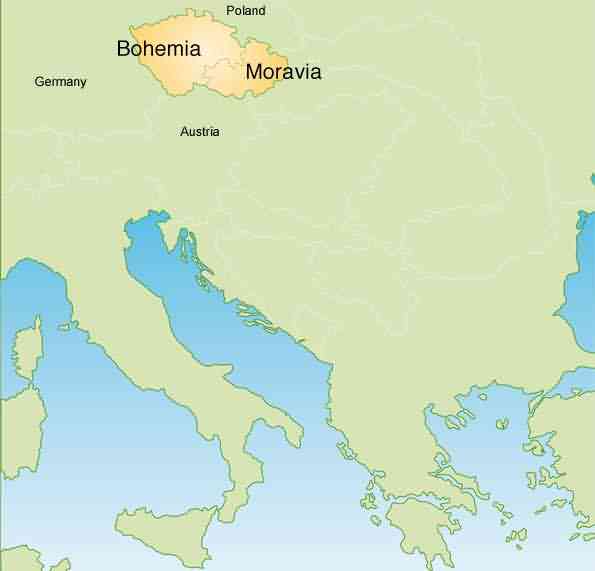 Czech homelands of Bohemia and Moravia
( česky )
ZÁPADNI SLOVANÉ .. MORAVANÉ
Moravané (lidově také Moraváci, zastarale Moravci) je pojmenování obyvatel žijících na území Moravy. Je sporné, zda jde o příslušníky českého národa nebo o samostatný národ.
Otázka národnostní příslušnosti většiny obyvatel Moravy je stále živá. Její počátky sahají především do osvícenství 18. století, kdy generace moravských vzdělanců započala se systematickým přístupem k problematice moravské národnosti, kultury, jazyka a zřetelné svébytnosti, tak, jak se během středověku a novověku formovala ve větším či menším sepětí s ostatními českými zeměmi. Tento vývoj byl završen v 60. letech 19. století, kdy byl moravskou politickou reprezentací přijat státoprávní program Koruny české a došlo tak k vytyčení společných cílů moravských a českých politiků v rámci habsburské monarchie. Zvláštní moravské národní povědomí koncem 19. století téměř zaniklo, ale vynořilo se opět koncem 20. století po pádu komunistického režimu v Československu.

ПOМАКИ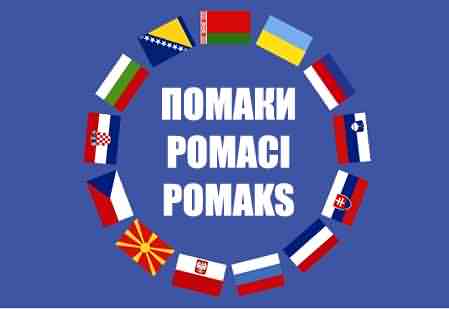 PОMAKS
SOUTH SLAVS .. BULGARIAN .. POMAK
The Pomaks (помаци pomaci) or Bulgarian Muslims (българи мюсюлмани bălgari mjusjulmani), also known locally as Ahryani, are Slavs of the Islamic faith. Their origins are obscure, ut they are generally believed to be Slavs originating from traditional Bulgarian lands who converted to Islam during the period of Ottoman rule in the Balkans. The term can also be occasionally used to refer to the Torbesh. They are settled mainly in Bulgaria, but relevant presences exist also in Greece, Turkey and the Republic of Macedonia.
The origin of the term "Pomak" is uncertain. For the Bulgarian scholars the term could derive either from the Bulgarian word pomagach (помагач), meaning "helper" (the most commonly accepted interpretation), referring to their role as auxiliary units of the Ottoman army; or from pomohamedancheni (помохамеданчени), which means "Islamized". As for Ahryani, a name the Pomaks once used for themselves, this should come from the Old Church Slavonic Agarjani, meaning "infidels", but it might actually derive from the para-religious muslim brethren of the Ahi, very diffuse in the Rhodopes in the Ottoman period, as supposed by the Bulgarian scholar A. Ishirkov. Other versions still derive it from po măka (по мъка), that is "by pain", referring to an alleged forced conversion to Islam; or poturnyak, literally "one made a Turk". None of these etymologies appear to be trustworthy.
The explanations made by Greek authors claim that Pomak comes from the Greek pomax, which means drinker. Whilst Ahryani would derive from the name of a supposedly Thracian tribe, the Agrianoi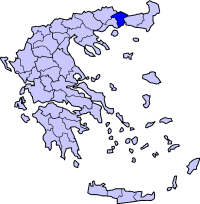 xanthi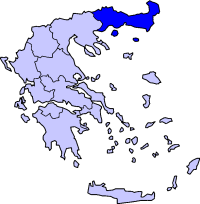 East Macedonia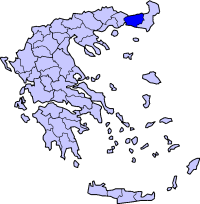 rodhopi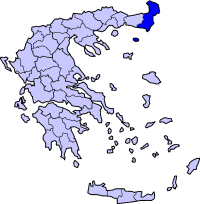 evros
"Pomaks" (ethnic Bulgarian Muslims) - 3%
Pomaks. Ethnic Bulgarian Muslims or "Pomaks" are a distinct group of Slavic descent, whose ancestors converted from Orthodox Christianity to Islam. Most are Muslim, although a number have become atheists or converted back to Christianity.
'Pomaks' is the name of pretty large group of people who live
mainly in Rhodopi mountains (southern Bulgaria, close to the
border with Greece). They have muslim names and speak very
ancient bulgarian language (bulgarian belongs to the group of
slavic languages). Their ancestors were slavic christian people
who accepted muslim religion. This fact took place in 16th and
17th centuries. There were several ways to become muslim that
time, when Bulgaria like all Balkan peninsula, was part of the Ottoman empire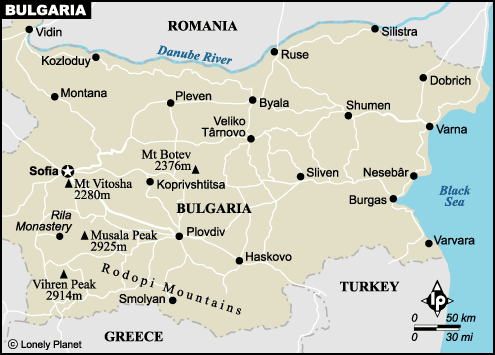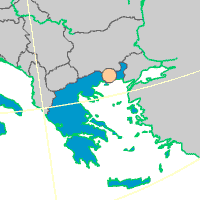 Pomak - Pomatški
Indo-European / Slavic / Southern / Eastern branch
The Pomaks live in Western Thrace (Greece). In the past two decades, a few thousand of them have migrated to the prefecture of Attici. They speak the Rhodope dialect. about 30.000 Pomaks in Greek Thrace, 270.000 Pomaks in Turkey and around 200,000 Pomaks in Bulgaria. However there are a lot more Greek Pomaks who live in Germany and in other parts of Greece -mainly in Athens, or working as builders in islands such as Kos, Rhodes and Myconos.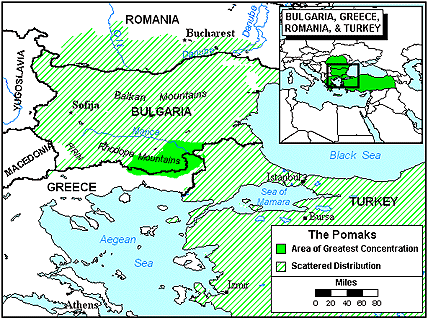 Statistics
The Pomaks of Europe.
Latest estimates from the World Evangelization Research Center.
| | | | | | | | | |
| --- | --- | --- | --- | --- | --- | --- | --- | --- |
| Group Name | Country | Language | 1995 Population | % Christian | Scripture Availability | Jesus Film | Christian Broadcasts | Mission Agenicies |
| Pomak | Bulgaria | rhodope bulgarski | 77,400 | 1% | None | None | None | None |
| Pomak | Greece | pomak (bulgarski) | 94,100 | 0.01% | None | None | None | None |
| Pomak | Romania | rhodope bulgarski | 23,900 | 0% | N.T. | None | Available | None |
( Български )
ЮЖНИ СЛАВЯНИ .. БЪЛГАРИ .. ПОМАЦИ
Помаци е наименование, използвано за обозначаване на няколко общности на Балканския полуостров - в България, Гърция, Република Македония и Турция - които изповядват исляма, и чийто майчин език е българският. Помаците имат българско, гръцко, турско, македонско или албанско самосъзнание. Традиционно до края на 19 век българоговорящите мюсюлмани се смятат за турци.
Най-разпространено е мнението, че помаците са наследници на българи християни, приели исляма по време на османското владичество на Балканския полуостров.
Помаци може да се използва и за мюсюлмански общности, чийто майчин език е различен от български - например гръцки, сръбски или влашки, но тогава на български винаги се пояснява гръцки помаци или сръбски помаци (бошняците).
Съответно за тези сръбски и гръцки помаци се смята, че са наследници на сърби и гърци християни, приели исляма по време на османското владичество.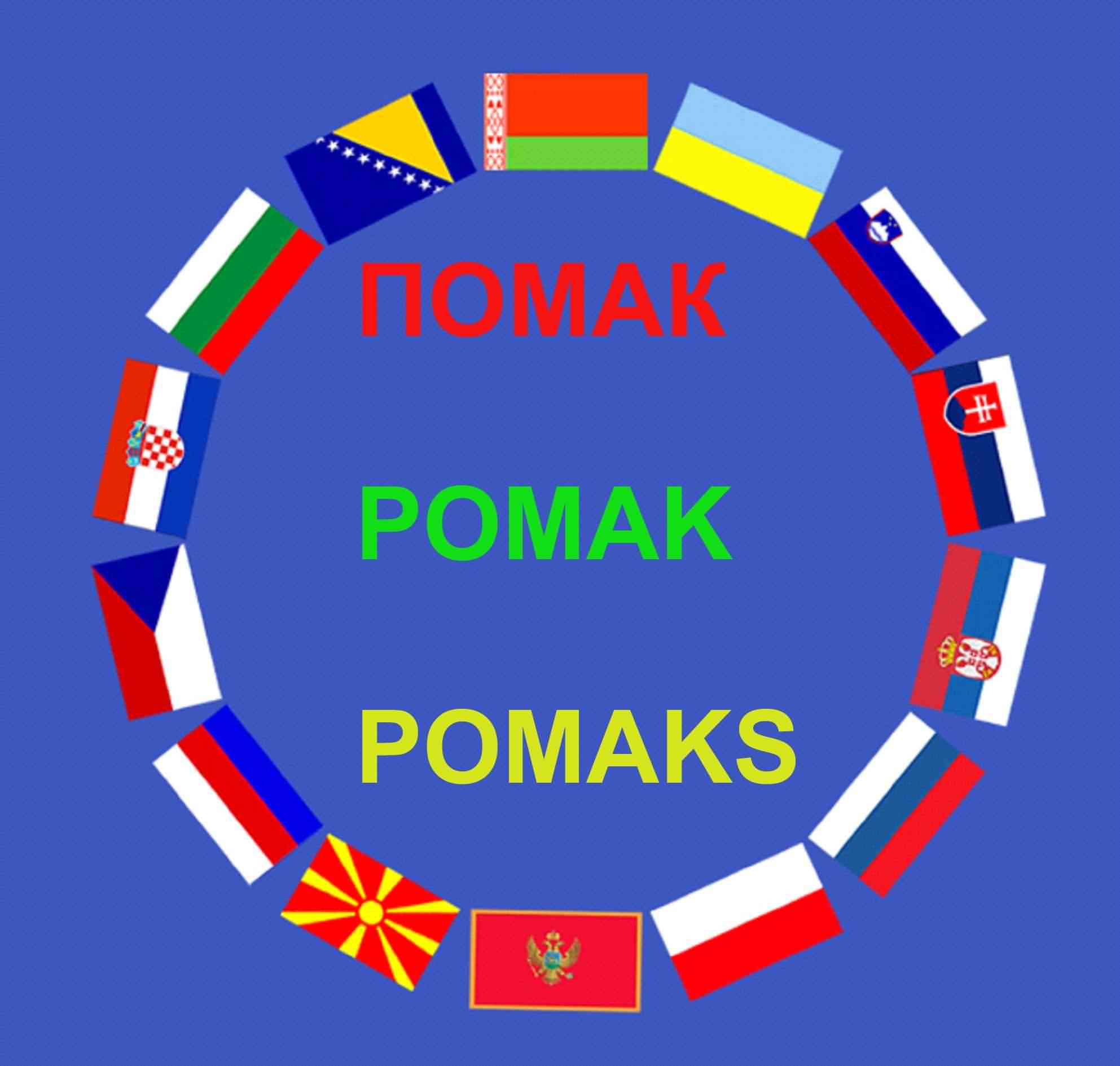 Πομάκοι
Οι Πομάκοι είναι μία πληθυσμιακή ομάδα της Βουλγαρίας και της Ελλάδας τα μέλη της οποίας μιλούν την Πομακική γλώσσα, μία διάλεκτο της Βουλγαρικής, και ασπάζονται τον Μουσουλμανισμό. Ήταν τον 17ο αιώνα μχ όπου εξισλαμίστηκαν.
Η λέξη "Πομάκος" εικάζεται οτι προέρχεται είτε από τα βουλγαρικά помъчен ("βασανισμένος") ή помагач ("συνεργάτης"), είτε από το ελληνικό "Πομάξ" (πότης) εξαιτίας της παλιάς συνήθειας των Θρακών να πίνουν πολύ.
Η παλαιότερη γενιά ασχολείται με την καλλιέργεια καπνού, την κτηνοτροφία, τις οικοδομές και την κουζίνα. Διατηρεί μέσα απο την καθημερινότητα τις παραδοσιακές στολές, τα ήθη και έθιμα των προγόνων της. Η νέα γενιά ακολουθεί τα πολιτισμικά κύμματα της εποχής μας με περιστασιακούς μικτούς γάμους, δυνατή εκπαίδευση και έναν τρόπο ζωής προσαρμοσμένο στα ελληνικά, σερβικά, βουλγαρικά ή τούρκικα δεδομένα
(српски )
ЈУЖНИ СЛОВЕНИ .. БУГАРИ .. ПОМАЦИ
Помаци су етничка група Бугара, која претежно живи у југозападној Бугарској, као и у североисточној Грчкој. Бугарска статистика их не исказује посебно. Већином су исламске вероисповести, а говоре бугарским језиком, који спада у словенску групу индоевропске породице језика.
Етимолошко значење ријечи "помак" највјероватније долази из славенске ријечи /pɔmagatʃi/. Ово се посебно односи на доба Турске владавине, гдје су Помаци означени као колаборативна група.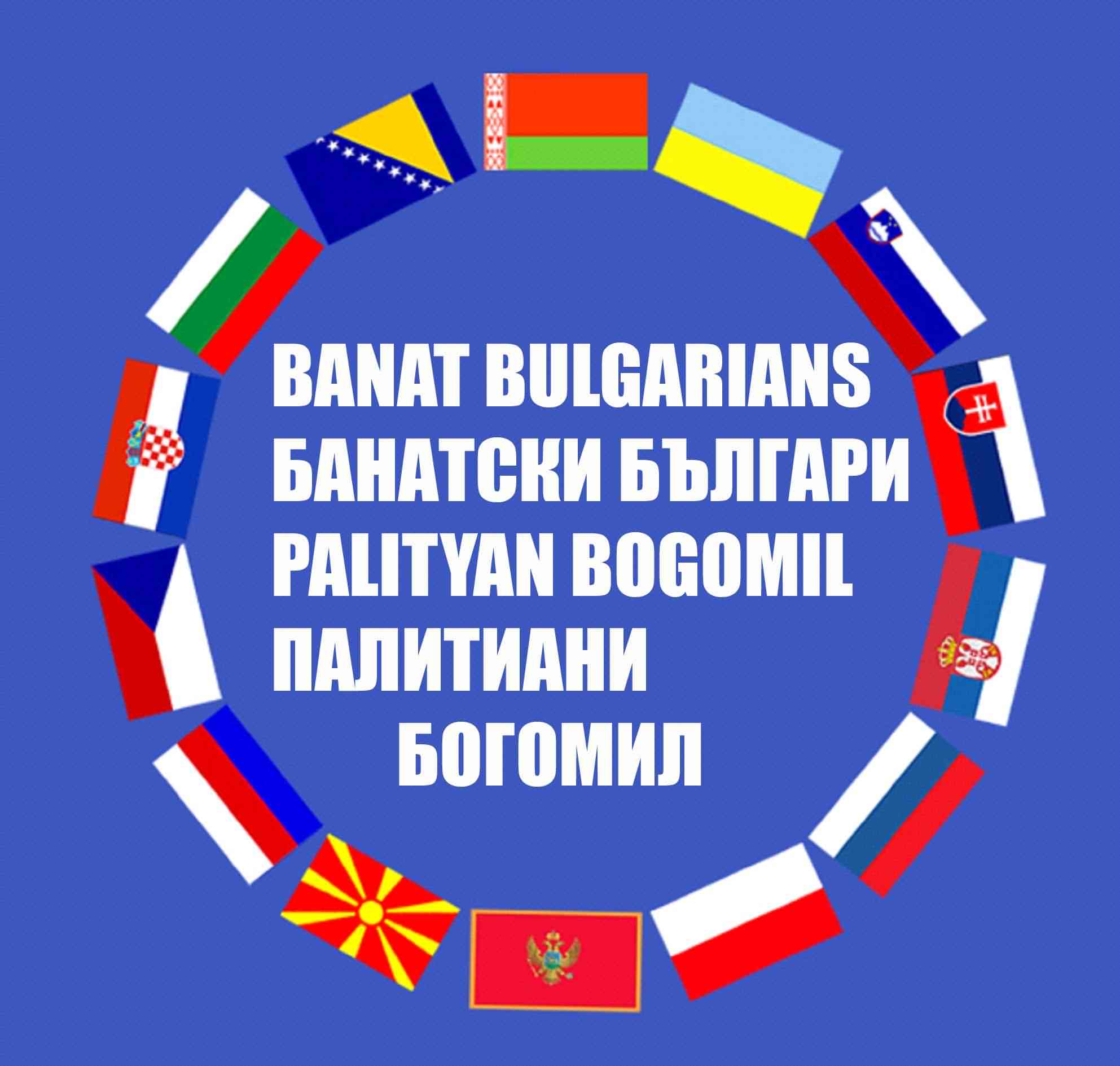 SOUTH SLAVS .. BULGARIAN PALITYAN .. BOGOMILS
The Banat Bulgarians (Bulgaria: банатски българи, banatski balgari, endonym palćene and banátsći balgare) are a Bulgarian minority group living mostly in the Romania part of the historical region of the Banat. They are Roman Catholic by confession and stem from groups of Paulicians and Roman Catholics from northern and northwestern Bulgaria (around Nikopol, Chiprovtsi, Svishtov). The Banat Bulgarians have been inhabiting the region since the 17th century and speak a distinctive codified form of the Eastern Bulgarian vernacular with German, Hungarian, Romania, and Serbo-Croatian lexical influences.
According to one study, there are about 12,000 Bulgarians living in the Romanian and 3,000 in the Serbian Banat. The official Romanian censuses state that 6,500 people of Bulgarian origin inhabit the Romanian part of the region and the 2002 Serbia census recognized 1,658 Bulgarians in Vojvodina, the autonomous province covering the Serbian part of the region. Centres of the Banat Bulgarian population are Dudestii Vechi (Stár Bišnov) and Vinga, as well as Sannicolau mare (Smikluš), Brestea (Bréšća) and the city of Timisoara (Timišvár) in Romania and Ivanovo in Serbia, but also villages like Belo Blato and to a lesser extent today Skorenovac, Konak and Jaša Tomić (Modoš).
The Banat Bulgarians in Romania are represented by the Bulgarian Union of the Banat - Romania, which issues the newspaper Náša glás and the magazine Literaturna miselj.
The resettlement of Bulgarian Paulicians in the Banat began after the unsuccessful Chiprovtsi Uprising against Ottoman rule in 1688 and series of Hungarian-Turkish and Austrian-Turkish wars. They crossed the Danube in a search for better life conditions outside the Ottoman Empire after long negotiations with Austrian rulers, which eventually led to giving them the right to settle in then-Austrian transylvania and the banat, where they founded the villages Star Beshenov or Stár Bišnov (1738), which, inhabited by 3,200 and known officially as Dudesti vechi, is the modern cultural centre of Banat Bulgarians, and Vinga (1741), located north and northwest of Timisoara.
The Banat Bulgarians originally inhabited only the parts of the region north of the Danube, but single groups moved south into Serbia in the middle of the 19th century.
After the liberation of Bulgaria in 1878 and the formation of the Principality of Bulgaria, many Bulgarians from the Banat decided to move back to Western Bulgaria, founding villages like bardarski Geran and Voyvodovo. However, the severe consequences of World War I along with other factors forced some of them to once again migrate to the Banat.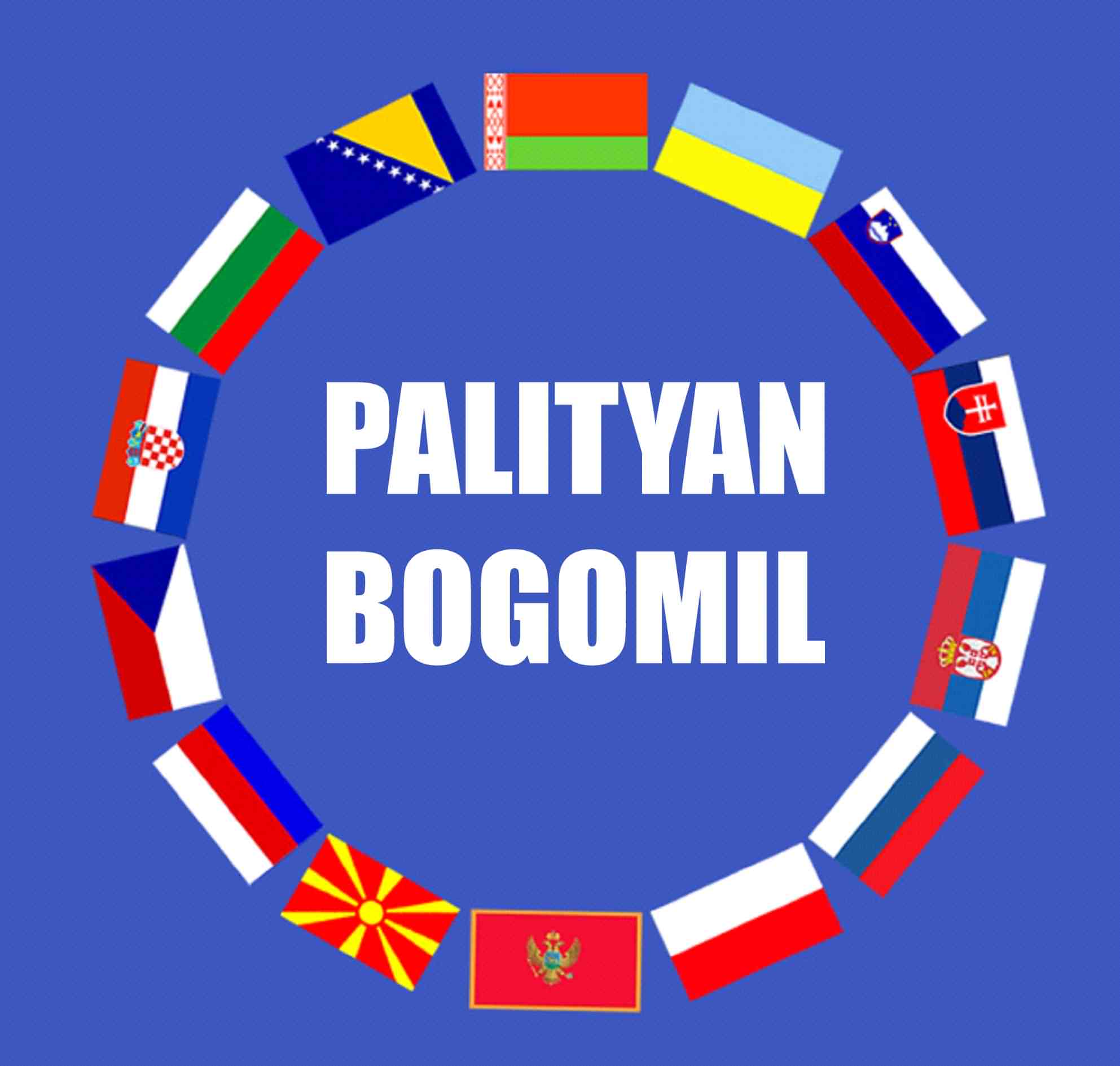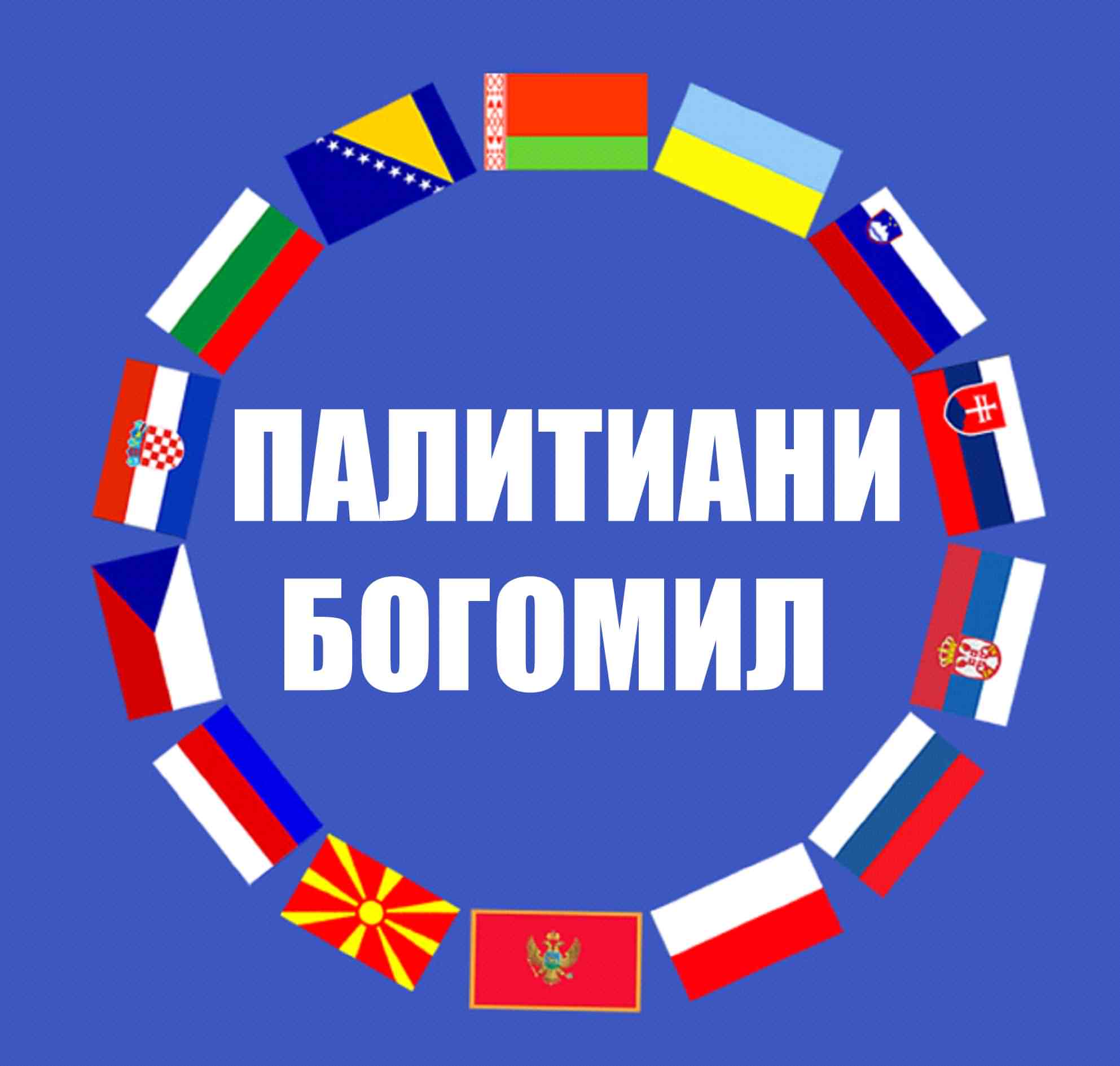 ( Български )
ЮЖНИ СЛАВЯНИ .. БАНАТСКИТЕ БЪЛГАРИ ..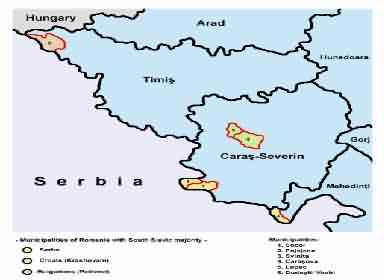 Банатските българи са онези български преселници, живеещите в историческата област Банат. Когато тази област е била в рамките на Абстро-Унгария тези българи са известни с названието "южноунгарски българи". Самите те се наричат помежду си "павликяни" или на местното наречие "павликене", "палкене" и "паулкене", тъй като произлизат от българитепабликяни. В публикации на вестник "Наша глас" също се наричат банатски българи. След Освобождението някои от тях се завръщат в родината и тук околното население започва да ги нарича "банатчани".
След преселването си вАбстрийската империя банатските българи се обособяват в отделна българска етно-религиозна група със свои отличителни характеристики. Тези наши сънародници изповядват католицизма, говорят свой диалект, пишат слатински букви и имат самобитна материална и духовна култура, силно повлияна от местното унгарско, немско, румънско и сръбско население. Ето защо към групата на банатските българи не спадат онези българи-градинари, заселили се в банатските градове в по-късен етап и които саправославни. Към банатските българи не се отнасят и българите-крашовани, които също са католици, но поради продължителното хърватско църковно и културно влияние са се обособили като отделна славянска народност
Банатските българи произхождат от Северна България. Изселването им започва през годините 1689 и1726-1730 година и е в резултат на политическите и стопански условия по българските земи през17 и 18 век. Поради своята католическа вяра тези наши сънародници установяват връзки сХабсбургската монархия и след австро-турските войни им е позволено да се заселят в Банат през1738 и1741 година. Начален тласък на преселването даваЧипровското въстание и преследването на българите католици след потушаването на въстанието.
След поражението на турците приБелград през1688 година Австрия подбужда организирането на въстание от българите католици в района наЧипровец и околностите му. Въстанието не успява и скоро е жестоко потушено от османската власт. Оцелелите българи-католици успяват да преминат въвВлашко, както и в зоните, контролирани от Австрия -Седмиградско иСлавония. Във Влашко те се установяват предимно в област Малка Влахия. Получават известни привилегии от влашките князе, а след1718 година, когато Малка Влахия е присъединена към австрийските владения и българите католици са покровителствани от австрийските власти, като със специален указ от1727 година получават още редица привилегии. Това стимулира и други българи католици, около 300 семейства от крайдунавските павликянски селаБелене,Ореш,Трънчовица,Петокладенци и други в периода1726-1730 да преминат във Влашко.
През1737 година при избухването на поредната турско-австрийска война българите в Малка Влахия формират свое опълчение, готвещо се да настъпи в Османската империя в помощ на австрийците. Неблагоприятния ход на войната обаче води до нахлуването на турски аскер и българите католици са принудени отново да търсят убежище. С изтеглянето на австрийските войски бягат и българските бежанци. Чипровчани, които живеели във влашките градовеКрайова,Ръмник и Брадичени, преминават в Седмиградско и се установяват временно при своите събратя вАлвинц иДева (Румъния), заселили се там през1700 г. Оттам поискали от австрийските власти ново място за заселване. Павликяните от своя страна, които живеели покрайДунав, преминават презОршова вБанат и се установяват временно в крашованското село Рекаш, откъдето също издействали за място за заселване.
През пролетта на 1738 година павликяните получили правото от австрийските власти да се заселят в местността Бешенов. На чипровчани е определена местността Винга. Те обаче остават в Алвинц и Дева, докато не получили уверение, че ще им се потвърдят привилегиите от Влашко. Уверението е получено през1741 година и те се пресе­лват в Банат.
Така банатските българи се установяват в Банат и установяват първите български колонии в земите наХабсбургите. По-късно те се заселват и в други селища на областта, а след Освобождението на България някои от тях се преселват в родината. В новите си селища банатските българи развиват свой бит и култура, като същевременно с това запазват своя български характер и самосъзнание.
До1863 година богослужебен език в църквите на банатските българи е т.нар. илирийски или далматски език, всъщност хървазски език. От 1863 година богослужението се води на банатски български.
Историческата области банат е разположена в Югозападна Румъния, в североизточната част наСърбия и малка част се намира в Южна Унгария. Населението на областта представлява пъстра мозайка от румънци, сърби, унгарци, словаци, хървати, русини, немци, цигани, евреи, и българи като преобладаващото население са румънци, сърби и унгарци.
Банатските българи живеят компактно в двадесетина селища и на двете части на Банат, а именно в Румънски Банат това са селищата Стар Бешенов, Винга, Брещя, Дента, и Телепа (Болгартелеп, дн.Колония булгаря), и Модош,Бело блато, Гюргево, Иваново, Канак и Стари лец, в Сръбски Банат. Освен това банатски българи живеят още в градовете Тимишоара, Арад, Кикинда, Велики Бечкерек, Вършац, Панчево, Сегед, Будапеща и др. Броят на банатските българи в миналото се е движил между 4 000 и 25 000 души. Според известния историк на Банат Сентклараи при заселването е имало 4 600 българи. Днес банатските българи наброяват около 12 000 в Румънски Банат (по официални данни те наброяват 6 500) и около 3000 в Сръбски Банат (по официални данни 1 658).
В България живеят около 6 000 банатски българи в селата Бърдарски геран,Драгомирово, Гостиля, Брегаре и Асеново, в които те се завръщат след Освобождението на България през1878 година. Още около 1000 банатски българи живеят пръснати в Унгария. Така броят на банатските българи е около 22 000 души.
Главният фактор, който е способствал за разселването през различни времена на банатските българи от първоначалните две български колонии в Банат - Бешенов и Винга, е стопанският. Стремежът да се задоволят нуждите от обработваема земя, тъй като броят на на­селението постоянно се е увеличавал, а земята във Винга и Бешенов оставала същата. Разсел­ването се е извършвало като едри земевладелци отстъпват на преселниците по договор земя за обработване (например в Ечка, Лукачфалва, Бело блато), или чрез закупуването и (Канак, Итварнок, Избище, Офсеница), или на земи, давани им от държавата, като ги снабдява със земи на дългосрочно изплащане (Брещя, Дента, Гюргево, Иваново и Телепа). Изселвали се изключително бедни и малоимотни семейства. На новите места преселниците трябвало да си по­строят сами жилища и да преодоляват трудностите по разработването на земите (разчистване на гори, отводняване на реки и блата и др.). Много често природни бедствия, главно наводнения, унищо­жавали току-що построените жилища на преселниците и ги принуждавали да се завърнат в род­ните си места или да започнат всичко отначало. Разселването е било почти непрекъснат про­цес - извършвало се е на всеки 10-20 години.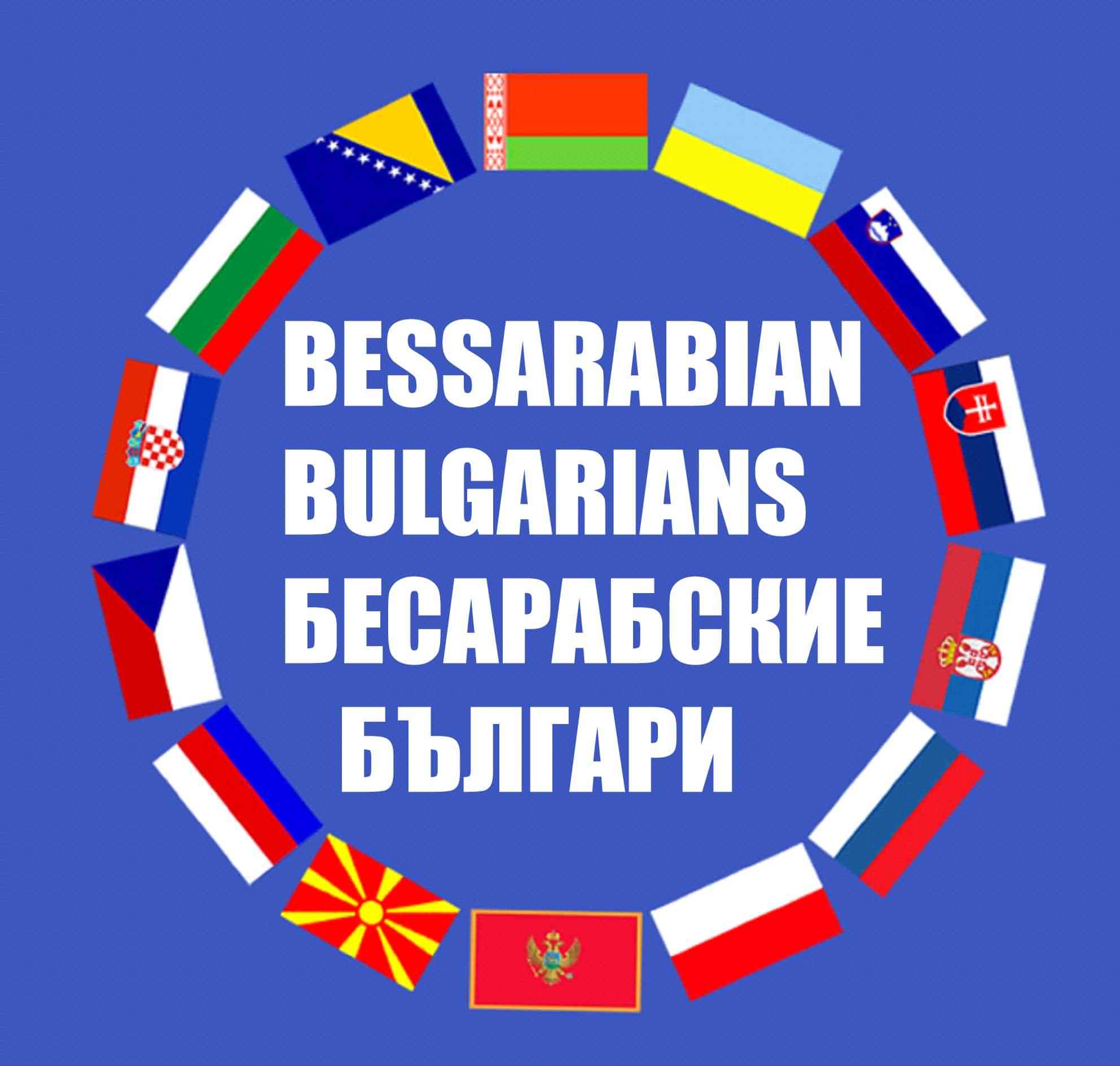 SOUTH SLAVS .. BESSARABIAN .. BULGARIANS
The Bessarabian Bulgarians (Bulgarian: бесарабски българи, besarabski bâlgari) are a Bulgaria minority group of the historical region of Bessarabia, inhabiting parts of present-day Ukraine (Odess Oblast) and Moldova.
In Ukraine, the number of Bessarabian Bulgarians is estimated at over 140,000 (the 2001 Ukrainian Census counted a total of 204,600 Bulgarians, this including an undetermined number of more recent emigrants), being a majority in Bolhras District and also inhabiting other districts of Budjak in the Odessa Oblast in the southern part of the country. Although Ofdessa, the regional capital, is not part of Bessarabia, many Bulgarians have moved there in recent years.
According to the 1989 census in Moldova, 88,419 Bulgarians lived in the republic, including Transnistria. The results of the census held in October 2004 state that there are 65,072 Bessarabian Bulgarians in Moldova (excluding the region of Transnistria), concentrated mostly in the southern parts — chiefly in Taraclia (66% of the population, or 28,500 people) and Basarabeasca, but also in the autonomous region of Gagauzia (5.2% of the population, or about 8,000 people). The share of ethnic Bulgarians in Transnistria is about 2%.
The modern population of Bulgarians settled in the region at the end of the 18th and beginning of the 19th century, at the time of feudal sedition in the Ottoman Empire and after the Russo-Turkish Wars of the period. Particularly strong waves of emigration emerged after the Russo-Turkish Wars of 1806-1812 and 1812-1829. The settlers came primarily from what is now eastern Bulgaria, but many were also descendants of Bulgarians of the western part of the country that had moved east in and before the 18th century. Among the Bulgarians that emigrated to Bessarabia were also a handful of Albanians who also had settled in eastern Bulgaria some time ago.
After arriving in Bessarabia, the Bulgarians founded their own towns, such as Bolhrad (1819) and Comrat, and around 64 villages. In 1856, after the Treaty of Paris, the region of Bessarabia was divided with the southwestern parts, including Bolhrad, Izmail and Kilia, incorporated into Moldova (since 1861 — Kingdom of Romania), and the northeastern ones, centred around Comrat, remained in the Russsian Empire. A Bulgarian gymnasium was founded in Bolhrad on 28 June 1858, which had serious effect on the development of Bulgarian education and culture, and is in fact the first modern Bulgarian gymnasium.
In 1861 20,000 Bulgarians from the Romanian part of Bessarabia moved to Russia, where they were given land in Taurida Governorate to replace the Nogais who had left what was formerly territory of the Crimean Khanate. Those settlers founded another Bulgarian community — the Tauridan Bulgarians.
After the whole region of Bessarabia was incorporated once again within the bounds of Russia in 1878, the process of Russification grew stronger, as many Bulgarian intellectuals returned to newly established Principality of Bulgaria to help set up the Bulgarian state. The Bulgarian minority was deprived of the rights earned during Romanian control.
The whole of Bessarabia was ceded to Romania in 1918 after the Russian Revolution and the collapse of the Russian Empire. In contrast with the previous period of Romanian control, most cultural and educational rights of the Bulgarian minority were taken away which led to cases of armed resistance such as the Tatarbunary Uprising of 1924.
The Molotov-Ribbentrop Pact of 1939 led to the June 1940 Soviet Ultimatum, an invasion of Soviet forces into Bessarabia, and its inclusion in the Soviet Union. Although being an officially accepted minority under Soviet rule, the Bessarabian Bulgarians lost some features of their cultural identity in the period.
A movement of national revival originated in the 1980s, with Bulgarian newspapers being published, cultural and educational associations being established and Bulgarian being introduced into the local schools especially after the dissolution of the Soviet Union and primarily only as an optional, but later as a compulsory subject. The Association of Bulgarians in Ukraine was founded in 1993 and the Taraclia State University, co-funded by the Bulgarian state, was established in the largely Bulgarian-populated Moldovan town of Taraclia in 2004. The languages of education at the university are Bulgarian and Moldovan (i.e. Romanian.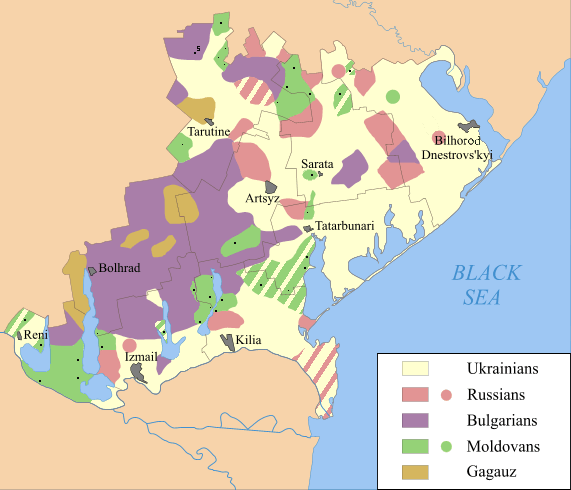 Bulgarian-inhabited areas in BUDŽAK (UKRAINE)
Budjak or Budzhak is the southern part of Bessarabia, now included in the Odessa Oblast (province) of Ukraine. It is a multiethnic region lying along the Black Sea between the Danube and Dniester rivers. The region is bordered in the north and east by Moldova, in the south by Romania, and is connected to the rest of Ukraine by two bridges. The more northerly of the two connections passes for 7.4 km through the territory of Moldova, but is Ukrainian-controlled by an agreement between the two countries.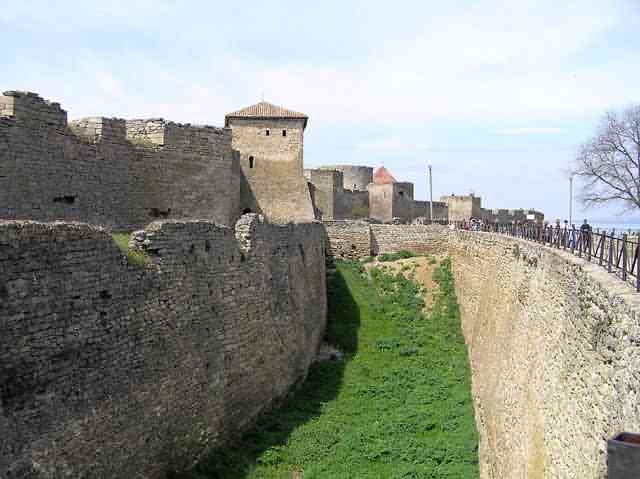 The area between the rivers Prut (west) and Dniester (east), and between Trajan´s Wall (north), and the Danube and Black Sea (south) was at one time called Bessarabia, while Budjak referred to the smaller steppe area of the interior. That is, it excluded the hills in the west and north, and the Danube and Black Sea shore.
The name Budjak was given during the Ottoman domination of the area (1484-1812) and derives from the Turkish word "bucak" meaning "corner" or "triangle", referring roughly to the land between what was then Akkerman (now Bilhorod-Dnistrovs'kyi), Bender (now Tighina), and Ismail.
After 1812, the term Bessarabia came to apply to all of Moldavia east of the Prut River. Consequently, Budjak is also referred to as Southern Bessarabia.
In Ukrainian, Bulgarian, and Russian the region is called Буджак [Budžak], in Romania it is Bugeac, and in Turkish it is Bucak. In English, the area has bee termed variously Budjak, Budzhak, Bujak, Buchak, and even Budziac Tartary.
Besides Southern Bessarabia, other descriptive terms have been applied to the region including Western Odessa Oblast (Західної Одещина Zaxidnoï Odeščyna), Akkermanščyna (Аккерманщина), and Bulgarian Bessarabia (Болгарська Бессарабія Bolgars'ka Bessarabija).
( Български )
ЮЖНИ СЛАВЯНИ .. БЕСАРАБСКИ БЪЛГАРИ
Бесарабски българи са българите, живеещи в областта Бесарабия , в части от днешна Украйна (Одеска област) и Молдова.
По официални данни в Република Молдова бесарабските българи през 1989 г. са 88 419 души. Според преоброяването от октомври 2004 г. в Молдова живеят 65 072 д., но в тази цифра не са включени българите в Приднестровието. Въпреки че българите населяват най-различни селища в Молдова, включително и столицата Кишинев, където са чести смесените бракове, тяхната най-голяма концентрация е в южните части на Молдова - предимно в Тараклийски район (28 500 д. или 66%), но също така и други райони (Кагулски, Леовски, Кантемирски), както и в Гагаузия - Гагауз ери. В Гагаузия живеят близо 8000 българи - малко над 5% от населението.
В украинската част на Бесарабия българите са по-многобройни - над 140 000 души. Те преобладават в Болградския район. Немалко българи живеят и в Тарутински, Арзицки, Саратски, Измаилски район и Татарбунарски район. Те са незначително малцинство в Килийски и Белгород Днестровски район. Макар че областният център Одеса се намира извън границите на географската област Бесарабия, немалко бесарабски българи са се преселили в този град.
Българското етническо присъствие в Бесарабия датира от ранното Средновековие. Начало на днешното българското присъствие в този район обаче е поставено в края на XVIII и началото на XIX век. Българско население се преселва в Бесарабия по време на феодалните размирици в Османската империя и след руско-турските войни в този период. Особено големи са преселническите вълни след войните от 1806-1812 и 1828-1829 г. Въпреки че българските преселници са най-вече от Източна България, сред тях има и западни българи - македонци и шопи, заселили се в Източна България през ХVІІІ век и преди това. Заедно с българите в Бесарабия се заселват дори и няколко албански села, също преселили се от Източна България (до днес част от жителите на с. Жовтневое (Каракурт), Болградски район говорят албански език).
След заселването си на новото място българските колонисти основат свои градове, между които Болград и Комрат, а също и много села, наричани и колонии. През 1856 г., по силата на Парижкия мирен договор Бесарабия е разделена на две. Югозападните части с Болград, Измаил и Килия са включени в състава на Молдова (от 1861 г. - Румъния), а североизточните с център Комрат остават в Руската империя. През 1858 г. с разрешението на молдовските власти е основана Болградската гимназия, която има значително място в развитието на българското образование и култура през Възраждането.
През 1861 г. над 20 000 българи от румънската част на Бесарабия се преселват в Русия и получават земя в Таврия на мястото на напусналите този край ногайци. Преселниците от Бесарабия поставят началото на друга българска общност - таврийските българи.
След като през 1878 г. Южна Бесарабия отново е включена в състава на Руската империя в Бесарабия се засилват процесите на русификация. За това спомага и преселването в Княжество България на голяма част от местните български интелектуалци, които се включват активно в изграждането на българската държава. Извоюваните от българите по време на молдовското (румънското) управление права в областта на образованието и културата са премахнати. Болградската гимназия изцяло придобива облик на руско учебно заведение.
След 1918 г. и краха на Руската империя Румъния завладява Бесарабия. За разлика от предишното румънско управление всички културни-просветни права на българите са изцяло отнети. Това води дори до случаи на въоръжена съпротива от страна на българите. През 1924 г. избухва т.нар. Татарбунарско въстание, потушено с кръв от страна на румънските власти. Междувременно, се засилват тенденциите на откъсване от българите на гагаузите, които до този момент се приемат за говорещи на турски език българи.
През лятото на 1940 г., след спогодбата Рибентроп-Молотов от предишната година, съветските войски навлизат в Бесарабия и я включват в състава на СССР. Като част от новата държава българите преживяват колективизация, Втората световна война (румънска окупация 1941-1944) и последвалия небивал глад и масова смъртност.
Въпреки че са признати официално, в СССР част от бесарабските българи губят някои черти от своята културна идентичност - език и други.
В края на 80-те години сред българите в СССР се заражда движение на национално възраждане. Издават се български вестници, създават се културно-просветни дружества, в много училища започва да се изучава български език - в началото като факултативен предмет, а впоследствие и като задължителна част от учебната програма. След разпадането на Съветския съюз през 1991 г. в някои места в Бесарабия (в Болградската гимназия, в Тараклийския колеж, в с. Чийшия (Огородное, Городное, Украйна и др.) на български език се изучават голяма част от учебните предмети. През 1993 г. в Украйна се създава Асоциация на българите в Украйна, чийто председател Антон Киссе е депутат в парламента на Украйна. През 1995 г. в Кишинев се създава Български теоретичен лицей "Васил Левски".
През есента на 2004 г. в центъра на българите в Молдова, град Тараклия се открива Тараклийския държавен университет, в който официалните езици на обучение са български и молдовски (румънски). Този университет се съфинансира от българската държава.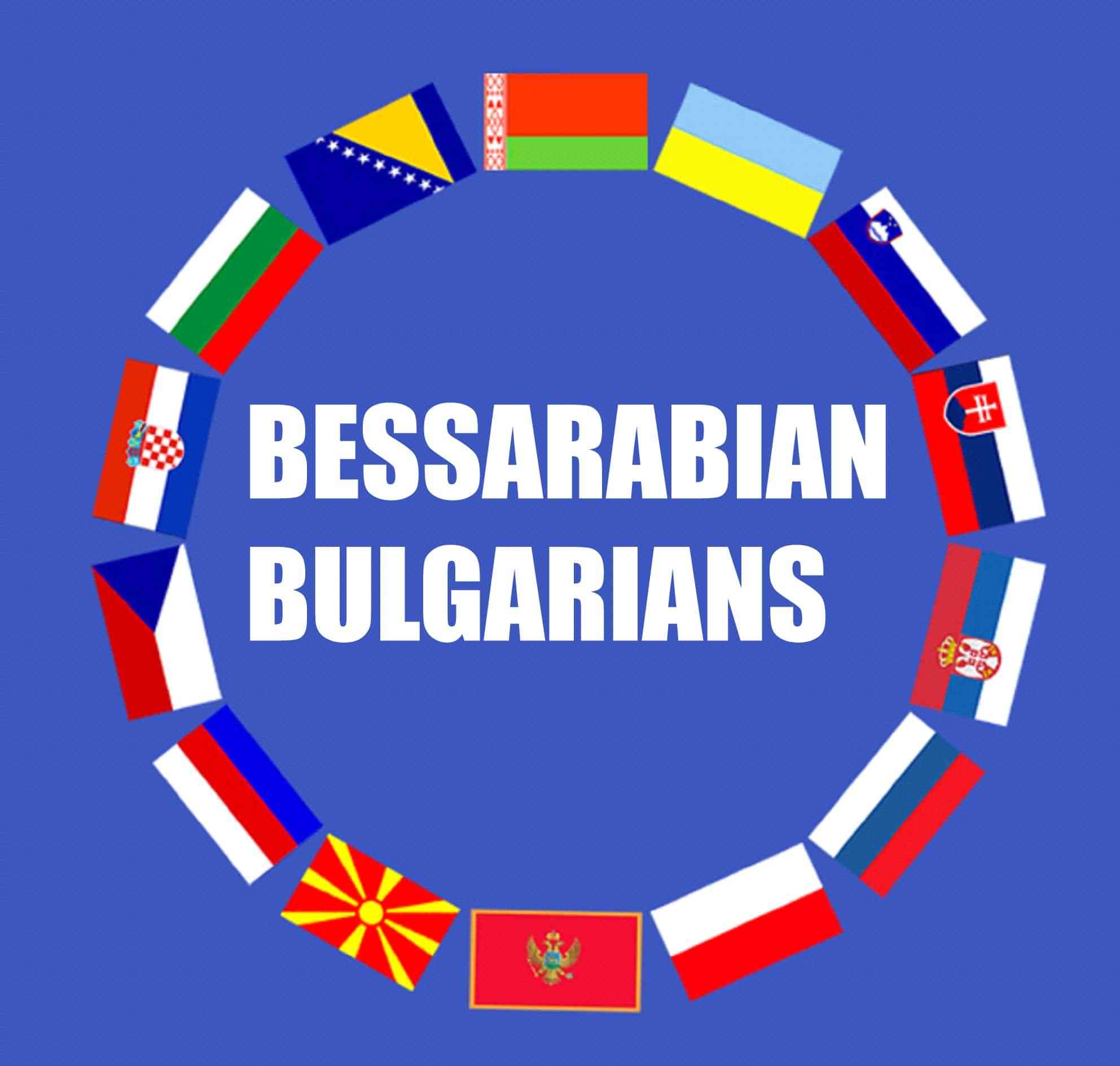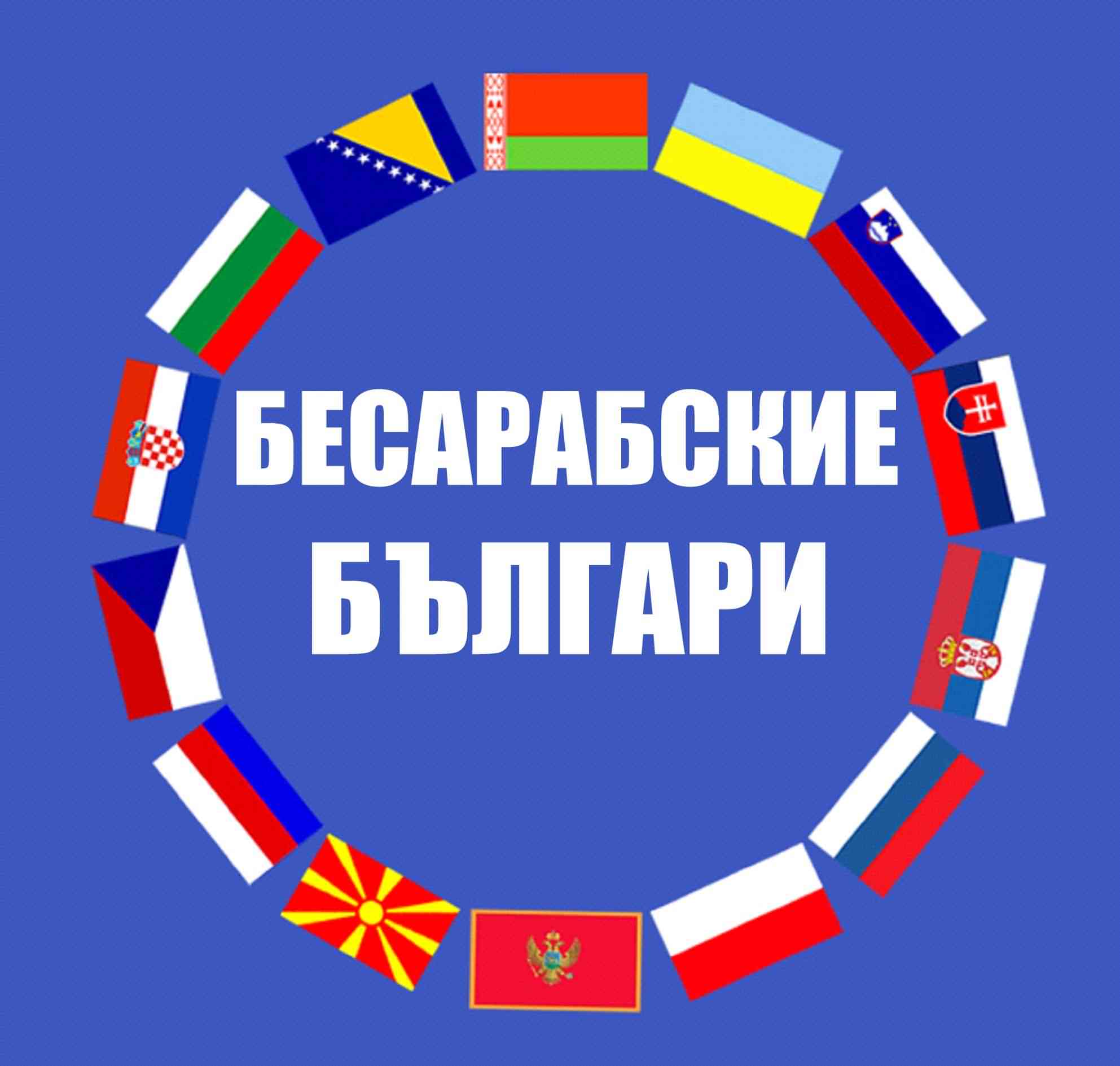 БОШЊАЦИ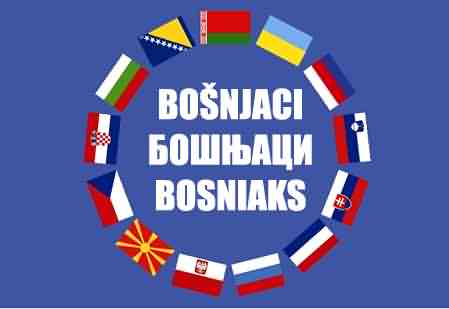 BOŠNJACI

EAST SLAVS .. SERBS AND CROATS .. BOSNIAKS
Bosniaks (natively: Bošnjaci), previously known as Ethnical Muslims of Yugoslavia, are SLAVS who were converted to Islam during the Ottoman period (15-19 centhury) Bosniaks are named after Bosnia, the westernmost Balkan region held by the Turks. Most Muslim inhabitants ofBosnia and Herzegovina declare themselves ethnically Bosniak, and also some Muslims of Serbia and Montenegro (in the Sandžak region). Note that other Muslims of the Balkans aren't Bosniaks; rather, they'reAlbanians and Turks.
There are conflicting claims on how the population in Bosnia was converted to Islam. A large segment of Bosnian population at the time were members of an indigenous Bosnian Church (krstjani, "Christians") and were considered heretics by both theRoman Catholic Church and the Orthodox Church, and they are said to have willingly embraced Islam. Some of the converts may have been Bogomils or Patarenes.
Bogomilism is the Gnostic dualistic sect, the synthesis of Armenian Paulicianism and the local Slavonic Church reform movement in Bulgaria between 950 and 1396 and in the Byzantine Empire between 1018 and 1186.
Basil the Physician († 1118) or (Vasiliy Bogomil) was the Bogomil leader burned at the stake by Patriarch Nicholas III of Constantinople and Byzantine Emperor Alexius I Comnenus. Basil had tried to convert Alexius to Bogomilism.
Many Christian children became Muslims by getting forcibly enrolled as Janičari, into the Ottoman army. Janissaries, however, had no right to marry until 1566, and before and after that were used throughout the Ottoman Empire; their descendants do not comprise a major part of Bosniak population.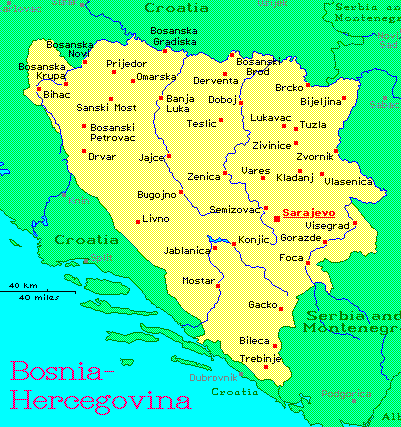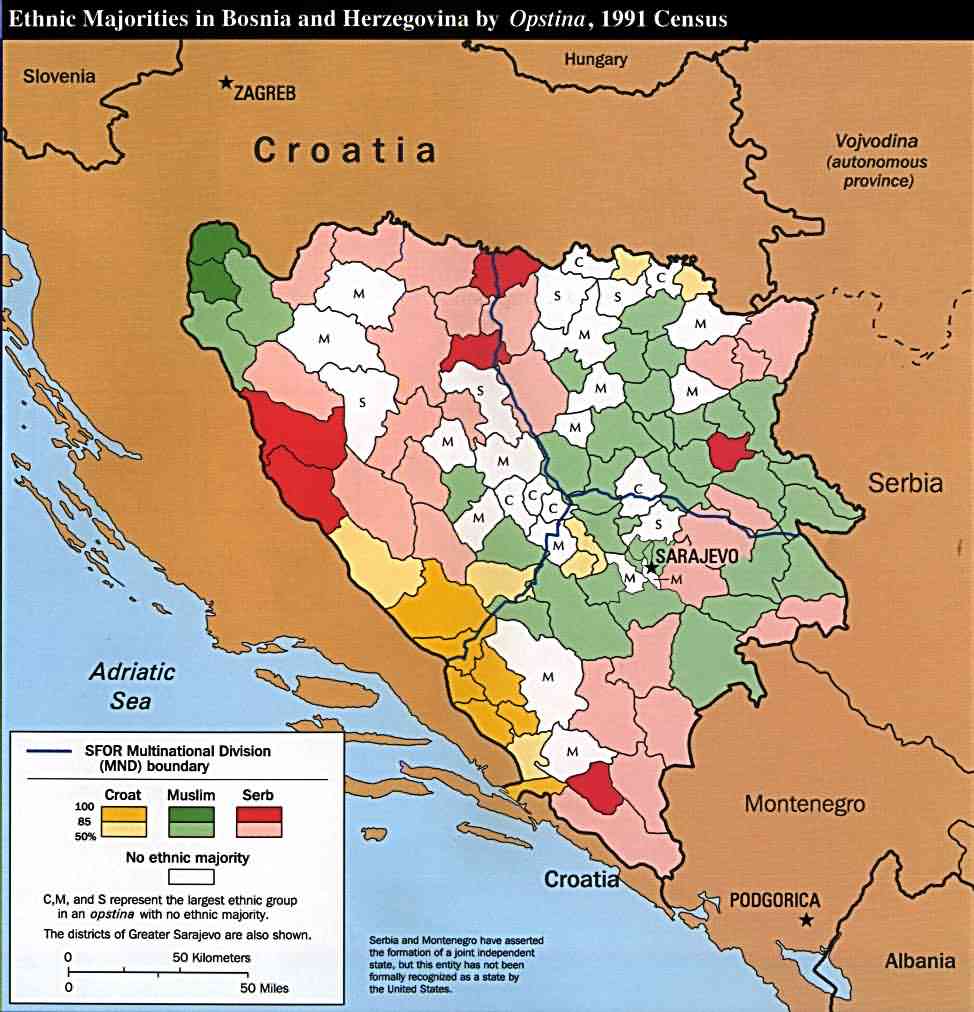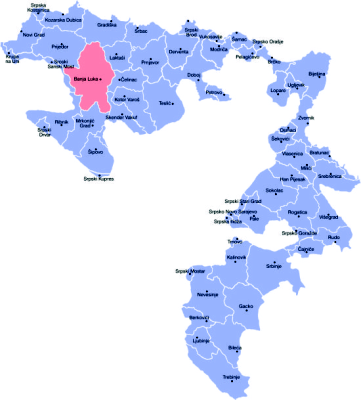 Republic Serpska Republika Srpska Република Српска
(Bosanski - Hrvatski)
JUŽNI SLAVENI .. ( SRBI, HRVATI, 'BOGUMILI' ) .. BOŠNJACI
Bošnjaci su Južnoslavenski narod, nastanjen uglavnom u Bosni i Hercegovini, kao i u Srbiji i Crnoj Gori. Ima ih oko 3 milijuna, od toga oko 2 milijuna u Bosni i Hercegovini, velik broj iseljenih Bošnjaka živi u Turskoj približno 350,000. Pripadaju islamskom civilizacijskom krugu, a potječu od islamiziranoga pučanstva srednjovjekovne Bosne, kao i susjednih država i područja koja su bila dulje vremena pod turskom upravom (Srbija, Crna Gora te Hrvatska-poglavito Lika, Slavonija i Dalmacija.
U prošlosti su svi Slaveni vjerovali u mnoštvo bogova, baš kao i stari Grci i Rimljani. Pod pokroviteljstvom vrhovnog boga Peruna, Slaveni su imali bogove za sve prirodne elemente, kao i za ljubav, ljubomoru, sreću, tugu. Činjenica je da su starogrčka i starorimska mitologija mnogo poznatije od staroslavenske mitologije i danas je teško objasniti zašto je to tako, vjerovatno su stari Grci i Rimljani imali naprednije kulture od nas Slavena. Pojavom kršćanstva, mnogi Slaveni prihvataju monoteizam i postaju pravoslavci ili katolici.
U predturskoj Bosni i Hercegovini, mnogi stanovnici prihvataju vjerovanje dualističke, gnostičke sekte takozvanih Bogumila. Bogumilstvo je bilo jeretički pokret kod kršćana koje se pojavilo u Bugarskoj, a naziv je dobilo po bugarskom svećeniku Vasiliju Bogomilu, koji se smatra osnivačem sekte.
Vasilij Bogomil je čitav svoj život posvetio rasprostranjenju bogumilskog učenja. Godine 1110, na dvoru vizantijskog kralja Aleksija I Komnina bilo je izvršeno razobličenje i istraga o bogumilskom učenju. Neki od onih koji su bili okrivljeni ukazali su pod teškim mukama na svećenika Vasilija, ili popa Vasilija, kao na vođu sekte, koji je pri tome imao u svom najbližem okruženju dnanaest najbližihih i najvjernijih sljedbenika koji su se nazivali apostolima. Kad je čitava sekta bila razobličena i uhvaćeni najvažniji ljudi, car Komnin je zaželio da se upozna sa svećenikom Vasilijem koji je tada bio već u dubokoj starosti.Vasilije se dugo opirao od kontakta sa carem, ali ga je car uspio ipak ubijediti da samo želi da se pobliže upozna sa njegovim učenjem. Car Aleksije je uspio namamiti starog Jeresijarha u svoje odvojene odaje gdje je zajedno sa svojim bratom sevastokratorom Isaakom htio čuti od Jeresijarha 'najzavjetnije tajne bogumilstva'. (Jeresijarh od grčkog slova hairesis -učenje i slova arche -vlast, dakle Jeresijarh u slobodnom prevodu osnivač ili glava Jeresa).
U isto vrijeme kad je Vasilije počeo govoriti, za zavjesom je bio sakriven carski pisar, tačnije 'skoropisac', a u susjednoj odaji su bili pritajeni predstavnici duhovenstva sa tadašnjim patrijarhom Nikolom III i predstavnici carskog sinklita. Carski Sinklit je bio neka vrsta izabranog savjeta, ili savjeta izabranih, sastavljenog od imućnijih i viđenijih ljudi carstva. Kad se svećenik Vasilije izgovorio, Car je otvorio vrata pritajenima a carski pisar je pročitao naglas svim prisutnima ono što je zapisao po Vasilijevom priznanju. Vasilije Bogumil je bio spaljen zaživo i uz veliku pompu jer se čak i pod takvom smrtnom presudom nije htio otkazati od svoga učenja. Spaljivanje je bilo veoma rasprostranjen oblik smrtne kazne u to vrijeme jer se smatralo da se tako ne proliva krv, a oganj pročišćuje dušu od grijeha.
Bogumilstvo se ipak proširilo Balkanom i bilo je izraženije u Bugarskoj, Makedoniji, jednom dijelu Srbije i jednom dijelu Hercegovine. Bogumilsku sektu nisu priznavali ni zvanični Vatikan ni zvanični Konstantinopolj, odnosno Vizantija. Bogumili su bili žestoko presljedovani i proganjani od oba centra kršćanstva. Stefan Nemanja je na primjer uništio pokret 'poluvjeraca' u srpskoj državi oko 1172-1180 godine. Sa padom Balkanskog poluotoka kao i padom Bosne i Hercegovine pod okupaciju Otomanske imperije, Bogumili dobijaju neočekivanog zaštitnika. Otomanska imperija nalazi u Bogumilima svoje saveznike u provođenju politike 'divide et impera' što znači 'zavadi pa vladaj', i Bogumili masovno prelaze u islamsku vjeru.
Izvori o Bogumilstvu i Bogumilima su dovoljno protivorječni, i isto je tako danas teško dokazati koliko je procentualno pravoslavaca, katolika ili bogumila prihvatilo islamsku vjeru u vrijeme okupacije Bosne i Hercegovine kao i cijelog Balkanskog poluootoka od strane Otomanske imperije. Dokazano je i neosporno da su današnji Bošnjaci direktni potomci islamiziranih pravoslavaca, katolika i takozvanih Bogumila, to jest sljedbenika bogumilskog učenja. Isto tako treba vjerojatno napomenuti barem, da su mnogi islamizirani Slaveni prošli kroz period takozvanog »kriptokršćanstva« ili »dvovjerstva«, to jest, kada su neki od njih već preuzeli drugu vjeru a još uvijek štovali običaje stare vjere.
(српски )
ЈУЖНИ СЛОВЕНИ .. ( СРБИ, ХРВАТИ, 'БОГУМИЛИ') .. БОШЊАЦИ
Бошњаци, јужнословенски народ, који претежно живи у Босни и Херцеговини, где чини релативну етничку већину од 44%, према задњем попису становништва из 1991. У Федерацији Босне и Херцеговине, једном од два ентитета, који чине Босну и Херцеговину, Бошњаци чине око 73% становништва. Бошњаци су претежно исламске вероисповести, а потичу од исламизованих Словена(Срба и Хрвата) средњовековне Босне. Њихов језик је данас у Федерацији Босне и Херцеговине службено признат под именом босански језик, док Република Српска, Србија, Хрватска и Црна Гора за овај језик користе назив бошњачки језик. Језик којим говоре Бошњаци је скоро исти српском и хрватском језику, јер у себи има нешто више позајмљеница из арапског и турског језика.
Бошњака укупно има око 2.484.000, од тога у Босни и Херцеговини 1.968.000, у Србији, (претежно у Санџаку) 136.087 и у Црној Гори 63.272.
У прошлости су сви Слoвени веровали у мноштво богова, баш као и стари Грци и Римљани. Под покровитељством врховног бога Перуна, Слoвени су имали богове за све природне елементе, као и за љубав, љубомору, срећу, тугу. Чињеница је да су старогрчка и староримска митологија много познатије од старославенске митологије и данас је тешко објаснити зашто је то тако, вероватно су стари Грци и Римљани имали напредније културе од нас Словена. Појавом хришћанства, многи Словени прихватају монотеизам и постају православци или католици.
У предтурској Босни и Херцеговини, многи становници прихватају веровање дуалистичке, гностичке секте такозваних Богумила. Богумилство је било јеретички покрет код хришћана које се појавило у Бугарској, а назив је добило по бугарском свештенику Василију Богомилу, који се сматра оснивачем секте.
Василиј Богомил је читав свој живот посветио распрострањењу богумилског учења. Године 1110, на двору византијског краља Алексија I Комнина било је извршено разобличење и истрага о богумилском учењу. Неки од оних који су били окривљени указали су под тешким мукама на свештеника Василија, или попа Василија, као на вођу секте, који је при томе имао у свом најближем окружењу днанаест најближих и највернијих следбеника који су се називали апостолима. Кад је читава секта била разобличена и ухваћени најважнији људи, цар Комнин је зажелио да се упозна са свештеником Василијем који је тада био већ у дубокој старости. Василије се дуго опирао од контакта с царем, али га је цар успио ипак убедити да само жели да се поближе упозна са његовим учењем. Цар Алексије је успио намамити старог Јересијарха у своје одвојене одаје где је заједно са својим братом севастократором Исааком хтео чути од Јересијарха 'најзаветније тајне богумилства'. (Јересијарх од грчког слова хаиресис -учење и слова арцхе -власт, дакле Јересијарх у слободном преводу оснивач или глава Јереса).
У исто вриеме кад је Василије почео говорити, за завесом је био сакривен царски писар, тачније 'скорописац', а у суседној одаји су били притајени представници духовенства са тадашњим патријархом Николом III и представници царског синклита. Царски Синклит је био нека врста изабраног савета, или савета изабраних, састављеног од имућнијих и виђенијих људи царства. Кад се свећеник Василије изговорио, Цар је отворио врата притајенима а царски писар је прочитао наглас свим присутнима оно што је записао по Василијевом признању. Василије Богумил је био спаљен заживо и уз велику помпу јер се чак и под таквом смртном пресудом није хтeо отказати од свога учења. Спаљивање је било веома распрострањен облик смртне казне у то вриеме јер се сматрало да се тако не пролива крв, а огањ прочишћује душу од греха.
Богумилство се ипак проширило Балканом и било је израженије у Бугарској, Македонији, једном делу Србије и Херцеговине. Богумилску секту нису признавали ни званични Ватикан ни званични Константинопољ, односно Византија. Богумили су били жестоко преследовани и прогањани од оба центра хришћанства. Стефан Немања је на пример уништио покрет 'полувераца' у српској држави око 1172-1180 године. Са падом Балканског полуострва као и падом Босне и Херцеговине под окупацију Отоманске империје, Богумили добијају неочекиваног заштитника. Отоманска империја налази у Богумилима своје савезнике у провођењу политике 'дивиде ет импера' што значи 'завади па владај', и Богумили масовно прелазе у исламску веру.
Извори о Богумилству и Богумилима су довољно противоречни, и исто је тако данас тешко доказати колико је процентуално православаца, католика или богумила прихватило исламску веру у време окупације Босне и Херцеговине као и целог Балканског полуоствра од стране Отоманске империје. Доказано је и неоспорно да су данашњи Бошњаци директни потомци исламизованих православаца, католика и такозваних Богумила, то јест следбеника богумилског учења. Исто тако треба вероватно напоменути барем, да су многи исламизовани Словени прошли кроз период такозваног «криптохришћанства» или «двоверства», то јест, када су неки од њих већ преузели другу веру а још увек поштовали обичаје старе вере.
( Български )
ЮЖНИ СЛАВЯНИ .. ( СЪРБИ, ХЪРВАТИ, 'БОГОМИЛИ' ) .. БОШНЯЦИ
Бошняци или босненци са южнославянски народ, който населява Босна и Херцеговина, където съставлява 44% от населението според преброяването от 1991 г. Ако се вземе правилото, че всеки народ трябва да има свой език, свои културни (не религиозни характеристики), свой етногенезис и свои антропологически особености тогава бошняците не се народ, тъй като не притежават нито една от изброените характеристики.
Според повечето сръбски и хърватски историци и учени и бошняците не се отделен народ, а представляват ислямизирани сърби (в Босна и Санджак) и ислямизирани хървати (в Херцеговина). Също така според тези учени не може да се образува отделен народ само на основата на религията (ислям), когато езикът, историята и културата са същите като сръбските и хърватските.
Като силно доказателство някои учени (сърби и хървати) изтъкват, че бошняците нямат свой етногенезис, тъй като преди да приемат исляма, те са били сърби и хървати и не е възможно само поради смяната на религията те да станат друг народ.
Официалните босненски учени твърдят, че образуването на бошняшкия народ е свързан с богомилското движение. Бошняците били богомили и, когато идват турците, приемат исляма, тъй като не са били нито католици, нито православни.
Официалните босненски институции твърдят, че името босненци или бошняци е стар етноним (по-стар дори и от сърбите и хърватите) и че е имало Бошняшко - Римски речник.
За значението на етнонима бошняк съществуват няколко тези. Например, че е название за човек от Босна, отнасящо се за славянин-мюсюлманин. Между другото се срещат български и македонски презимена като Бошняков или Бошняшки (християни), което доказва, че наименованието "бошняк" не се отнася стриктно до мюсюлманин от Босна или Санджак.
(македонски)
ЈУЖНИ СЛОВЕНИ .. БОГОМИЛИ
Богомилството е верско учење во средновековна Македонија и пошироко. Се појави како реакција социјалното раслојување што настана како резултат на воведувањето на феудализмот и на поддршката на власта од страна на официјалната христијанска црква. Богомилството било дуалистичко учење и тврделе дека реалниот свет го создал не Богот, туку ѓаволот. Го отфрлале крстот како свој верски симбол, не граделе цркви и своите обреди ги вршеле на отворен простор, ја осудувале црковната хиерархија и сметале дека Исус не бил Син божји, туку обичен човек. Името го добиле по попот Богомил, по кого, пак, е наречено селото Богомила.
Крајот на 9 и почетокот на 10 век е означен со крупни промени во општествената структура на Македонските племиња. Во тоа време, територијата на македонските племиња влегува во состав на моќната феудална држава на Бугарскиот цар Симеон (823-927). По завладувањето, за да ја задржи власта, како и заради можноста за побрза и поефикасна експлоатација, и на овој простор е проширена воено-административната поделба, каква што веќе постоела во Бугарското царство. Тоа значело и забрзано распаѓање на родовските општини. Во овој процес била вклучена и црквата, која добивала поседи како подарок од владетелите. Така црквата почнала да станува една од најјаките феудални институции. Како крупен големопоседник, таа застанала на страна на монархијата, во одбрана на вака поставениот општествен поредок.
Околностите во кои се нашле Македонците, посебно се влошиле во средината на 10 век, за време на владеењето на царот Петар (927-969), кога нагло биле зголемени даноците за големиот воено-административен апарат, кога ги завршил своите освојувачки походи. Во едни такви критични историски услови, се појавува силно народно движење, за верско и политичко ослободување - Богомилството. Во основа тоа претставува религиозно учење кое за своја база ги има дуалистичките еретички учења.
Власта и официјалната христијанска црква жестоко ги прогонувале богомилите, поради што богомилството замрело. Покрај тоа ги палеле богомилските книги, поради што денес малку се знае за богомилството и тоа пред сè од списите на нивните противници, каде богомилските ставови се критикувани.
SOUTH SLAVS - JANISSARIES
The Janissaries comprised infantry units that formed the Ottoman sultan's household troops and bodyguard. The force originated in the 14th century; it was abolished by Sultan Mahmud II in 1826 in The Auspicious Incident.
The name janissary or janizary derives from the Ottoman Turkish: يكيچرى (yeniçeri) meaning "new soldier", with slight variations in other languages: in Albanian: Jeniçer; in Greek: Γενίτσαροι (Yenitsari); in Bulgarian: еничари (enichari) or яничари (yanichari); in Croatian: Janjičari; in Serbian: Јањичари or Janjičari; in Romanian: ieniceri; in Arabic: الانكشارية.
Sultan Murad of the fledgling Ottoman Empire founded the units around 1365. It was initially formed of Dhimmi (non-Muslims, originally exempted from the military service), especially Christian youths and prisoners-of-war, reminiscent of Mamelukes. Sultan Murad may have also used futuwa groups as a model. Many Janissaries were Turks as well, since they provided higher performance.
Such Janissaries became the first Ottoman standing army, replacing forces that mostly comprised tribal ghazis, whose loyalty and morale could not always be trusted.
In modern times, although the Janissary corps no longer exists as a professional fighting force, the tradition of mehter music is carried on as a cultural and tourist attraction.
Devshirmeh (Turkish devşirme, Greek, παιδομάζωμα, paedomazoma, "collection of children"; Romanian: tribut de sânge; Serbian danak u krvi or Bulgarian кръвен данък, kraven danak, "blood tax") was the system of the collection of young boys from conquered Christian lands by the Ottoman sultans as a form of regular taxation in order to build a loyal slave army (formerly largely composed of war captives) and the class of (military) administrators called the "Janissaries", or other servants such as tellak in hamams. The word devşirme means "collecting, gathering" in Ottoman Turkish. Boys delivered to the Ottomans in this way were called ghilmán or acemi oglanlar ("novice boys").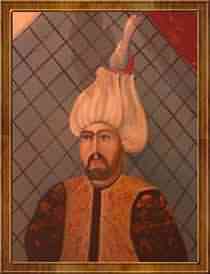 One of the most famous Janissar was a Bosnian Serb Mehmed Pasa Sokolovic
Born as 'BAJICA' SOKOLOVIĆ in 1506 in Ravanci, Sokolovići, Bosnia Province, Ottoman Empire
Died as MEHMET SOKOLLU PASHA in 1579 in Istanbul Ottoman Empire
Mehmed-paša Sokolović or Mehmed Sokollu (Serbian Cyrillic Мехмед-паша Соколовић , Turkish: Sokollu Mehmet Paşa) (born 1506, Sokolovići- died 1579, Istanbul) was an important 16th century Ottoman statesman of Serb origins. Born in a Orthodox Serb family in southeast Bosnia, Sokolović was taken away at an early age as part of the devshirmeh system of Ottoman collection of young boys in order to be raised to serve as janissaries or in the imperial administration. He rose through the ranks of the Ottoman imperial system, eventually holding positions as commander of the imperial guard (1543-1546), High Admiral of the Fleet (1546-1551), Governor-General of Rumelia (1551-1555), Third Vizier (1555-1561), Second Vizier (1561-1565) and as Grand Vizier (1565-1579) to three Sultans: Suleiman the Magnificent, Selim II, and Murad III . He was assassinated in 1579, ending a 15-year reign as the de facto ruler of the Ottoman Empire.
Little is known for certain about Mehmed's birth and early life. Turkish chroniclers and historians only took significant notice of him after he had attained great standing in the Ottoman hierarchy. The facts regarding his youth may further be obscured by popular myths from later ages, making it difficult for historians to separate them.
It is generally agreed that Mehmed was born into an Serb Orthodox family in the hamlet of Sokolovići, near modern-day Rudo, around 1506. Said to have come from a modest shepherd family, Mehmed-paša's surname presumably derives from his place of birth. Other sources allege that the Sokolović family was descended from feudal Bosnian nobility. However, this was a common myth regarding the pre-eminent families of the time. Research into the roots of Ottoman Bosnia's aristocratic families seems to discredit this thesis.
Mehmed's birth name was probably Bajica, while his father was named Dimitrije.He had two brothers and a sister, as well as at least one uncle. However, details about his family and relations are disputed on two major counts. One is his relationship to Makarije Sokolović. Traditionally identified as his brother, today some historians consider him to have been either a nephew or distant relative. The second is the matter of Mehmed's uncle. By some accounts, his uncle was a monk at the Mileševa monastery who had his two nephews, Bajica and Makarije (taken to be brothers according to this view), educated there. Other sources suggest that his only uncle converted to Islam early.
In 1516, an Ottoman expedition gathering up Christian boys as part of the devshirmeh system reached Sokolovići. According to folklore, Bajica was either simply taken from his father's home or, due to a reputation as a gifted child, specifically requested for by the commanding Ješildže Mehmed Bey. The story further holds that his uncle unsuccessfully appealed to the authorities, even offering vast sums of gold for the child's return
Janissary education
In Istanbul, the young conscript converted to Islam, as all boys in the system were required to do, and received the name Mehmed.
Mehmed's education was to be chosen next. The Chief Eunuch divided the young boys into two groups. Mehmed was assigned to the group that was sent to the Imperial Quarters. His education comprised three phases:
In the first, he shared a room with his fellow companions, where they jointly studied reading, writing and Islam taught by high-skilled teachers.

In the second, he learned Turkish, Arabic, Persian, and also Latin, as well as martial skills, manual labour and gymnastics. This phase lasted for four years.

In the third phase, he had to repeat all of his former studies and began to learn administrative duties.
As proclaimed in Baghdad on 13 March 1535, Mehmed was sent to be one of the seven servents of the Imperial Treasurer Iskander Celebi. Iskander died very soon after, so Mehmed returned to the Imperial Court where men with his talents ad skills were needed. He spoke fluently Church Slavonic, Persian, Arabic, Venetian-Italian and Neo-Latin.
Career
Mehmed first became an Imperial Chamberlain and then the head of the Sultan's squires. In these positions he became very close to Sultan Suleyman and learned from him.
As a soldier, Mehmed excelled at the Battle of Mohács and the first Siege of Vienna. In 1546, the High Admiral of the fleet, Kapudan Pasha Heiradin Barbarossa died and Mehmed was appointed his successor. During his five years in this position, Mehmet built up its almost non-existent arsenal.
Mehmed became Beylerbey (Governor-General) of Rumelia in 1551, headquartered in Sophia. While he was visiting the area where he was born, his mother recognized him by the birthmark on his face and embraced her child for the first time again in more than thirty years.
A civil war was raging in Hungary, and the Habsburg Emperor laid claims to Transylvania which was controlled by the Ottomans. The Sultan ordered Mehmed to move immediately to Hungary. Mehmed Sokolović assembled an Army of 90,000 soldiers and 54 cannons and marched into Hungary. He also summoned the Pashas of Smederevo, Vidin and Nicopolis. When his forces reached Slankamen in Srem, a Transylvanian viceroy, Monk Đorđe Utješenović, begged Mehmed not to attack Transylvania, arguing that it was loyal to the Sultan. All proposals for negotiations were rejected by Mehmed, who led the Ottoman forces forward into Transylvania and soon captured Bečej, Bečkerek, Csanád, Linova, as well as 12 more cities. Đorđe Utješenović responded by raising a rebellion in Transylvania - mustering one soldier from every household. Mehmed had to fall back and once again laid siege to Temišvar on 14 October with the main part of his army and 50 cannons. Mehmed demanded the city's commander to surrender, but he replied with a recommendation for Mehmed's return to Rumelia. According to folklore, Mehmed then said:
Prije će, dakle, laki jelen u vazduhu pasti
I more gole ribe na obali ostaviti.
Mehmed besieged the city until 28 October but could not seize it. He therefore fell back to Belgrade, where he initiated peace negotiations with Monk-Viceroy Đorđe Utješenović. Đorđe was assassinated on 17 December 1551 and all peace talks ended. This made Mehmed renew his military campaign in 1552, when he seized Temišvar, Hollakö, Bujak, Ságh, Gürmath, the whole of Banat and Szolnak. Mehmed's forces then joined with those of Ahmet Pasha advancing towards Eger. Mehmed's army assembled on the Hill of Egid, but could not take the city itself.
In 1553, despite the losses in Europe to the west, Sultan Suleyman declared war on Persia. He dispatched Mehmet Sokollu to spent the winter of 1553/1554 in Tokat to take charge of the war against Persia. In June 1554, Mehmed's army joined that of the Sultan in the field near Susehri.
Third Vizier
Impressed by Mehmed, the Sultan made him the Third Vizier of the Empire in 1555. His position as Governor-General of Rumelia was given to a Herzegovinian Janissary aga, Pertev Pasha, Mehmed's companion while they had served under Iskander-çelebi.
Almost immediately Mehmed he had to quell a rebellion around Thessalonika. The rebellion was raised by Mustafa Beg, who pretended to be the Sultan's late son, Prince Mustafa. Mehmed Sokolović took 4,000 horsemen and 3,000 janissaries and quelled the rebellion. Mustafa Beg was hanged.
Mehmed's brother, Topuzli-Makarije, was an Iguman of the Serb Chilandar monastery on Athos. Makarije Sokolović paid a visit to his brother's palace in Istanbul in 1557. Mehmed discussed with his brother the possibilities of renewing the Serbian Orthodox Church. Later that same year, Mehmed Pasha issued an edict (Ferman) declaring the restoration of the Peć Patriarchate, with Makarije Sokolović as Patriarch Makarije I. The edict also guaranteed the rights and religious freedom of all inhabitants of the Ottoman Empire.
When the former Grand Vizier Ahmed Pasha was deposed and hanged, he was replaced by Rustem Pasha Opuković, who had numerous enemies. One of them was Lala Mustafa who instigated the Sultan's third son, Bayezid, then Viceroy of Karamania, to raise a rebellion against his brother Selim who was to inherit the Imperial throne. Mehmed Sokolović mustered an army and went to Konia, where he defeated Bayezid's forces decisively in May 1559. Bayezid fled to Persia. Mehmed remained in Asia and spent the winter negotiating with the Persian Shah regarding Bayezid's extradition. After long negotiations, the Shah extradited Bayezid and his four sons, who were subsequently executed.
Second Vizier
Grand Vizier Rustem Pasha died in 1561. He was succeeded by the Second Vizier, Semiz Ali Pasha of Prača. Mehmed in turn became Second Vizier, while Pertev Pasha became Third Vizier.
Mehmed married Sultan Suleyman's granddaughter – Prince Selim II's daughter, Ismihan -- on 17 August 1562. Mehmed spent the followering years in peace, governing and administrating the realm. Even his wife became jealous of his fame.
In 1564, Mehmed's nephew, Mustafa Beg Sokolović, became Viceroy of Bosnia.
On 30 August 1574, Grand Vizier Mehmed Pasha Sokollu installed his nephew Antonije Sokolović, then the Metropolitan of Hum, as the new Orthodox Christian Archbishop of Ochryd. On 23 October the same year, upon Peć Patriarch Makarije's death, Antonije became the new Serbian Orthodox Christian Patriarch of Peć. Antonije died soon, in 1575, and was replaced by yet another one of Mehmed's nephews, Gerasim Sokolović.
Mehmed-pasha is remembered among South Slavic peoples for his architectural endowments in the area. He renewed the Serbian Orthodox Church in the Peć Patriarchate during his tenure as third vizier and member of the imperial council in 1557 and instantiated his brother Makarije Sokolović, as a Patriarch of Serbia.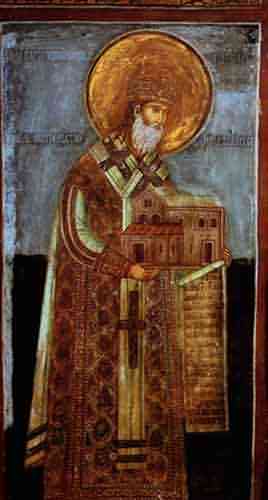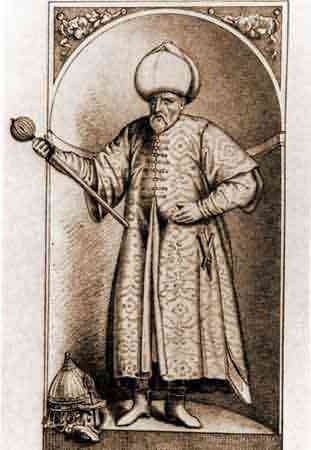 Two brothers of different faith and historical roles - Patriarch Makarije Sokolovic and his relative (a brother?) Mehmed Pasha Sokollu (who was taken as a little child by Turks to be a yannisar)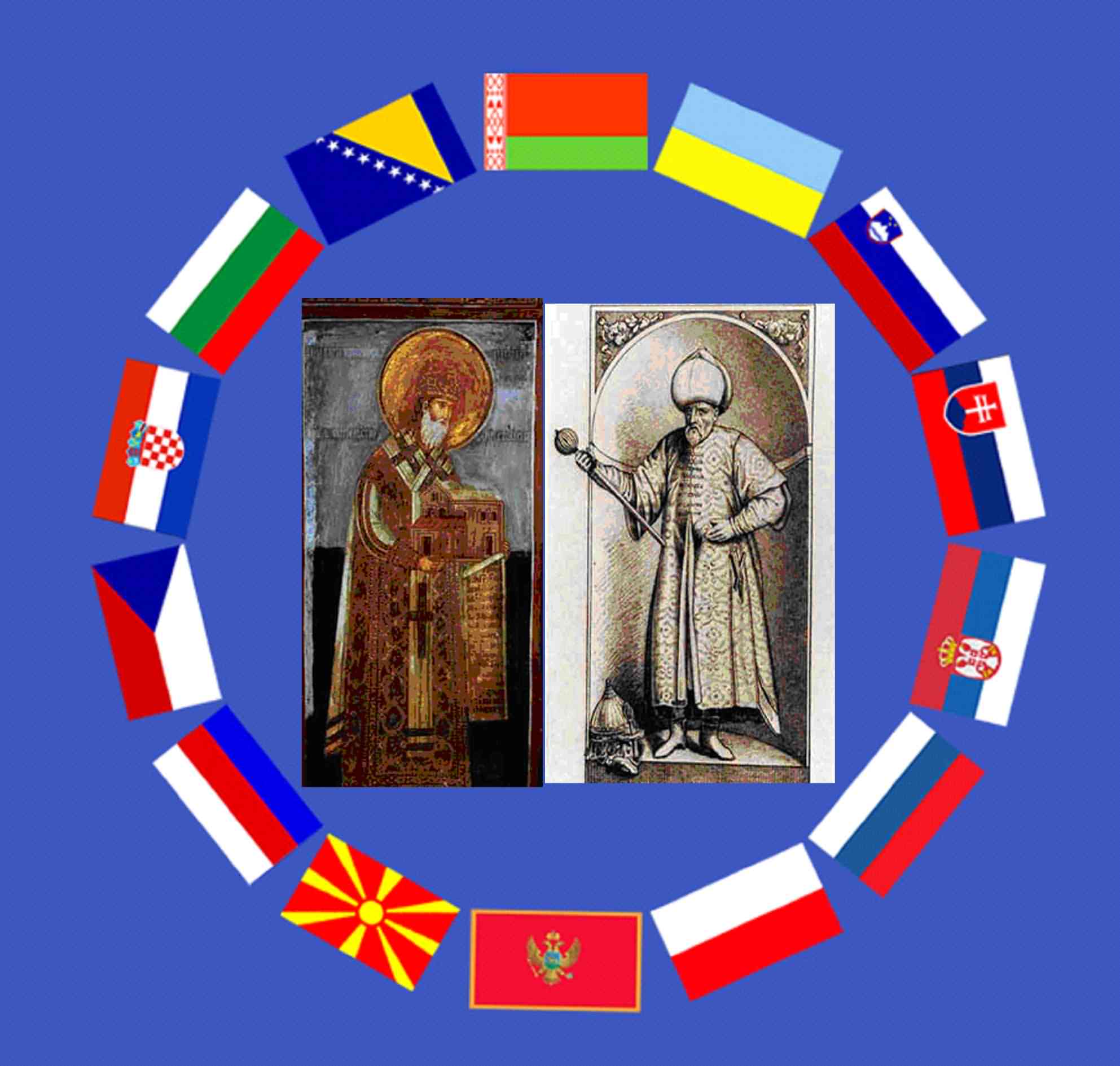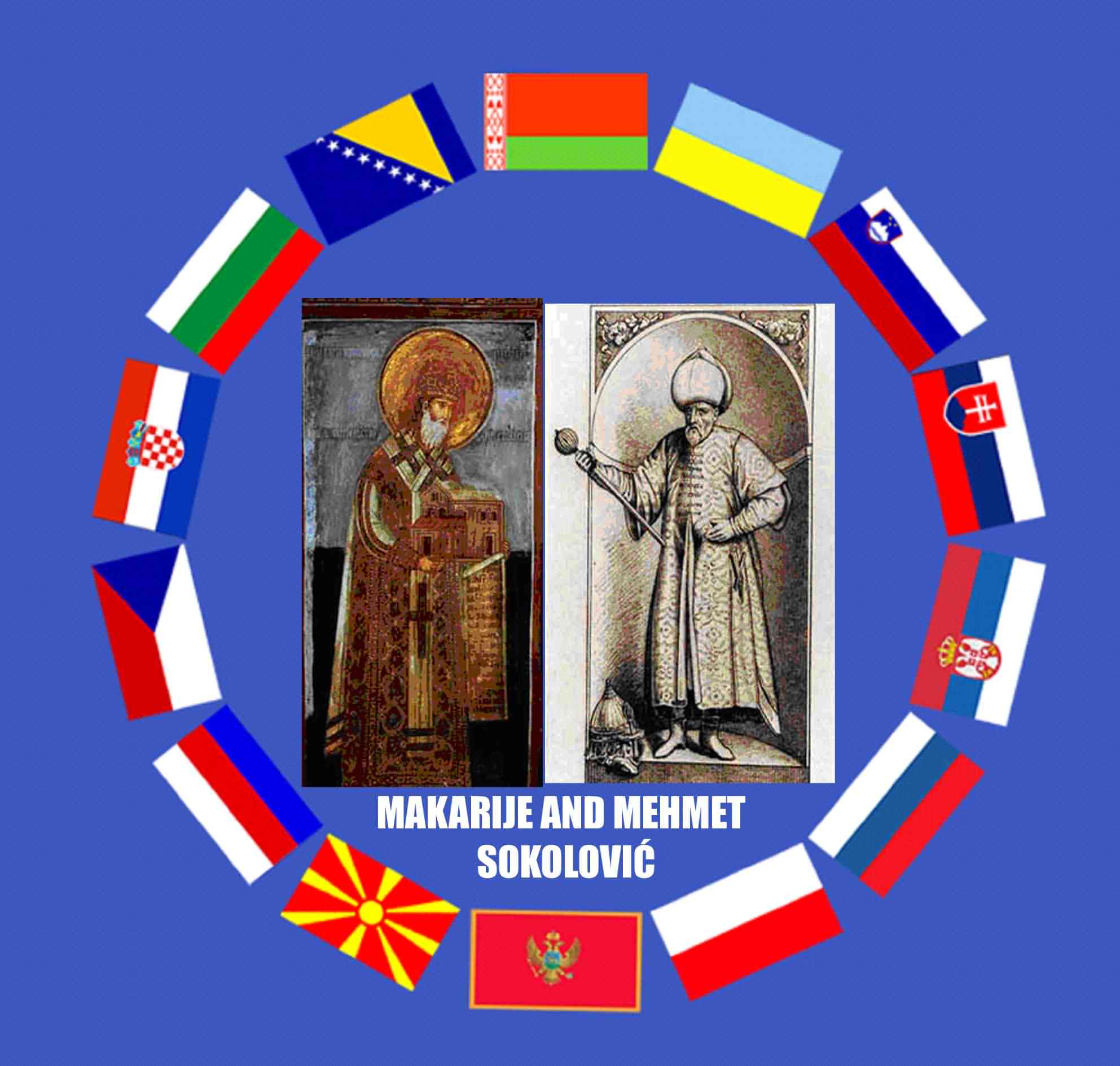 His most renowned endowment is an eleven-arched bridge in his home town Višegrad. Building and history of the Višegrad bridge is the topic of the well-known book by Ivo Andrić - The Bridge on the Drina, for which he was awarded the Nobel Prize for literary achievements. His life also interested Meša Selimović. There were numerous Serbian legends on the bridge's construction. According to one, Mehmed-pasha built the bridge in his son's name. Another is present through Ivo Andrić's "Bridge on the Drina". It tells the tale of Rade the Architect who built the bridge.
In his native village of Sokolovići he has built a mosque, meqteb, musafirhana and plumbing; today, only the plumbing remains. His foundations are spread over Edirne, Halep, Medina, Bečkerek, Belgrade and alongside Bosnia, where he is especially remembered for his bridges. Mecca and Istanbul contained numerous mosques alone. Apart from the Višegrad bridge, Arslanagić bridge in Trebinje, Vizier's bridge in Podgorica, the bridge on Žepa and Kozja ćuprija in Sarajevo are attributed to his name. Between Višegrad and Sarajevo, on Glasinac, he built a Road of four paces and a castle. Of the castle, only a drinking-fountain remained – the Mehmed Sokolović's han.
Every summer in the palace in Istanbul, Mehmed-pasha prepared the choire's performations.
Mehmed-pasha's life became the subject of numerous Serbian and Islamic legends, poems and tales.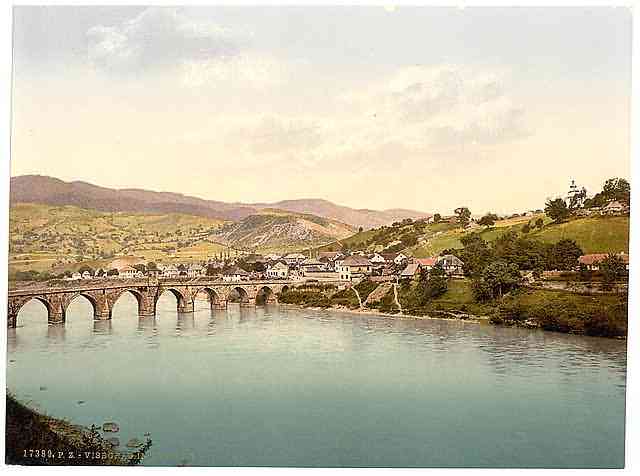 (Bridge on the river Drina build by Mehmed Pasa Sokolovic. The river Drina is a natural border between Serbia and Bosnia and Herzegovina). (Most na Drini. Na Drini ćuprija. Мост на Дрини. На Дрини ћуприја).
(bosanski)
Mehmed-paša Sokolović (1505 ili 1506, Višegrad - 1579, Istanbul) je jedan od velikih osmanskih vojskovođa bosanskog porijekla.
Rodio se u selu Sokolovići pored Višegrada kao dijete pravoslavnih roditelja. Sa šest godina, Sokolović je odveden u osmansku vojsku više poznatim kao danak u krvi. Podvrgnut je pod oštru vojničku disciplinu u osmanskoj vojnoj akademiji u Istanbulu gdje je primio islam. Ovo je bila uobičajena praksa u osmanskoj vojsci u to doba. (Janјičari). Već istaknut u ratovima sa Ugarskom i Austrijom (1526.-1533.), u vrijeme sultana Sulejmana I Veličansvenog, Mehmed-paša Sokolović obavlja razne dužnosti u carskom saraju. Već 1543. bio je zapovjednik dvorske straže (kapidžibaša), a 1546. biva unaprijeđen u kapundan-pašu. Za dalje ratne zasluge, posebno na istoku i u perzijskoj vojni dobija položaj trećeg vezira 1555. Diplomatski i vojni uspjesi otvorili su put Mehmed-paši ka položaju prvog činovnika Carstva - 28. VI. 1565. godine Mehmed-paša biva unaprijeđen na položaj prvog činovnika Carstva. Nakon pogibije Sulejmana Veličanstvenog pod opsjednutim Sigetom 6. IX. 1566., janjičari na juriš zauzimaju Siget tri dana kasnije. Pune tri sedmice, koliko je trajala opsada Sigeta u kojoj se nalazio Sulejman Veličanstveni, Mehmed-paša je čvrsto držao vojnu snagu Carstva u svojim rukama, a i kasnije punih 13 godina bio je - u sklopu Carstva - jedan od najsnažnijih svjetskih vladara. Osvajanjem Sigeta, pod vodstvom Mehmed-paše Sokolovića, hrvatski ban Nikola Zrinski živ je zarobljen i odmah pogubljen. Njegovu odrubljenu glavu Mehmed-paša Sokolović šalje svom nećaku, Gulabi-agi, budimskom namjesniku sa zadatkom da je proslijedi do Beča na ugarski carski dvor. Mehmed-paša je u međuvremenu, a uz pomoć carskog štitonoše Džafer-bega i tajnog pisara Feriduna, pune tri sedmice krio od vojske i ostalih carskih dostojanstvenika smrt Sulejmana Veličanstvenog
Mehmed-paša je podizao brojne zadužbine i vakufe širom Carstva, a u svome rodnom selu Sokolovićima kod Rudog izgradio je džamiju. Podigao je tri do pet mostova na prostoru Bosne i jedan na prostoru Crne Gore, a to su: ćuprija na Drini u Višegradu, Arslanagića most u Trebinju, Vezirov most u Podgorici u Podgorici, most na ušću Žepe u Drinu, i Kozju Ćupriju u Sarajevu. Od ovoga svega, najpoznatija je Ćuprija na Drini na osnovu koje je nastao roman Na Drini ćuprija poznatog bosansko-hercegovačkog pisca i jedinog nobelovca Ive Andrića. Nema podataka da je Mehmed paša Sokolović gradio kršćanske objekte po Bosni, vjerojatno jer se o tom nije vodila evidencija. Međutim, ono što se sigurno zna da je uticao na odluku osmanske države na obnovi Pećke Petrijaršije 1557., na čije je mjesto doveden Makarije koji je inače u srpskoj historiografiji smatran kao Mehmed-pašin brat. Mehmed-paša, kao član vezirskog vijeća, uticao je prilikom donošenja odluke da se obnovi Pećka patrijaršija, ali to ne treba vezivati za osjećanja i sentimentalna sjećanja.
(српски)
Мехмед Соколовић ( Sokollu Mehmet Paşa

. Рођен о

ко 1505

или 1506

,

највероватније под именом Бајица (Димитрија) Соколовић. Убијен у Истанбулу

- 11. октобр

а

1579), у народу познатији као "Мехмед-паша Соколовић", је био Велики везир (председник владе) у Османском царству.
Пореклом Србин

из Херцевовине рођен у селу Соколовићи

близу градића Рудо. Као дечак школовао се у манастиру Милешева. У "Данку у крви" одведен у

јањичаре

када му је било око 15 година. Школован у Једренском сарају где остаје 13 година. Учествовао је у Мохачкој бици 1526. и опсади Беча 1529. Између 1533. и 1535. учествује у рату против Персије и опсади Багдада. 1545. године постаје заповедних Османске флоте а 1551. бива унапређен у Румелијског беглербега. Исте године креће у поход на хабсбуршку монархију а већ следеће осваја Темишвар. Под његовим утицајем 1557. издат је берат којим се дозвољава обнова Пећке патријаршије, на чије је место доведен његов рођени брат Макарије Соколовић. Султан Сулејман I

Величанствени га проглашава за Великог везира Порте 28. јуна

1565. Исте године са султаном креће у нови поход на Аустрију

и Беч. Опседају утврђени аустријски град Сигет међутим у ноћи између 5.

и 6. септембра 1565, само дан пре освајања града, султан Сулејман I изненада умире. Плашећи се да ће његова смрт негативно утицати на морал војске Соколовић је прикрива све до 24. септембра када је у Цариграду проглашен наследник, Селим II. Нови султан се показао као прилично неспособан владар и буквално је све послове у царству препуштао Соколовићу, као великом везиру тако да је овај имао практично неограничену моћ у царству. По његовом наређењу 1571. године је изграђен мост преко Дрине у Вишеграду (описан у делу "На Дрини ћуприја", Иве Андрића за које је добио Нобелову награду). Селим II умире 12. децембра 1574. и на престол долази његов син Мурат III који се још мање интересовао за вођење државних послова али за разлику од оца није имао великог поверења у Соколовића чија моћ полако почиње да опада иако је остао на свом положају Великог везира. Увече у Цариграду 11. октобра 1579. Соколовића у атентату

убија извесни суманути дерв

иш.

( српски )
ЈУЖНИ СЛОВЕНИ .. ЈАЊИЧАРИ
Јањичари ( на турскомYeniçeri, што значи Нове трупе) били су турске пешадијске трупе у својству личних телохранитеља отоманских султана. Трупе воде порекло из 14.века; укинуте су (и масакриране) 1826. године по наређењу султана Махмуда II.
Султан Мурат I је основао трупе око 1330. године, у време велике експанзије Отоманског царства. У почетку су биле формиране од немуслимана, поготово хришћанске младежи и ратних заробљеника, што је била пракса преузета од Мамлука. Јаничари су постали прва отоманска стајаћа војска, замењујући снаге које су се углавном састојале од племенских ратника којима се није могло веровати у погледу оданости и морала. Чак је, штавише, за сваког слободног турског ратника било испод части да буде пешак.
Прве јањичарске јединице су се састојале од заробљеника и робова. После 1380их султан Селим I је попуњавао њихове редове уз помоћ девширме, специфичне врсте пореза који се састојао у давању мушке деце султану. Султанови људи би регрутовали одређени број немуслиманске, обично хришћанске, мушке деце (у почетку насумице, а касније према строгим критеријумима) одводећи их на обуку. То су углавном била српска, бугарска и албанска деца. Обично би бирали једно од петоро деце старости између 7 и 14 година, али се тај број мењао у складу са потребама за војницима. Касније су девширмом опорезивани и Грци и Мађари. Опорезивано становништво је, свакако, било огорчено оваквом праксом.
( Български )
ЮЖНИ СЛАВЯНИ .. ЕНИЧАРИ
Еничарският корпус е основен род войска в Османската империя, създадена на базата на отряди от освободени роби и военнопленници. Основан е през 1330г. от Мурад I. Още след средата на 14 век, при управлението на султан Мурад I е въведен данъкът пенджик - всеки пети военнопленник се принуждава да приеме исляма и да постъпи в армията. Така се формират първите отряди на османската пехота. По-късно при наследника му Баязид I Йълдъръм започва да се събира и най-жестокият за християнското население данък - кръвен данък (девширме). Според изискванията на държавата този данък се изразява в периодичното събиране на деца от мъжки пол от подчинените християнски народи през 5 или по-малко години. Тези момчета се подбират сред здравите, интелигентните и красиви деца на възраст 7-10г., но често пъти се събират и деца на 5-6-годишна възраст. След насилственото им отнемане тези момчета се изпращат в Анадола, където ги настаняват в мюсюлмански семейства. Там се подлагат на изключително силна ислямска пропаганда, както и на тежък физически труд. Тези от тях, които оцеляват се изпращат в казармите на Цариград, Одрин и Бурса. През 1826г. еничарския корпус е ликвидиран от султан Махмуд II.
( македонски )
ЈУЖНИ СЛОВЕНИ .. ЈАЊИЧАРИ
Јаничар бил припадник на турската милиција основана во 1329 од заробени млади христијани што биле насилно потурчувани.
Во 1360 султан Мурат ја реорганизирал турската милиција и и дал извесни повластици поради што почнале да и пристапуваат и многу Турци. Јаничарите, како одлично опремена војска претставувале јадро на турската пешадија. Подоцна Јаничарскиот корпус се засилил толку многу што станал опасен дури и за султанот, поради што Мухамед II ја укинал во 1826.
(hrvatski)
JUŽNI SLAVENI .. JANJIČARI
Janjičari su bili vojnici pješaci Osmanskog Carstva, naoružani isprva lukom i strijelom, a kasnije tijekom 15. st. sve više vatrenim oružjem. Općenito se smatra da je taj proces završen sredinom 16. st. Janjičarske postrojbe sastoje se od tri divizije (džemaat). Gotovo dvije trećine tih postrojbi (oko 20 000 ljudi), činili su vojnici janičari (askeri yeni-sari). Oni su bili udarna snaga vojske i činili su čvrsti centar na bojišnici. Svaki od njih bio je pažljivo odabran između mnoštva dječaka koji su u okupiranim zemljama sakupljani kao " danak u krvi" (devširme). Veliki gradovi, otoci, priobalna područja, Židovi i obitelji s jednim djetetom bili su oslobođeni te obveze. To je bio okrutni način novačenja otimajući dječake u dobi od 10 godina i odvodeći ih u Carigrad na krutu i asketsku izobrazbu za profesionalne vojnike.
Danak u krvi ima svoje uporište u povijesti srednjeg vijeka. Bizant je u 11. st. uzimao svakog petog dječaka s područja Balkana pod njegovom upravom. U egipatskom sultanatu su u 12. st. uzimali mlade robove s Krima i iz centralne Azije i odgajali ih u ratničku kastu mameluka. Oni su se kasnije oteli kontroli i zavladali cijelim Egiptom. Veliki broj janjičara bio je hrvatskog roda i krvi. Kršćanske zajednice su s užasom gledale kako im mlade sinove odvode kadi askeri da bi se ponovno vratili kao ubojice svoga naroda. No slika nije bila samo jednostrana, mnogi su s nadom gledali za svojim sinovima koji su se vjerojatno spasili smrti od gladi i bijede, a za najveći dio pučanstva tadašnjeg Otomanskog carstva to je bio jedini način da im se djeca školuju, posebno za Muslimane. Ipak, većinu dječaka činili su mladi kršćani iz svih dijelova carstva. Zvali su ih "sultanovi robovi".
BOKELJI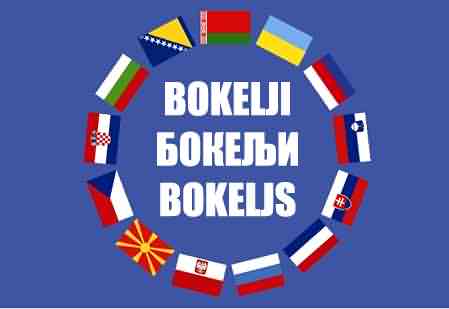 BOKELS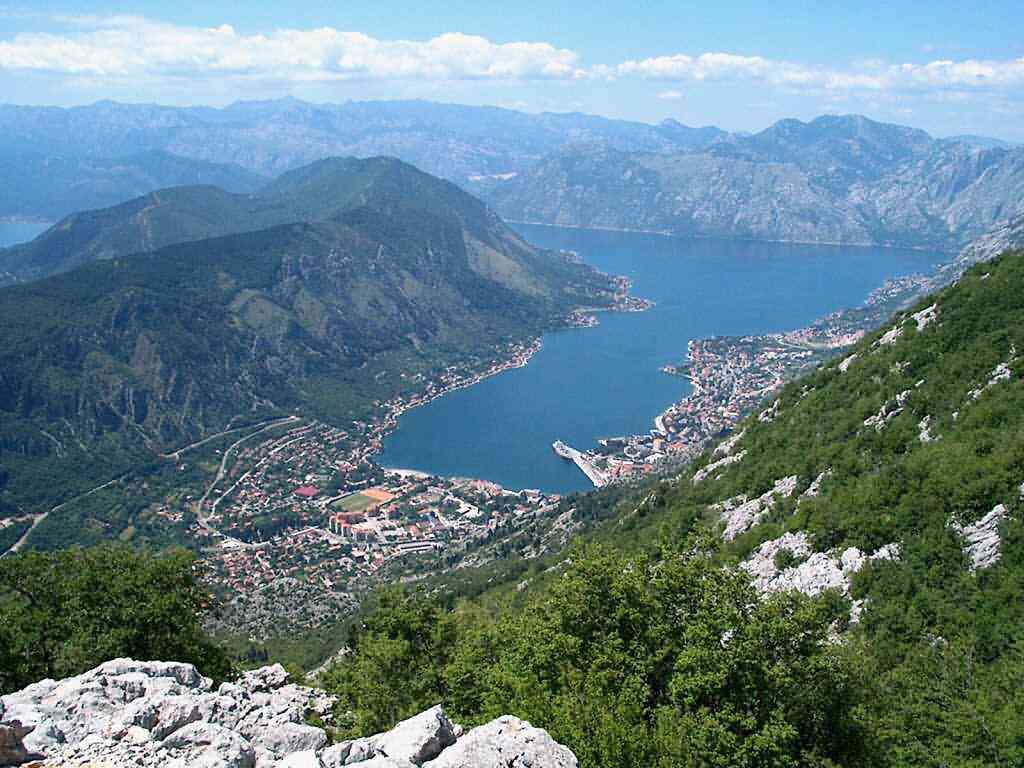 Boka Kotorska (Bay of Kotor, Bocca di Cattaro) in Montenegro is a winding bay on the Adriatic sea. It is considered to be Europe's southernmost fjord and is composed of four smaller bays, named after the towns of Kotor, Tiva , Herceg-Novi, and Risan.
The traditional inhabitants of Boka are Serbs with some Croats (NB not Montenegrins, which are from Cetinje etc), and they are often collectively referred to as the Bokelji.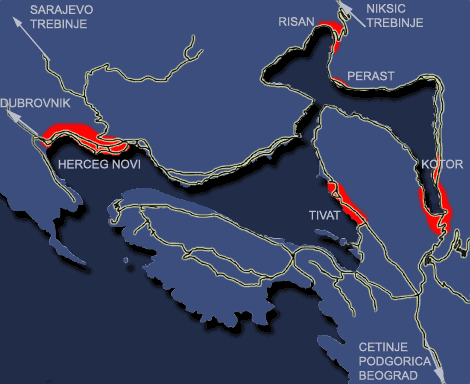 The three counties making up Boka Kotorska have a total population of 71,443 of which 76% are Serb Orthodox and 11% are Catholics:
Kotor 23,481 people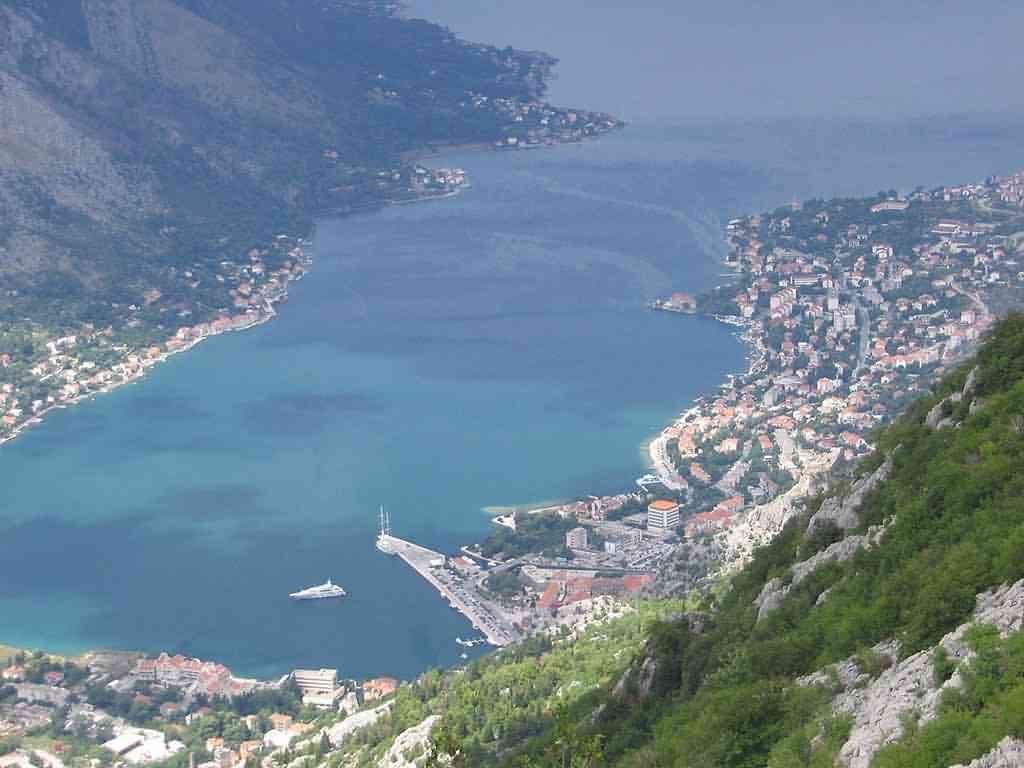 ivat 13,991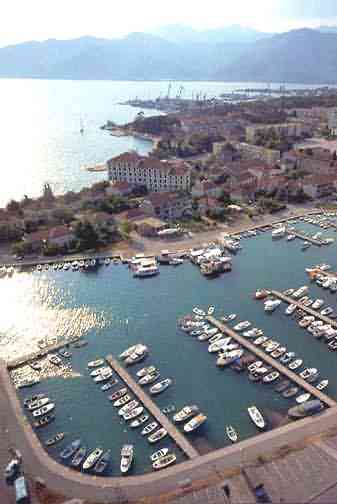 Tivat 1889 is the youngest city in Boka
Herceg-Novi 33,971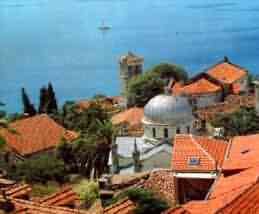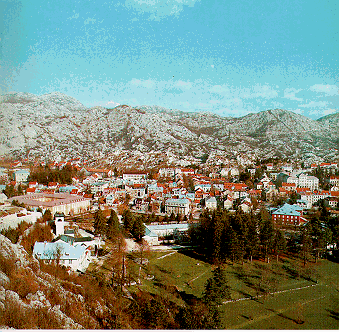 Cetinje
BUNJEVCI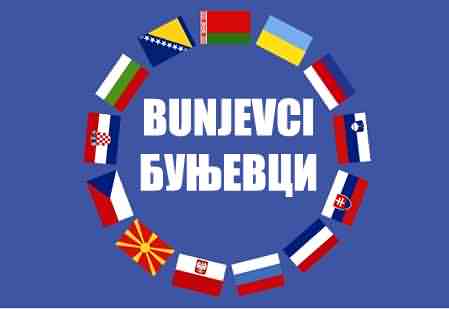 БУЊЕВЦИ

SOUTH SLAVS .. CROATS .. BUNJEVCI
Bunjevci (Bunjevac, Serbian and Croatian: Bunjevci/Буњевци, singular Bunjevac/Буњевац, pronounced as Bunye'vtzi and Bunye'vatz, also in Hungarian: bunyevácok) are a South Slavic ethnic group originally from the Dinaric Alps region, now mostly living in the Bačka region situated in northern Serbia (Vojvodina province) and southern Hungary (Bács-Kiskun county, particularly in the Baja region). They are Roman Catholic by faith although not all practicing. The community identifies itself by a common recent history and ethnically, they register themselves either as a separate Bunjevci ethnic group, or as Croats or Yugoslavs, whilst some also register as Serbs or Slavic-speaking Magyars (the latter is common among some Bunjevci in Vojvodina and Hungary).
(hrvatski)
JUŽNI SLAVENI .. HRVATI .. BUNJEVCI
Bunjevci su jedna od najbrojnijih grana hrvatskog naroda čija je kolijevka zapadna Hercegovina i kontinentalna Dalmacija, odakle su se u kasnijim vremenima naselili na području Velebita, dijelovima Like i Gorskog kotara (Lič) i kasnije po Vojvodini, odnosno po Podunavlju i Potisju. -Život ranih Bunjevaca u područjima Dalmatinske Zagore, Ravnih Kotara, na područjima Dinare, Promine i Svilaje, nije bio lagan. Živjeli su od stočarstva, po malenim kamenim kućicama poznatim kao bunje (sing. bunja). Ove nastambe od suhozida sačuvale su se sve do danas i najvjerojatnije su dale Bunjevcima svoje ime.
Područje koje su nastanjivali u 16. stoljeću (tada nazivan Hercegovački sandžak) bio je pod masovnom islamizacijom koju su širili Turci, i vjerojatno su bili glavni uzrok što se bunjevački puk (nazivali su se Krmpoćanima) krenuo prema sjeveru i naselio zaleđe Senja. 1605. godine prvi Bunjevci dolaze u tvrdi grad Senj. Iste godine dobili su i privolu grofova Nikole i Jurja Zrinskog da se mogu naseliti u Liču kod Fužina. Bila je to prva seoba Bunjevaca u Lič u kojoj je učestvovalo 49 obitelji. Bunjevačka plemena na Velebitu kasnije osnovaše više naselja od kojih su najpoznatija Krivi Put, Krmpote i Alan u senjskom i novljanskom zaleđu. Ovdje Bunjevci Krmpoćani nastaviše živjeti starim načinom života. Stada ovaca ovih ljudi često zalaze na polja Senjanima što dovodi do konflikata i čestog sporenja na sudu. Bunjevačke kuće i ovdje su malene, bave se proizvodnjom kajmaka i sira škripavca a od divljih šumskih plodova (kupina) izrađuju sok poznat kao trambuva. Svoja Malena polja opasavali su kamenim zidovima kako bi ih zaštitili od erozije. Čvrsti i snažni ovi ljudi uspjeli su se prilagodoti divljoj prirodi Velebita. Njihove žene su snažne, jedre i plodne. Obitelji su velike, s mnogo djece.
Bunjevci u Bačku i Mađarsku sele u prvoj polovici 17. stoljeća (negdje 1620) pod vodstvom franjevaca Andrije Dubočca (sa 2,700 duša), Mihovila iz Velike sa 2,300 ljudi, Ivana Seočanina (1,500 ljudi), zatim Ilije Dubočca, Josipa Rančanina i Šimuna iz Modriča sa 6,500 ljudi koji su poveli i svoju stoku, zatim Grge Zgonščanina iz područja Mostara sa 4,500 ljudi i Jure Turbića sa 5,300 ljudi. Gotovo 23,000 Bunjevaca nasaelilo je Podunavlje i Potisje. Naseliše gradove i mjesta u krajevima od Deronja preko Sombora i dalje do Pešte i Ostrogona. U starim rukopisima nazvaše ove ljude 'Dalmatincima' navodeći da s njima pod vodstvom franjevaca došli i Bunjevci iz Hercegovine. Bunjevci u Bačkoj usprkos teškoj političkoj situaciji sačuvaše također svoj jezik, kulturu, pjesme i pisanu riječ.
(српски)
ЈУЖНИ СЛОВЕНИ .. ХРВАТИ .. БУЊЕВЦИ
Буњевци су насељени претежно у северној Бачкој (највише у Суботици), али их спорадично има и у Барањи, Банату, као и у чонградској и пештанској жупанији данашње Мађарске. Католичке су вероисповести, а културно и политичко средиште им је Суботица, у којој, према попису из 2002, чине 11% становништва. Претежно говоре српским или хрватским језиком (икавски и ијекавски дијалекат). Према попису становништва из 2002. године, Буњеваца је у Србији било 20.012, од којих је 19.766 живело у Војводини. 1910. године било је Буњеваца и Шокаца у некадашњој бачкој и барањској жупанији око 90.000. Раније су их бележили као Далмате, католичке Раце и Илире.
О имену, пореклу као и времену доласка Буњеваца у крајеве, у којима сада живе, много је расправљано. Највероватније је, да су они у ове крајеве дошли у исто време када и Срби, и то из краја од Неретве до Сплита (Буне, Пољице, Имотског и Сиња). То доказују историја, њихова традиција, антрополошки и други показатељи.
Као презиме први пут је забележен етноним Буњевац у Мароку у Барањи 1570. године, а то презиме и данас тамо налазимо. У већој маси населили су се Буњевци у ове крајеве око 1600. године, после неуспеле побуне против клишког санџак-бега. 1687. дошао их је већи број са својим свештеницима и ступио у службу аустријске војске, те су били распоређени по градовима Бачу, Баји, Суботици, Сомбору и Сегедину. Касније су се населили у Бачалмашу, Бајмоку, Бајши и Чантавиру. 1731. године служило се у једној бајској цркви на буњевачком, а у другој на мађарском језику. У то доба, а и нешто касније, спомињу се Буњевци у Горњем Св. Ивану, Гари, Чавољу, Немеш-Милетићу и Чонопљи.
Bunyevácok
A bunyevácok jellegzetes horvát népcsoport a Bácskában. Magyarországon elsősorban Baja környékén, a Vajdaságban főleg Szabadka, Zombor és Bács városokban és vidékein élnek jelentősebb számban. A horvát nyelv un. štokav és í-ző nyelvjárását beszélik. Hagyományosan római katolikus vallásúak. Korábbi források gyakran katolikus rácok néven különböztetik meg őket a szerbektől. Nyelvük és szokásaik alapján feltételezhető, hogy Dalmáciából és Nyugat-Hercegovina vidékeiről települtek be a török hódoltság alatt lévő Magyarország elnéptelenedett területeire.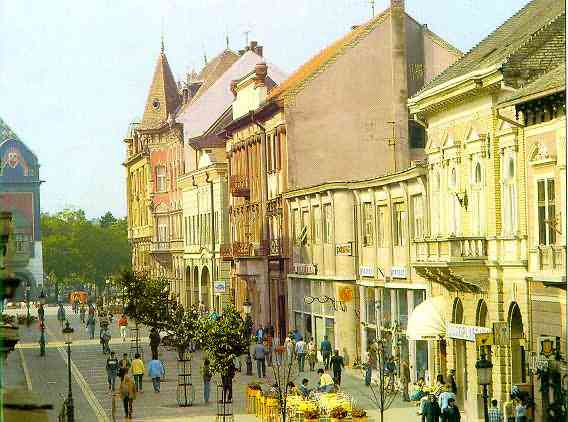 'Korzo' in SUBOTICA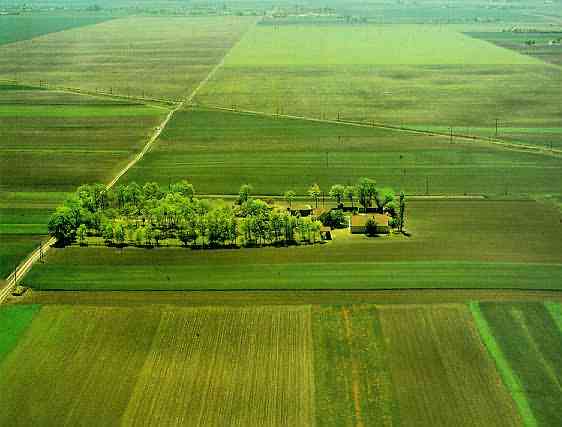 a typical SALAŠ around SUBOTICA
The main settling of Bunjevci into western Bačka began in 1686 under the leadership of the Franciscans. So that the Vienna Royal house could have an army against the Turks, they gave the Bunjevci land, under the condition that they fight for the Emperor's army. Accepting that agreement, the Bunjevci began to settle in two main groups. The first settlers in 1686 were guided by the Franciscans, while the other group in 1687 were lead by the Bunjevac leaders Dujam Marković and Juraj Vidaković. They in the most part moved into northern and central Bačka, while some moved into the Baranja, Pecs, and the Csongarad županijas. Their fighters were under the command of their captains, Luka Sučić, Dujam Marković, and Juraj Vidaković immediately passed into the emperor's army which were a big factor in pressing the Turks out of Bačka.
Historic documents also refer to Bunjevci as Dalmatians, Catholic Serbs (Catholic Rascians) as well as Bosnians. In October 1918, they held a national convention in Subotica and decided to secede Vojvodina from Hungary and join Serbia. This was confirmed at the Great National Assembly of the Serbs, Bunjevci and other Slavs in Novi Sad, which proclaimed unification with the Kingdom of Serbia in November of 1918.
Nationally, the Magyar censa from 1880 onward to 1910 numbered the Bunjevci distinctly, separate from the Serbs even though they were referred to as Catholic Serbs. The creation of the Kingdom of the Serbs, Croats and Slovenes (renamed Yugoslavia in 1929) brought the Bačka Bunjevci in contact with the Croats. Through political rapprochement, some Bunjevci began developping a Croat national feeling. This was continued in Communist Yugoslavia which on the census of 1948]] did not officially recognize the Bunjevci counting all declared as such to be nothing more than Bačka Croats.
The 1990's saw a comeback of the Bunjevac national movement with their official recognition as a minority group in Serbia in 1990. In the 1991 and 2002 censa the community was divided around the issue of the name: 20,000 declared themselves Bunjevci in terms of ethnicity whereas some 25,000 opted for the Croatdom. Save for some colonists who arrived after 1945 from Croatia, both halves of the community consider themselves ethnologically as Bunjevci, although each subscribing to its interpretation of the term.
Som of Famous BUNJEVCI
ANTUN GUSTAV MATOŠ literator
ANTE STARČEVIĆ politician
JOSIP PANČIĆ biologist
ALBE VIDAKOVIĆ composer
ZVONKO BOGDAN singer MIROLJUB ANTE EVETOVIĆ literator
Podvikuje bunjevačka vila
(Pivana prvi put 1878)

HIMNA

Podvikuje bunjevačka vila,
Iz oblaka razastrla krila:
"Oj Bunjevče, probudi se sada,
Starešino subatičkog* grada!

Kad ti vidiš cimer od Kasine,
Der proslavi bunjevačko ime,
l pohiti da s' upišeš tamo,
Tebe zovu braća već ovamo.

Nemoj brate ti oklivat tako,
Već zapiši tvoje ime 'vako:
"Ja sam sinak subatičkog grada,
Neću više da moj narod strada!"

Da ne znadu još ni da ga ima,
Jer ja hoću da ga svaki štima!
Ne zovemo samo bogataše,
Već i manje stanovnike naše.

l držimo se skupa sloge tvrde,
Ne dajmo se da nas drugi grde.
Nema više tu kod nas partaje,
'Ko je počo i onaj se kaje.

Već Bunjevče hodi vamo pobro,
Pa ćeš vidit da će biti dobro:
U Kasinu upiši se sada,
Da i tvoje dično ime vlada!

Zove tebe društvo od Kasine:
"Oj Bunjevče, subatički sine,
Ako bude u nas sloga taka,
Bunjevačka biće snaga jaka!"

l dođite i vi gospodari,
Kojigod za Bunjevce mari,
A kojigod Bunjevce ostavi,
Ti prokletstvo na njega postavi.

Ter im reci da su izrodice,
Bunjevačkog roda izdajice;
Bunjevac Bunjevca koji pokudi
Bog mu dao oma da poludi.




Kolo igra tamburica svira,

Pisma ječi, ne da noći mira.

Svud' se čuje, svud' se širom znade

Da Bunjevac dušu ne izdade.

Veseli se, svaki mu se divi,

nek' se znade, da Bunjevac živi.

Veseli se, svaki mu se divi,

nek' se znade, da Bunjevac živi.




Nije majka rodila junaka

K'o što j' sinak divnih Bunjevaka,

Nit' će majka roditi junaka

K'o Bunjevca, takvog veseljaka.

Kolo vodi, svaki mu se divi

nek' se znade, da Bunjevac živi.

Kolo vodi, svaki mu se divi

nek' se znade, da Bunjevac živi.




Ni divojke ne biše u nane

K'o što j' ćerka bunjevačke grane.

Svilu nosi, a zlatom se krasi,

Crne oči, crne su joj vlasi.

Kolo igra, svaki joj se divi

nek' se znade, da Bunjevac živi.

Kolo igra, svaki joj se divi

nek' se znade, da Bunjevac živi.




Ori pismo, tambur tamburice,

Nek' se čuju daleko ti žice,

Nek' se gori a i doli znade

Da Bunjevac dušu ne izdade.

Prelo kupi, svaki mu se divi

nek' se znade, da Bunjevac živi.

Prelo kupi, svaki mu se divi

nek' se znade, da Bunjevac živi.






LIPA NAŠA
Lipa naša
od salaša
do salaša
kao snaša
Lipa naša
bunjevačka
arendaška
njiva Bačka
Lipa naša dužijanca dar kolača Lipa naša uzduž lanca žar kosača
J. Kopilović
Hej, salaši (Zvonko Bogdan)
1. Hej, salaši na severu Bačke,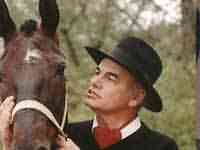 u vama su pisme bunjevačke.
A tambura tako lipo svira, |
ko da note par slavuja bira. |
R. Ni svatova nigdi taki' nema,
ko kad bačo kćer na udaj' sprema.
Νa snaši se bili šlajer vije,
ko kad zimi snig salaš pokrije.
2. Hej, Bunjevci na severu Bačke!
Sačuvajte pisme bunjevačke!
Pivajte ih još puno godina,
vaša j' grana mala, al' je fina.
R. I lumpujte, al' lipo polako.
Nek se divi i nek vidi svako.
Pa nek vranci pokidaju štrange,
kad se krenu momci na vašange
ZVONKO BOGDAN
Oun of the greatest BUNJEVAC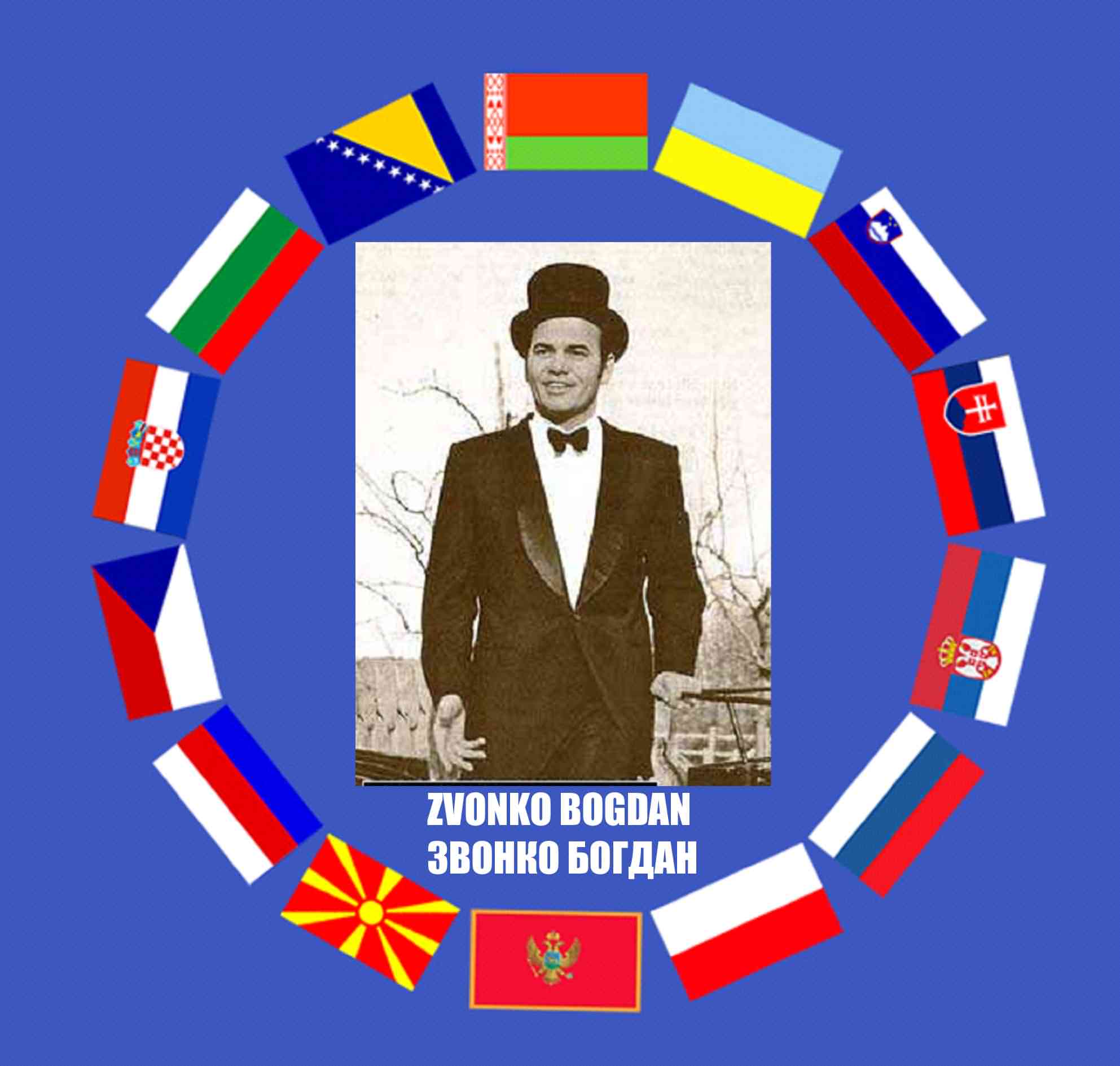 A living legend
MOLIŠKI HRVATI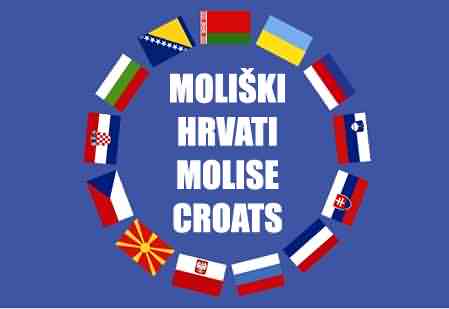 MOLISE CROATS

Molise Croats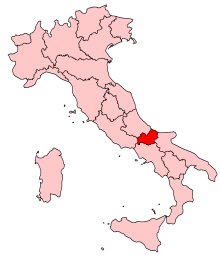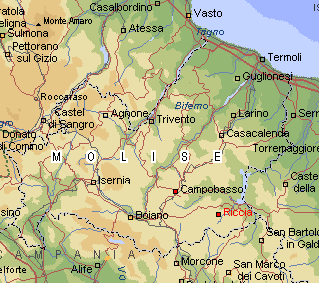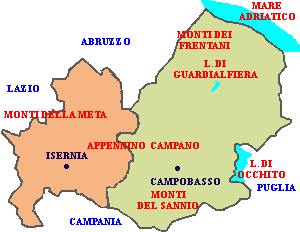 SOUTH SLAVS .. CRATS .. MOLISE CROATS
Molise Croats (moliški Hrvati in scientific literature) live in the Molise region of Italy in the villages Acquaviva Collecroce (in Croatian: Kruč), San Felice del Molise (in Croatian: Štifilić) and Montemitro (in Croatian: Mundimitar) and elsewhere. In these three villages they are a majority. There are about 1.700 speakers of the Molise Croatian dialect. Additionally, there are about 1.000 people in other parts of Italy and emigrants in other countries originating from these villages.
Molise Croats identify themselves as Croats as well as Italians. They speak both the Molise Croatian dialect & the Italian language. Milena Lalli, a poet born to local parents in Rome, studied Slavic languages in the 1970s and evaded the curse of the midget language by acquiring a sizeable literary Croatian vocabulary to replace the numerous Italian borrowings in her dialect. Sometimes, in publications, these Croatian words and even whole expressions are translated in parenthesis or off to the side into proper Italian; so also in translations from Croatian.
The Molise Croats are all Catholic. Tradition holds that the community settled "z one bane mora" (from the other side of the sea) in the fifteenth century, and was once much more widespread. A legend says that they came to the new country on one Friday in May carrying only the statue of Saint Lucy. Because the exact year and date of their arrival is unknown they hold processions dedicated to Saint Lucy (Sveta Luca) on every Friday in May.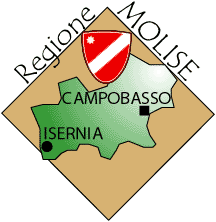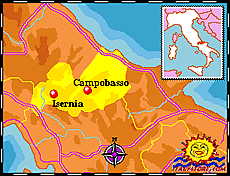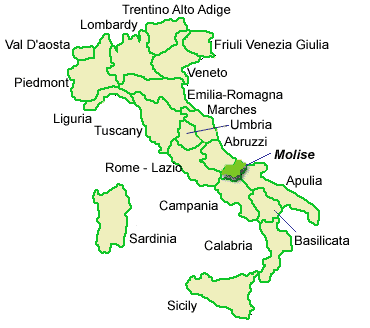 (hrvatski)
JUŽNI SLAVENI .. HRVATI .. MOLIŠKI HRVATI
Moliški Hrvati (Molizanski hrvati).- Pripadnici hrvatskog naroda koji su oko 1500. godine naselili područje talijanske pokrajine Molise, sklanjajući se pred navalom Turaka. Smatra se da su izbjegli s područja između Cetine i Neretve. Specifičnost moliških Hrvata je do današnjih dana sačuvan arhaičan moliški hrvatski dijalekt.
Moliški Hrvati uglavnom žive u selima Kruč (Acquaviva Collecroce), Štifilić (San Felice del Molise) i Mundimitar (Montemitro). Prije su živjeli i u selu Palata, gdje i danas stoji natpis na crkvi o graditeljima koji su došli iz Dalmacije, te u Čiritu (Ceritellu), u kojem su do 17. stoljeća zajedno živili Albanci i Hrvati (poslije su Albanci preselili u Montecilfone, a Hrvati u Živuvodu.
Molise jer regija u južnoj Italiji, druga najmanja od svih talijanskih regija. Do 1963. je, zajedno s regijom Abruzzo, bila dio regije "Abruzzi e Molise". Molise graniči s regijama Abruzzo (na sjeverozapadu), Lacij (na zapadu), Kampanija (na jugu), Apulija (na jugoistoku). Sjeveroistočni dio regije je na obali Jadranskog mora.
Regija pokriva 4438 km² i dom je za oko 330 000 stanovnika. U regiji žive i dvije etničke manjine:
Moliški Hrvati - oko 2500 ljudi koji govore moliški hrvatski dijalekt, temeljen na štokavskoj ikavici.
Moliški hrvatski dijalekt arhaični je dijalekt hrvatskog jezika moliških Hrvata koji se, unatoč okruženosti talijanskim govornim područjem, uspio sačuvati do današnjeg dana.
Jezikoslovci su zapisali do 3000 izvornih moliškohrvatskih riječi, što je prosjek u govoru jednog jezika.
U tome govoru nema turcizama jer su moliški Hrvati iselili prije nego su Turci potpuno zaposjeli njihov kraj, a to ga čini izvanrednim izvorom za proučavanje predturskog razvoja hrvatskog jezika. Specifično je to da se jezik uspio sačuvati isključivo usmenom predajom.
Iako je jezik, nesumnjivo, potekao od hrvatskih govora iz "stare domovine", moliški Hrvati svoj vlastiti jezik nazivaju jednostavno "po našku" ponajviše zahvaljujući izostanku buđenja nacionalnih osjećaja tijekom narodnih preporoda u Europi u 19. st., ali i nezainteresiranosti jugoslavenskih vlasti za ovu nacionalnu manjinu sve do osamostaljenja Republike Hrvatske. Mladi u selima naseljenim moliškim Hrvatima danas, zahvaljujući novoj manjinskoj politici talijanske vlade, u školama uče moliškohrvatski i standardni hrvatski jezik.
(italiano)
LINGUE SLAVE MERIDIONALI .. CROATO MOLISANO
Il croato molisano (denominazione propria naš jezik - la nostra lingua, forma avverbiale na-našu - al modo nostro; altre denominazioni: slavisano - slavo molisano - lo slavo) è un idioma slavo minoritario parlato nella regione Molise, in tre comuni della provincia di Campobasso distanti circa 30 chilometri dal Adriatico: Acquaviva Collecroce/Živavoda-Kruč, Montemitro/Mundimitar e San Felice del Molise/Stifilić (Filič) (in passato anche a Palata e a Cerritello/Čirit). Geneticamente il croato molisano appartiene al gruppo dialettale štocavo-icavo (con alcune caratteristiche del čakavo).
Per quanto riguarda la sua origine, gli studiosi hanno formulato le seguenti ipotesi:
gli antenati degli odierni Croati (Slavi) molisani siano emigrati verso l'Italia circa 500 anni fa dalla valle del fiume Narenta (Neretva) tra Croazia ed Erzegovina;
all'inizio del XVI secolo siano fuggiti dalla Dalmazia e più precisamente dalla foce della Narenta (Reissmüller);
i Croati del Molise provengano dai dintorni di Zara (Aranza);
i Croati del Molise siano originari dalla regione stocavo-morlacca dell'Istria meridionale (Badurina);
i Croati del Molise siano originari dalla regione dell'entroterra da Zara a Sebenico (Hraste);
i Croati del Molise siano originari dalla regione attorno al monte Biokovo, nella regione di Zabiokovlje (Muljačić).
JANJEVCI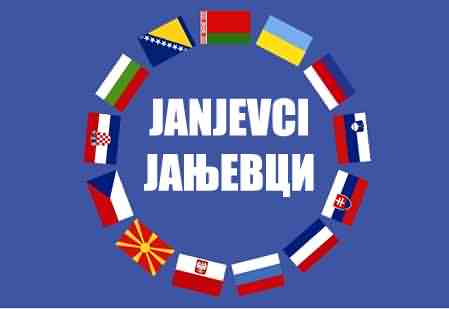 ЈАЊЕВЦИ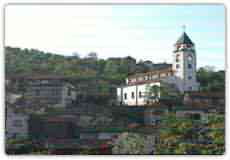 view of JANJEVO (with the church of St. Nicholas ),
Serbia - province of Kosovo and Metohija
JANJEVCI are inhabitants of the SERBIA, province of KOSOVO AND METOHIJA , village of JANJEVO municipality of LIPLJAN, and surrounding villages, located near PRIŠTINA, as well as villages centered around LETNICA near VITINA.
IN the village of JANJEVO, the 'KOSOVO CROATS', also known as JANJEVCI made up the two-thirds of the population.
As well as Janjevo, Lipljan town also had a sizeable Croat population, and also the villages ŠAŠARE, VRNAVOKOLO and VRNEŽ - had Croat majority populations.
The Janjevci as a specific group are one of two Roman Catholic SOUTH SLAVIC REGIONAL SUBGROUPS in Kosovo.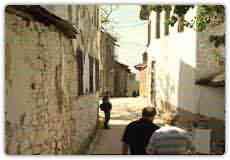 The streets of JANJEVO
The Janjevci developed Croatian national identification during the 20th century as they are believed to be descended from traders that came from the Dubrovnik Republic in the late middle ages.
Ever since 1974, they have been migrating from Kosovo to Croatia, during the process of Yugoslavia's disintegration and the Yugoslav wars.
In 1992 some inhabitants from Letnica emigrated to Croatia and settled in abandoned homes of Serbs in the villages of Voćin and Varešnica in western Slavonia.
Their Serb inhabitants had previously fled due to the war in Croatia.
Before the Kosovo War began, there were 8,062 Janjevci in Kosovo.
After it, only around 750 remained, the rest fled mostly to Croatia.
In Croatia, many of the Janjevci have settled in the village of KISTANJE whose native Serb population fled after Operation Storm.
Following the return of the Serbian refugees, the village is divided between two hostile communities.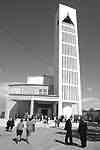 New church of St. Nicholas Traveller in Kistanje (CROATIA )
build up by 'KOSOVO CROATS' JANJEVCI
(hrvatski)
JUŽNI SLAVENI .. HRVATI .. JANJEVCI
Janjevci su regionalna hrvatska manjina na Kosovu. Ime su dobili po gradu Janjevu u blizini Prištine, gdje danas većina njih na Kosovu i živi.
Potječu od trgovaca i rudara iz Dubrovnika i obližnje Bosne i Hercegovine, koji su se tokom 14. stoljeća naselili na Kosovu. Katoličku vjeru i hrvatski identitet su uspjeli zadržati kroz stoljeća.
Prvo pismeno spominjanje je godine 1303. od strane pape Benedikta XII., koji Janjevo spominje kao centar katoličke župe Svetog Nikole.
Od 1991. nadalje, većina njih je iselila, ponajviše u Hrvatsku. U Hrvatskoj su im uglavnom dodjeljivana od Srba napuštena i danas prazna područja.
Godine 1948. bilo je 5.290 Hrvata ( 0.7 % stanovništva Kosova ), prema službenom popisu tadašnje Jugoslavije. 1971. bio je 8.264 a 1981. 8.718 Hrvata na Kosovu (0.6% stanovništva), a 1991. 8.062 (0.4% ukupnog stanovništva), dok ih je 1998. bilo još samo 1.800. Danas ih u Janjevu ima otprilike 350.
Trenutna stanje je takovo, da se na Kosovu osjećaju neugodno i ugroženo. Hrvatska u suradnji s katoličkom crkvom razmišlja o mogućnosti cjelovitog preseljenja.
(српски)
ЈУЖНИ СЛОВЕНИ .. ХРВАТИ .. ЈАЊЕВЦИ
Јањевци су хрватска регионална мањина на Косову и Метохији. Име су добили по насељу Јањево у Општини Липљан јужно од Приштине. Остала хрватска насеља на Косову и Метохији су: у општини Липљан Окосница и Шишарка (оба села са по мање од 50 житеља), у Општини Витина су то насеља Летница, Шашаре, Врнавоколо, Врнез и делимично насеље Кабаш.
Потичу од трговаца и рудара из Дубровника и Босне и Херцеговине, који су током 14. века дошли на Косово. Католичку веру су сачували до данашњих дана. Први пут их спомиње папа Бенедикт XII 1303. године који Јањево наводи као средиште католичке жупе Светог Николе. После немира на Косову и Метохији 90-их година и касније почиње интензивније исељавање у Хрватску на земљу протераних Срба. 1992. неки становници села Летница су се населили у места Воћин и Варешницу у западној Славонији која су претходно напустили Срби. 1996. године се већина становништва из Јањева преселила у далматинско село Кистање из ког су у Операцији Олуја протерани Срби, они су насељу дали и ново име Ново Јањево.
По попису 1948. године било је 5.290 Хрвата (0,7% становништва Косова и Метохије), 1971. било је 8.264, а 1981. године 8.718 Хрвата, 1991. Хрвата је било нешто мање и то 8.062, а по проценама из 1998. има их само 1.800, од тога у Јањеву око 350. Хрватска држава размишља да због немогућности нормалног живота уради комплетно пресељење преосталих Хрвата у Хрватску.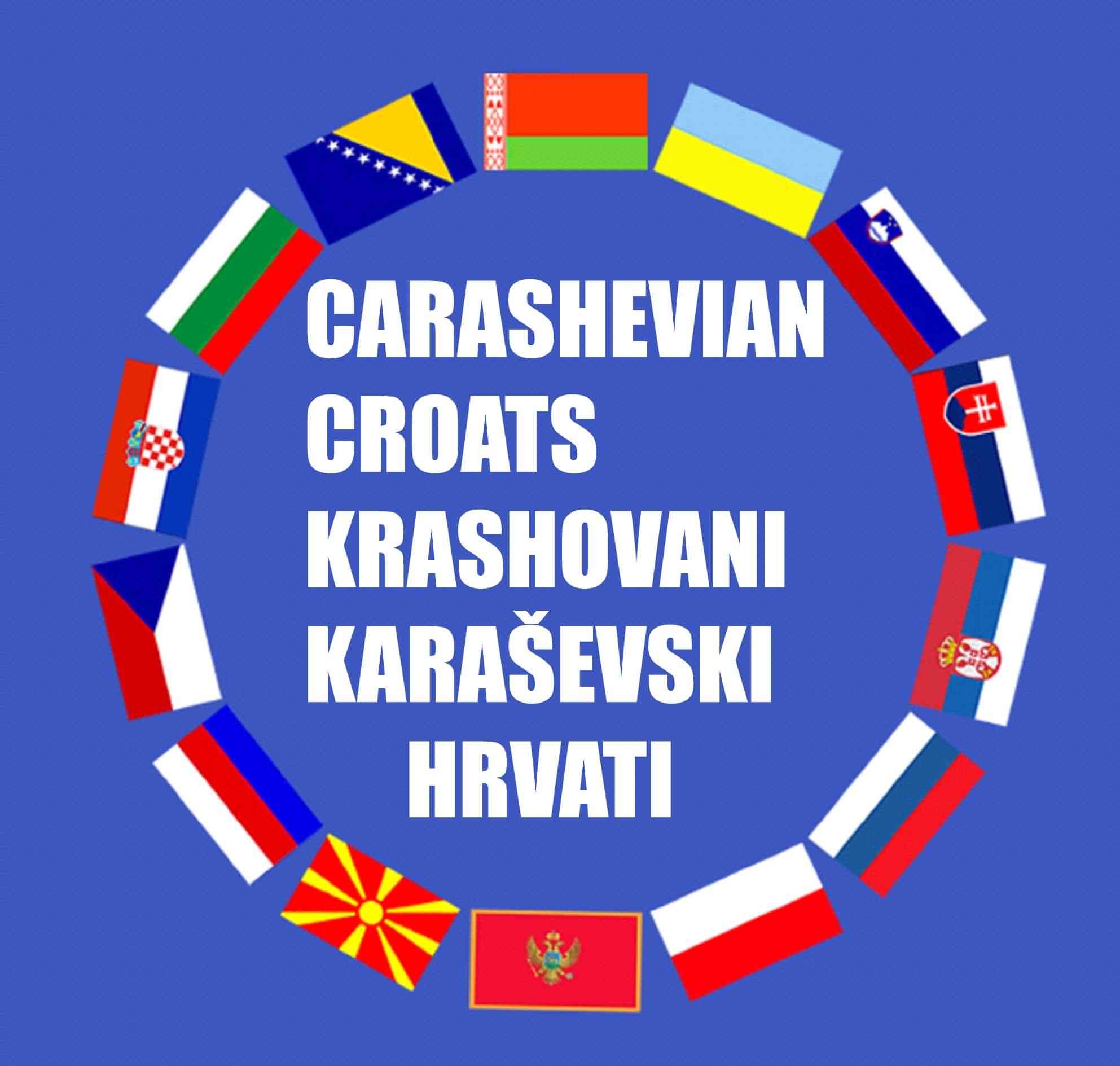 SOUTH SLAVS .. CROATS ..
CARASHEVIAN CROATS .. KRASHOVANI
The Krashovani (Croatian and Serbian: Krašovani, Крашовани, Karašovani or Krašovanje, Karaševci and Koroševci; Romanian: Caraşoveni, Cârşoveni, Cotcoreţi or Cocoşi; also known as Krashovans) are a South Slavic people indigenous to Carasova and other nearby locations in Caras-Severin County within the Romanian banat.
Until 1989, most of the people called themselves caraşoveni and their language caraşoveană and considered themselves a people distinct to the other Slavic people around the area, such as Serbian, Croatian or Bulgarian.
After 1989, due to some political, economic, social and cultural factors, most of them started identifying themselves with CROATS, and some still continued to call themselves Krašovani. Today, many Krashovani chose the Croatian ethnicity, partly due to the attention given to them by the Croatian state (which also awards them the Croatian citizenship).
Caraş-Severin:Serbian and Croatian : Karaš-Severin/Караш Северин, Hungarian: Krassó-Szörény, Bulgarian: Караш-Северин)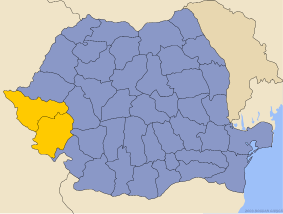 ROMANIAN BANAT map
It is estimated that there are around 5,000 Krashovani in Romania, with only some 200 opting for the nationality itself, the remainder choosing Croatian ethnicity.
Krashovani form a majority in two comunes of Caraş-Severin County: Carasova and Lupac.
According to the 2002 census in Romania, the population of Caraşova commune comprises 84.60% Croats, 4.96% others (presumably Krashovan), 4.47% Roma, 4.41% Romanians, etc. The population of Lupac commune comprises 93.38% Croats, 5.32% Romanians, etc. The 79.75% of population of Caraşova municipality and 93.45% of population of Lupac municipality declared to speak Croatian as mother tongue in 2002 census.
Original Slavic settlements had existed in these regions before the Krashovan migration. Krashovani themselves are mostly descendants of the Torlakian inhabitants of eastern Serbia, namely the region around the Timok River.
Some of the Krashovani originate from Turopolje region of present-day Croatia (they are being referred as Turopoljci). Because of the long-time influence of other Krashovani, who speak the Torlakian dialect, the original (kajkavian) dialect of this group also became Torlakian. Other groups are supposedly Croats from the Franciscan province of Bosna Srebrena.
The Krashovani were also considered Bulgarians by some (mainly Bulgarian) scientists from the first half of the 20th century (such as G. Cibrus, M. Mladenov, K. Telbizov, and T. Balkanski). However, these claims are based on the fact that these and some other Bulgarian scientists consider the entire Torlakian-speaking Slavic population ethnically Bulgarian, just as Serbian scientists consider it ethnically Serbian. The question of whether the Torlakian dialect belongs to the eastern or western branches of South Slavic languages is also disputed, and it is often classified as a transitional dialect between the two.
Krashovani migration to Banat can be traced to the 1370s, when fleeing the Ottoman onslaught, they moved there from Timok region (in that time ruled by Bulgaria). The Catholic supremacy inside the Kingdom of Hungary, (to which the Banat region belonged at the time) may account for their distinctiveness from the rest of the Torlakian-speaking population in present-day eastern Serbia.
According to the Austrian population census there were over 10,000 Krashovans in the Romanian Banat. In 1896 the Austro-Hungarian census listed around 7,500 Krashovans; the same was stated by the authorities of the Kingdom of Romania in 1940. Their number dropped to 6,500 in 1992 according to the census of the government of Romania.
Ever since the Romanian Revolution, the government of Romania has awarded special minority status and privileges to its ethnic Serb citizens. The Democratic Union of Serbs and Krashovani of Romania (Uniunea Democratică a Sârbilor si Caraşovenilor din România) was founded in 1989.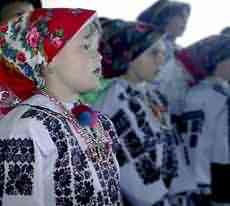 (na hrvatskom)
JUŽNI SLAVENI .. HRVATI .. KRAŠOVANI .. KARAŠEVSKI HRVATI
Krašovani (Karašovani, Krašovanje, Karaševci ili Koroševci, rumunski: Caraşoveni, Cârşoveni, Cotcoreţi, Cocoşi) su južnoslavenski narod, koji pretežno živi u Rumuniji, odnosno u županiji Karaš-Severin u rumunskom dijelu Banata. Krašovani su većinom katoličke vjeroispovijesti, a govore srpskohrvatskim jezikom (timočko-lužnički dijalekt).
Rumunska statistika Krašovane tretira kao posebnu manjinu, ali ih neki smatraju etničkom grupom Srba odnosno Hrvata. Krašovani su se u Banat doselili iz Timočke Krajine krajem 14. vijeka.
Ima ih ukupno oko 5.000, od čega se većina izjašnjava kao Hrvati, a manji dio kao Srbi, a svega oko 200 kao posebna etnička grupacija
Područje koje naseljavaju Krašovani je bilo i ranije nastanjeno stanovništvom slavenskog porijekla. Naseljavanje Krašovana je izvršeno iz oblasti oko rijeke Timok, stanovništvom koje je sa sobom donijelo torlački govor. Neki Krašovani tvrde da su naseljeni iz oblasti Turopolje, u Hrvatskoj, a da su poslije izgubili prvobitni kajkavski i promijenili dijalekt. Neki čak tvrde da su Krašovani bugarskog porijekla, ali su sve slične spekulacije nezasnovane u istoriji i lingvistici.
Njihova selidba se istorijski smiješta negdje oko 1370. godine kada stanovništvo bježi od turskog pogroma. Premoć rimokatolicizma u novoj domovini, Mađarskom kraljevstvu pod čijom vlašću je Banat, utiče na religioznu opredijeljenost ovog izolovanog korpusa torlačkih govornika i oni se pokrštavaju.
Jezik kojim govori ova nevelika skupina je nekarakterističan za Banat, odnosno za Srbe koji žive u ovom dijelu Banata i koji govore ekavskom varijantom štokavskog dijalekta.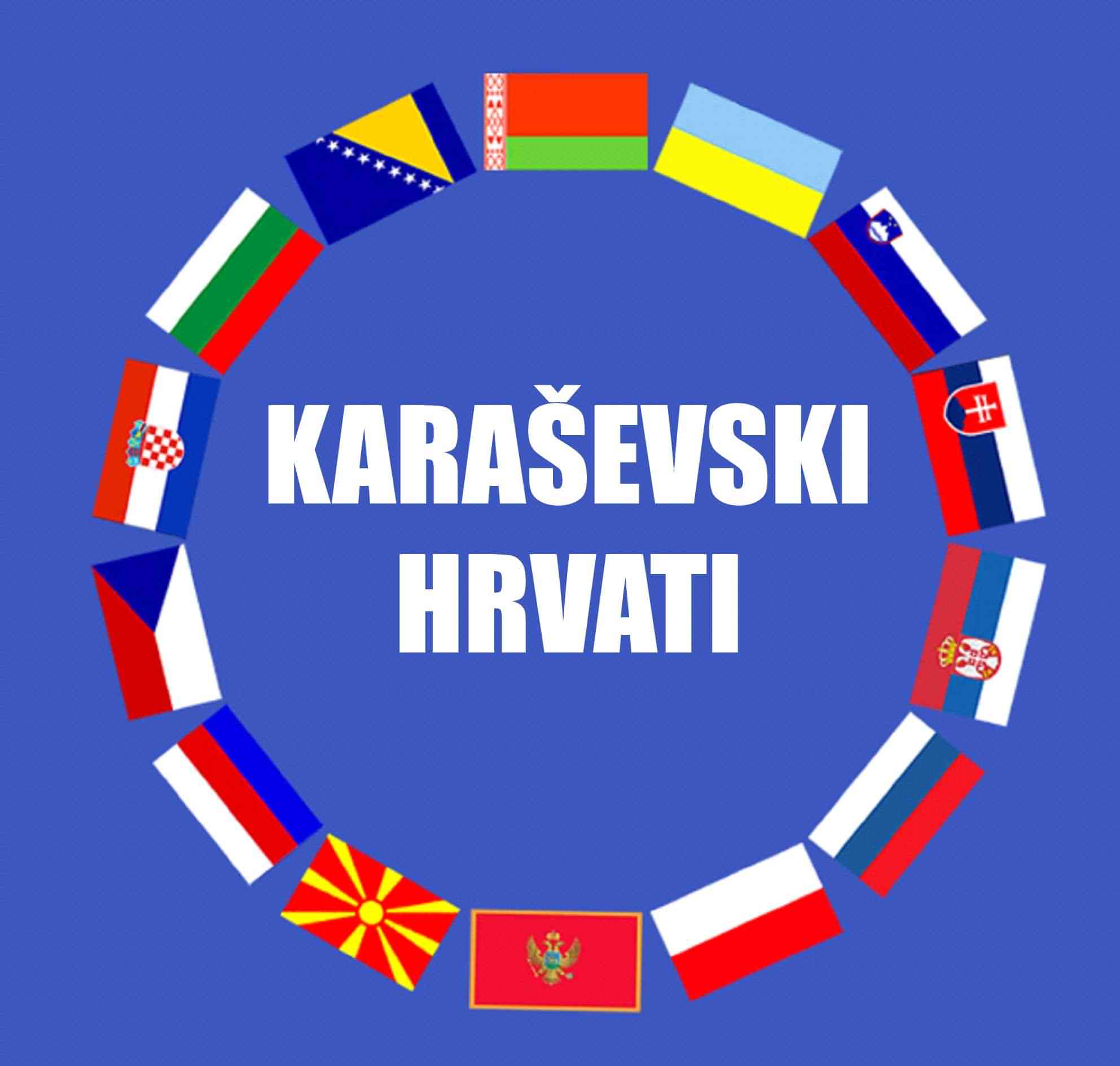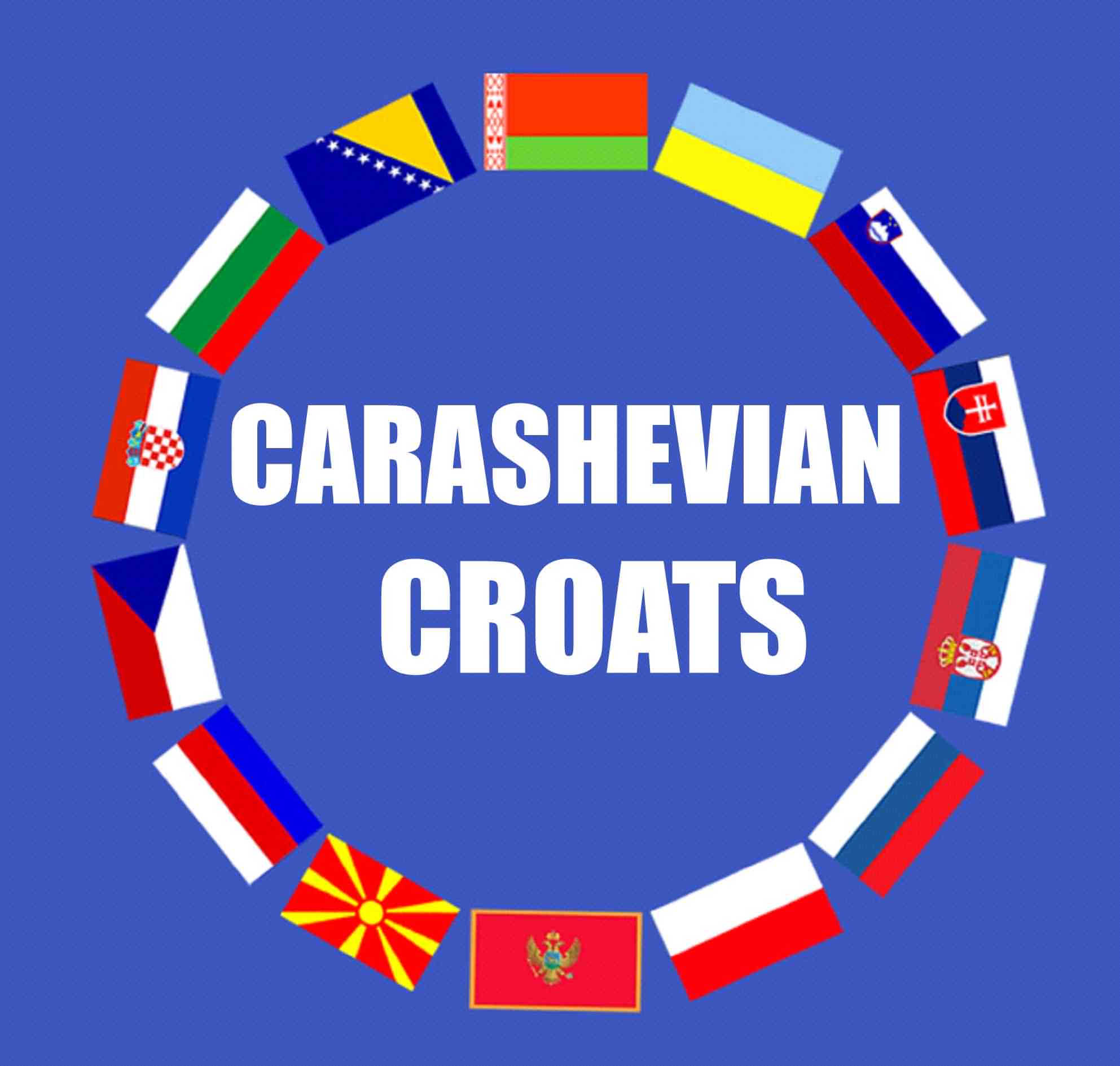 Na jugozapadu Rumunjske u županiji Caras-Severin između grada Rešice i Anine nalazi se najveće hrvatsko mjesto zvano Karaševo (Carasova). Okolo nijega smiještena su i ostala mijesta koja pripadaju karaševskoj strani rumunjskih hrvata ( i u županiji Timiš žive rumunjski hrvati poznati kao Turopoljci i Šokci).Nešto sijevernije od Karaševa smiješten je Nermiđi i Lupak, istočnije Jabalče, zapadnije Ravnik i Vodnik, Klokotič paralelno nasuprot između Ravnika i Lupaka.

Zemljopisno smiješteni smo u brdovitome kraju na kojih 400-500 m nadmorske visine.Karaševo stoji okrenut leđima na samome podnožju planine Semenik visoke 1400 i nešto metara i presječen je popola rijekom Karaš, koja izvire visoko u tamnji šumama planine Semenik.Posebna zanimljivost za turiste koji dolaze iz svih krajeva svijeta posjetiti naš kraj predstavlja prirodni rezervat i kanjon rijeke Karaš.Rijeka izvire kao što sam rekao na južnoj strani u planini, zaobilazi okolo cijelo područje, radi naglu okuku blizu špilje Komarnik (druge po redu naj posjećenije lokacije po zanimljivosti) i nastavlja svoj put krivudavim tokom u dubokome iskopanome vapnenastome kanjonu prema selu.

Kulturno gledano sva karaševska mijesta imaju bogatu dobro usčuvani govor i ruralnu-arhaičnu tradiciju, stanovništvo i dan danas u velikome broju bavi se zemljoradnjom i stočarstvam, posebno voćarstvom; sadnjom i nijegom šljivika.

Da ne bi bili jako dosadni zadržavamo se ovdije i pozivamo znatiželjne da nas posijete, ljubitelji netaknute prirode biti će sigurno oduševljeni.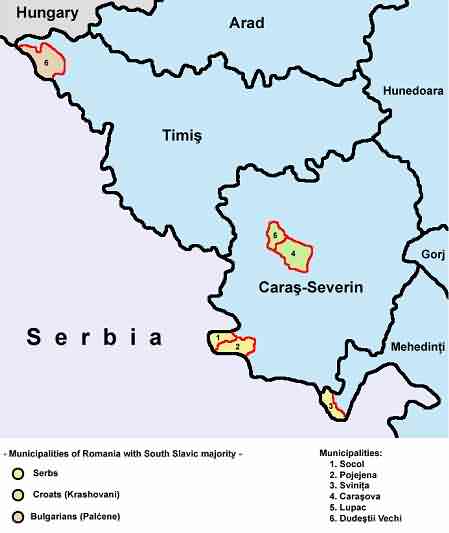 A Krashovani-inhabited area within the Caraş-Severin County
( Română )
Caraşovenii (sau Cârşoveni, Cotcoreţi or Cocoşi, croată i sârbâ Krašovani, Крашовани, Karašovani) sunt un grup etnic de origine slavă, vorbitori al unui dialect sârbo-croat şi nativi în Caraşova şi alte localităţi apropiate din judetul Caraş-Severin. Aproximativ 5.000 de caraşoveni trăiesc în România, majoritatea în Caraşova şi Lupac.
La recensământul din 2002, doar 207 persoane s-au declarat caraşoveni
ABOUTH TORLAK AND SHOP SPEECH
Their dialect is an archaic speech elsewhere preserved only in the area of eastern and southern Serbia and in the Republic of Macedonia and Bulgaria, the Torlakian dialect of the Timok valley around Zaječar.
However, their religion has more recently set them apart from EasternOrthodox Serbs in the Banat, despite the common language and a long history of solidarity (partly continued to this day through joint Serb-Krashovan organizations).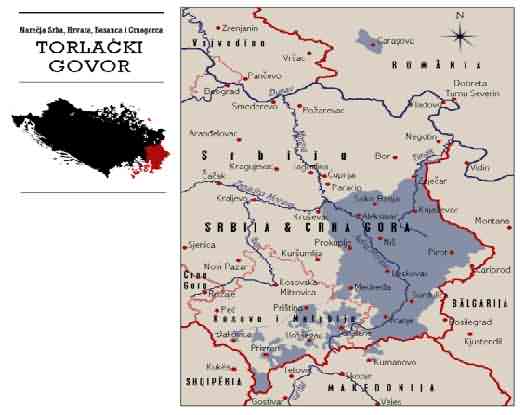 Geographical distribution of the Torlakian dialect in former Yugoslav republics: (Bulgaria and the Western Outlands excluded here but Torlakian is spoken across the border)
Torlak (Serbian: Торлачки говор or Torlački govor) is the name used for the Slavic dialects spoken in southern and eastern Serbia, northeast Republic of Macedonia (Kratovo-Kumanovo), northwest Bulgaria (Vidin-Bregovo) and also further afield in the Caras-Severin County in Romania. Some linguists classified it as the fourth dialect of Serbo-Croatian language (with Shtokavian, Chakavian and Kaykavian) and today as the second Serbian language macro-dialect (with Shtokavian). In Bulgaria, these dialects are considered as wes tern Bulgarian dialects, there is also a tendency to refer to these dialects as Shop (Shopski) in Bulgaria. The Shop dialect is the second of two transitional dialects separating the eastern and western branches of South Slavic languages. More correctly, the two dialect regions are adjacent to one another however they be called in different parts. Torlakian is not standardized, and its subdialects significantly vary in some features.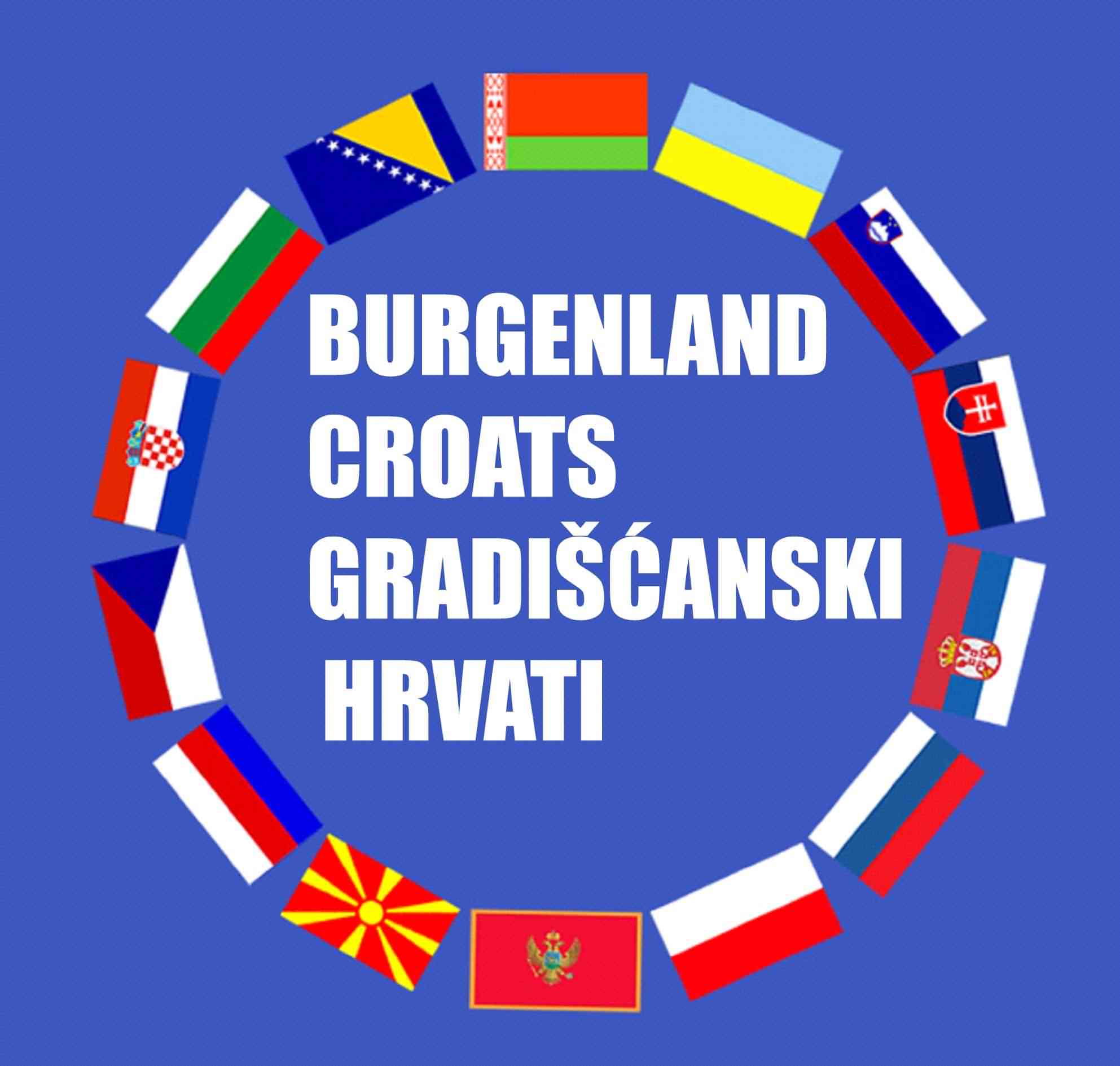 SOUTH SLAVS .. CROATS .. BURGENLAND CROATS
BURGENLAND CROATS – the most original Slavic minority in Europe
Burgenland Croats are ethnic CROATS In the Austrian province of Burgenland. Although an enclave hundreds of kilometres away from their original homeland, they have managed to preserve culture and language for centuries.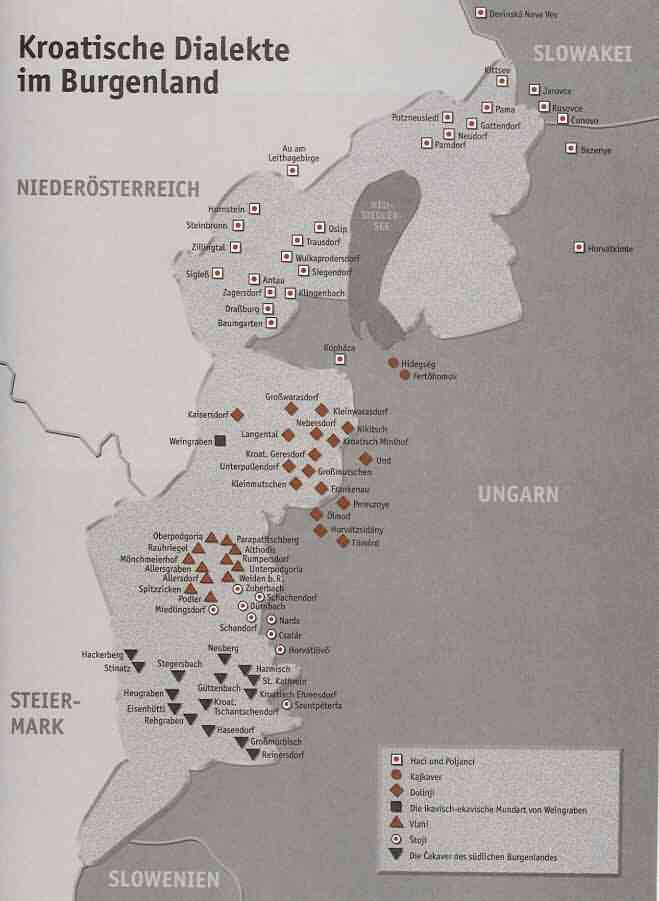 temporary map
location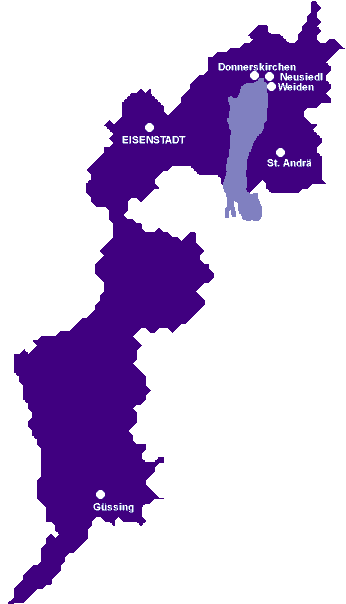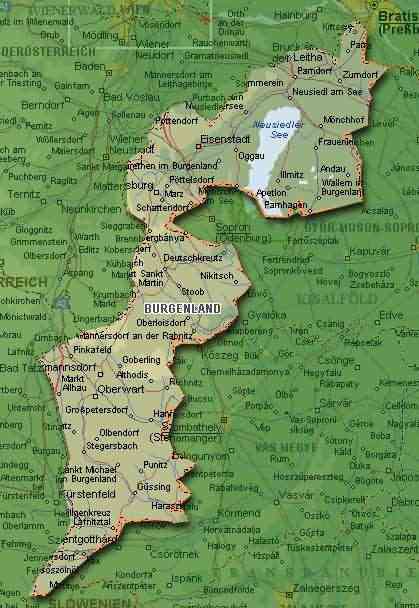 location
GRADIŠĆE
GRADIŠĆANSKI HRVATI
BURGENLAND CROATS
The Croatian ethnic group in Burgenland lives in six (Neusiedl / Niuzalj, Eisenstadt / Željezno, Mattersburg / Matrštof, Oberpullendorf / Gornja Pulja, Oberwart / Borta, Güssing / Novi Grad) of the state`s seven districts. The Croats do not make up the majority population in any of these districts. They are strongest in relative terms in the Oberpullendorf district, and are strongest in absolute terms in the Eisenstadt district. Compact Croatian regions that are now increasingly becoming bilingual exist only in the Oberpullendorf and Eisenstadt districts.
A substantial segment of the Croatian ethnic group has moved to Vienna, mainly because of economic reasons, like job shortages in Burgenland. Part of this group continues to commute on a weekly basis, the remainder have definitively settled in Vienna. The Burgenland Croats in Vienna are culturally and ethnically well organised.
Numerical Strength: 25,713 according to 1991 census. Surveys carried out by the churches in Burgenland show that approximately 35,000 parishioners would prefer to have Sunday church services conducted in Croatian. The Croatian Voluntary Cultural Association of Vienna estimates that 15,000 Burgenland Croats live in the capital.This discrepancy illustrates the difficulties that census taking has in dealing with ethnic reality.
Status: Article 7/Z.3 of the constitutional Vienna State Treaty of May 15th, 1955 (Federal Law Gazette No. 152/1955) contains one of the strongest declaration of rights for Croats in Burgenland and Slovenes in Carinthia and Styria. In addition all Austrian minorities are protected under the Treaty of St. Germain (State Law Gazette No. 303/1920; Articles 66 to 68), which has constitutional status.
The Ethnic Groups Act of July 7th, 1976 (Federal Law Gazette No. 196/1976) provides minority rights for Burgenland Croats, Hungarians in Vienna and Burgenland, Carinthian Slovenes, Romanies, and Czechs and Slovaks.
Public Service: Burgenland Croats have the following constitutional rights under Article 7/Z.3 of the constitutional Vienna State Treaty:
to use Croatian with the authorities; granted in 25 communities,
*to use Croatian before courts of justice; granted only before 6 district law courts,
*to bilingual printed forms; granted only sporadically,
*to use Croatian in official publications; not granted in Burgenland,
*to bilingual place and road signs, not respected in Burgenland. To date not one single official bilingual topographical sign has been posted
Because of the 25% barrier introduced by the Ethnic Groups Act, limiting the protection of minorities as guaranteed under Article 7/Z.3 of the constitutional Vienna State Treaty (1955), an amendment to this law according to the Ethnic Group Basic Act (October 24, 1995 Draft) is needed.
Education:
The Burgenland state Kindergarten Act (LBGl.35/1995) provides for the establishment of bilingual kindergartens. Croatian can be declared an "official kindergarten language" if the native Austrian parents and guardians of over 25% of the children formally request it. Parents must register their children. If a bilingual kindergarten does not have at least one staff member at its disposal who is fluent in the language of the ethnic group then the government is required to appoint an assistant kindergarten teacher. The language of the ethnic group must be adequately taught, at the very least for six hours a week, preferably at least for one hour each day. The use and affectiveness of native language training in kindergarten is almost exclusively dependent on the skills and dedication of the kindergarten teachers.
Since 1994 a child attending a traditional bilingual school can be unregistered from bilingual education. Children attending bilingual schools who have been unregistered must then be taught according to the "normal" teaching plan, i.e. in German. Teachers are no longer permitted to speak Croatian to them. The three hours usually reserved for Croatian class are then replaced with an hour each of German, physical education and handicrafts. The term "bilingual" has not been precisely defined. It remains up to the teacher and the proficiency of the pupils to determine to what extent Croatian is used and to what degree the children should be challenged to improve their skills. An optimal model for the preservation of the native language would be the introduction of mandatory bilingual education in the traditionally bilingual regions.
At secondary level (Hauptschule) teaching for ethnic groups may only be organized on a monolingual basis i.e. in either Croatian or Hungarian. German in these schools is taught for up to six hours a week as a foreign language. The Minority Schools Act provides for the establishment of one secondary school in Oberwart/Borta.
Media: Several Croatian language journals and periodicals are published catering mainly for Burgenland Croats. The regional service of the Austrian Public Broadcasting (ORF) provides 40 minutes of programmes a day, except on Sundays. The only television program that can be currently picked up in Burgenland in Croatian is the weekly 30 minute programme directed at ethnic groups.
The Burgenland Croats recently founded a private radio station, Radio Mora, which will transmit in the minority languages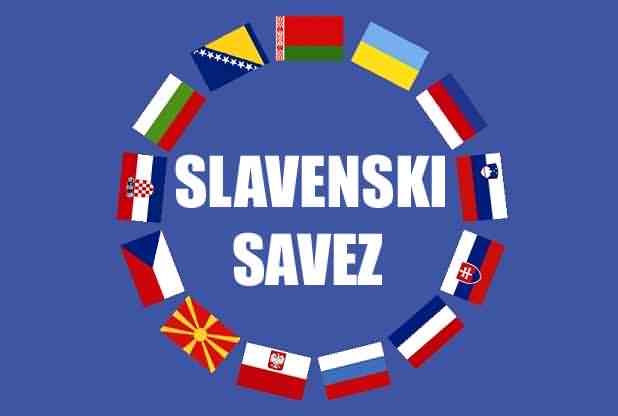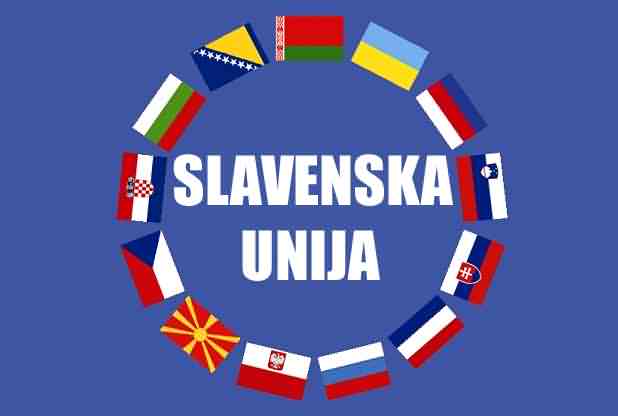 GRADIŠĆANSKI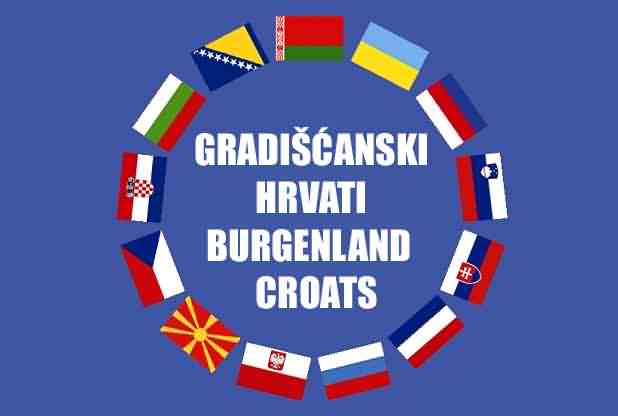 BURGENLAND HRVATI CROATS
AREAS: -
POPULATION: ABOUTH 60 000
OFFICIAL LANGUAGES: HORVATSKI
(OLD CROATIAN VERSION)
History
The Burgenland Croats were given landrights by the Austrian Crown during the Turkish Wars (1533-1584). This gave the Croats refuge and also provided Austria with a buffer zone between Vienna and the Turks in the South and East. The Croats fled the Turks from the riverland areas of Gacka, Lika and Krbava, Moslavina in Slavonia and an area of present day Northern Bosnia near Tuyla. Because many villages had been pillaged by the Turks, the Crown gave the new settlers land rights and independent ecclesiastic rights. As the Croats had been driven from their homes and farms, they were happy to take up the offer granted by the Kaiser. They subsequently stayed and the present day Burgenland Croats are direct descendants from these settlers.
The Burgenland Croats also developed their own orthography during the counter-reformation, however, assimilation soon followed with the language being banned from use in churches and schools.
After falling under Hungarian rule in the Double Monarchy, liberal laws regarding ethnicity enabled them to rekindle their language and heritage. However, when a 1900 census revealed that only 18.8% of the population of Burgenland spoke Hungarian, drastic measures of magyarisation were taken, thus revoking many individual and community rights. Sadly the Burgenland Croats were persecuted by Austro-German Nationalists after the WWI and by the Nazis in WWII and were exposed to attempts of assimilation.
The Croats gained minority status in the Austrian Treaty of Independence of 1955. Since then they and their culture have undergone somewhat of a renaissance with the language being taught at schools and spoken in Church where there is a large enough minority.
The Burgenland Croats speak an older version of the modern-day Croatian language. The two variants are mutually intelligible, however, the Burgenland version of Croatian includes phrases no longer used in modern Croatian as well as certain phrases and words taken from German and Hungarian. Names are often written according to Hungarian orthography due to Magyarisation during the late 19th and early 20th centuries. Nearly all Burgenland Croats are fluent in German..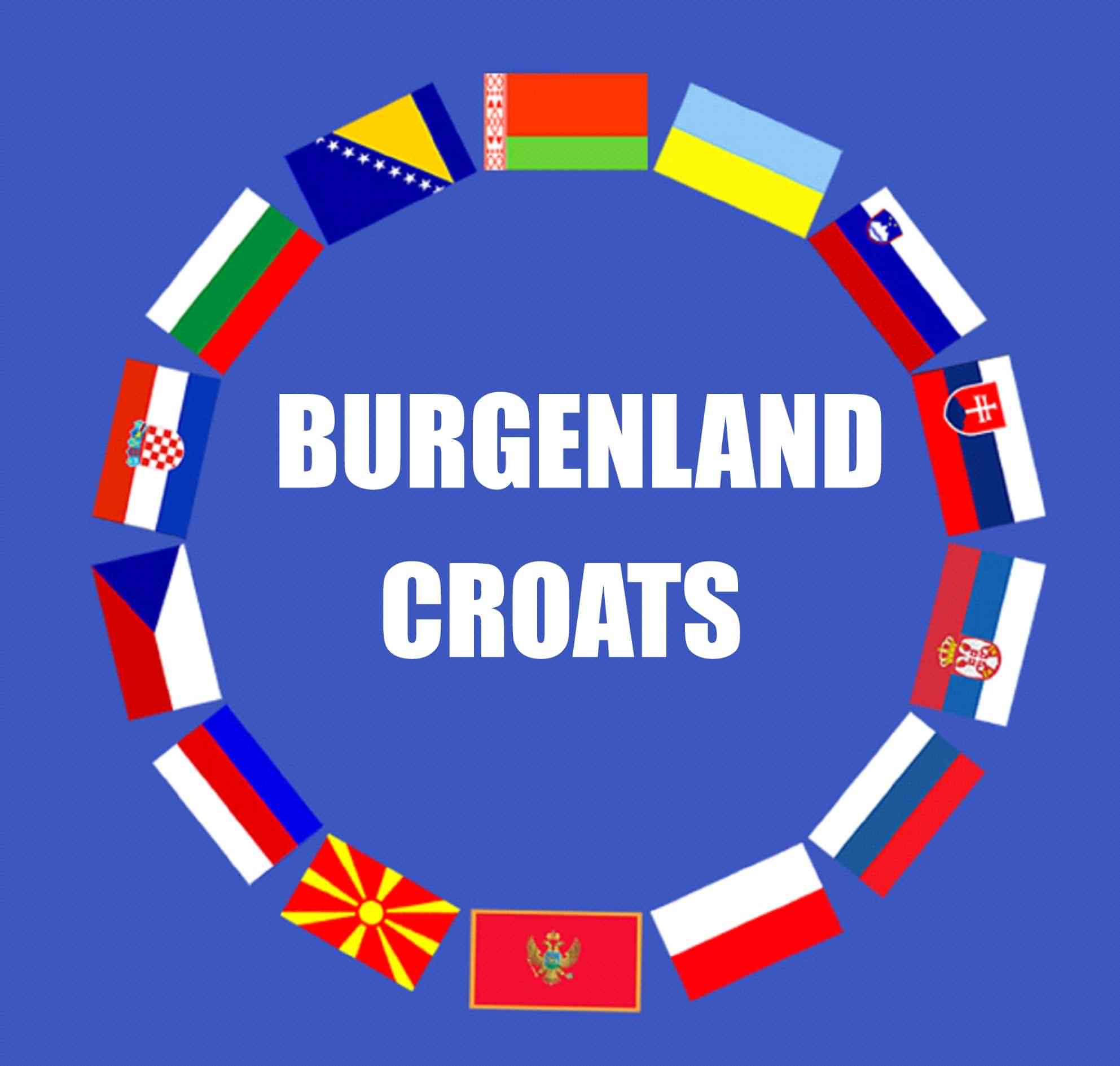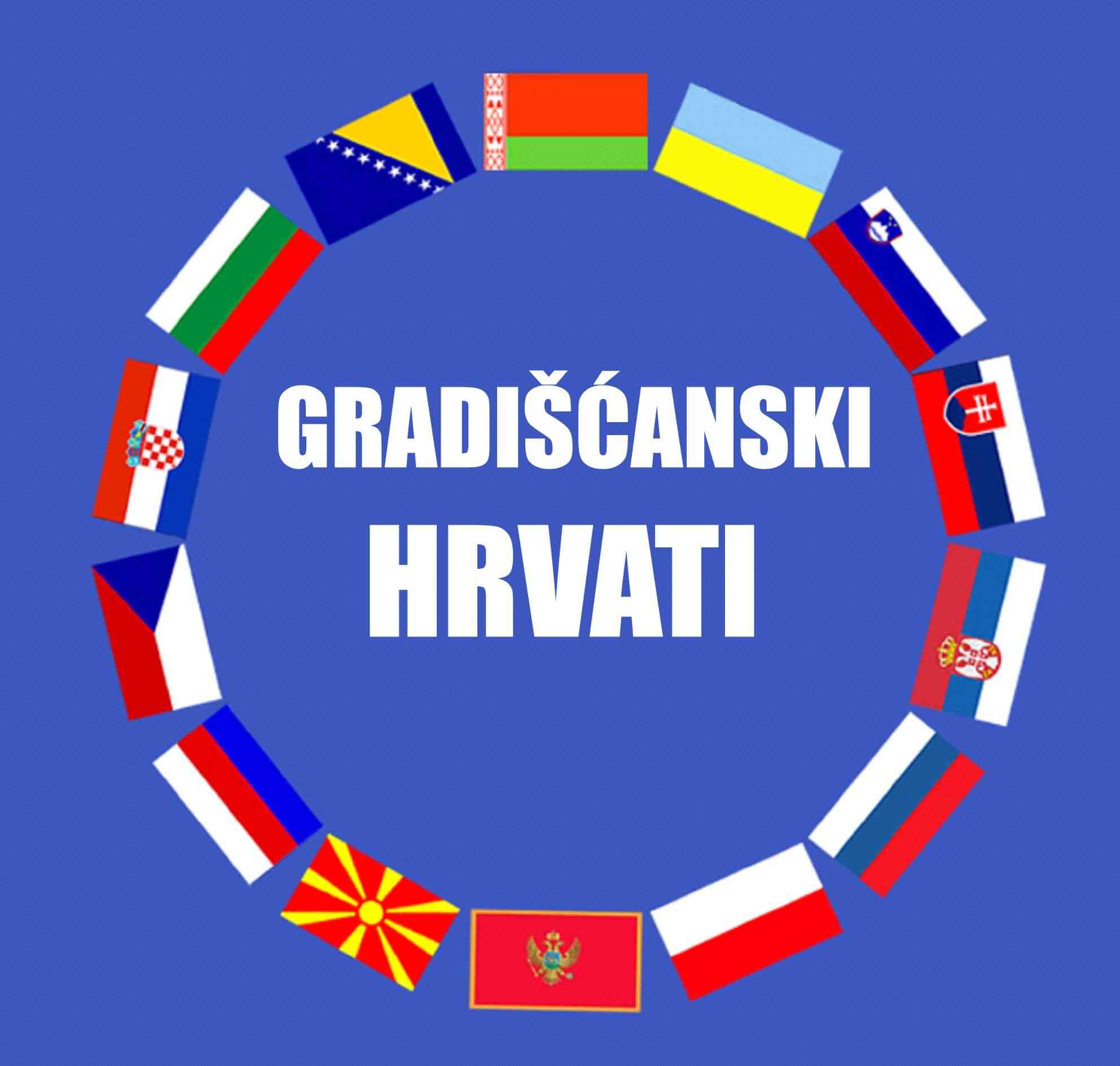 ( na Gradišćanskohrvatskom)
JUŽNI SLAVENI .. HRVATI .. GRADIŠĆANSKI HRVATI
Gradišćanski Hrvati živu jur već od 470 ljet u Gradišću. Naziv Gradišćanski Hrvati ne valja samo za Hrvate u Gradišću, nego i za Hrvate, ki živu u Ugarskoj, Slovačkoj i Moravskoj.
Gradišćanske Hrvate su naselili u 16. stoljeću u graničnom prostoru med današnjom Austrijom, Ugarskom i Slovačkom. Jezgra ondašnjega naseljavanja bilo je područje današnjega Gradišća i istočni dio Dolnje Austrije.
Danas u ti kraji prema pojedini procjena živi otprilike 50.000 do 60.000 ljudi sa znanjem hrvatskoga jezika, većina njih u današnjem Gradišću i u Beču. Tim su Gradišćanski Hrvati i Hrvatice brojčano najveća priznata narodna grupa u Austriji.
"Stara domovina" Gradišćanskih Hrvatov leži u graničnom prostoru med današnjom Hrvatskom i Bosnom-Hercegovinom.
Jezik Gradišćanskih Hrvatov
Gradišćanskohrvatski sliši indoeuropskim jezikom iz skupine slavskih jezikov. On je regionalna jezična varijanta hrvatskoga jezika i tim pripada južnoslavskim jezikom. Danas se oko 50.000 do 70.000 ljudi u današnjem Gradišću i susjedni kraji (zapadna Ugarska, Slovačka i Beč) služi gradišćanskohrvatskim kot razgovornim jezikom. Mimo toga još dandanas živi nekoliko obitelji u istočnom dijelu Dolnje Austrije i južne Moravske, u ki se je očuvao gradišćanskohrvatski jezik.
Po doseljenju u 16. stoljeću imali su Gradišćanski Hrvati i Hrvatice samostalan povijesni razvitak. Zato se je uopće mogao razviti uz hrvatski standardni jezik poseban regionalni književni jezik. Ipak ne postoji nekih većih poteškoć pri sporazumivanju. Znanje gradišćanskohrvatskoga jezika omogućuje lakši pristup i svim drugim južnoslavskim jezikom (srpskomu, slovenskomu, makedonskomu i bulgarskomu), no takaj i českomu i slovačkomu.
Temelj gradišćanskohrvatskoga književnoga jezika je takozvana "čakavština", jedno izmed trih glavnih narječjev hrvatskoga jezika. Uza to su u gradišćanskohrvatskom ali zastupani i elementi dvih drugih glavnih hrvatskih narječjev, "kajkavskoga" i "štokavskoga".
Gradišćanskohrvatski jezik je obilježen mnogobrojnimi arhaičnimi izrazi i jezičnimi obliki. Tokom stoljeć udomaćile su se u njem mnoge posudjenice i sintaktičke osebine iz susjedskih jezikov, iz nimškoga, ugarskoga i slovačkoga.
Tipično za hrvatski jezik u Gradišću je prevladavanje lokalnih govorov u svakidanjoj jezičnoj praksi. Ujednačena književnojezična norma gradišćanskohrvatskoga hasnuje se pred svim u mediji i oficijelni teksti, manje u usmenoj komunikaciji.
Gradišćanskohrvatski je u šesti kotari Gradišća (30 općin) i pred nadredjenimi oblasti u Beču i Gracu dopušćen kot oficijelni službeni jezik Republike Austrije. On se podučava u osnovni škola dvojezičnih općin Gradišća i zapadne Ugarske, u dvojezični glavni škola, politehnički razredi i u nekoliko viših škol, a predaje se i na Bečkom sveučilišću i na Pedagoškoj akademiji u Željeznu.
Gradišćanskohrvatski je i jedan od liturgičnih jezikov katoličanske crikve Dijeceze Željezno.
Gradišćanskohrvatska pismena tradicija nastajepočetkom 17. stoljeća. Suvrimeni gradišćanskohrvatski jezik kodificira se Nimško-gradišćanskohrvatsko–hrvatskim rječnikom iz ljeta 1982. Mogućnost prvoga upoznanja gradišćanskohrvatskoga jezika nudi jezični udžbenik "Gradišćanskohrvatski glasi". Udžbenik se sastoji od trih sveskov i dvih CD-ov s auditivnimi i metodičnimi primjeri za pojedine lekcije i pregledom književnosti i muzike.
Gradišćanskohrvatski jezik služi se latinskim alfabetom. Mimo toga postoju posebne slove za morfeme č, ć, ž, š.
S druge strani u gradišćanskohrvatskom nisu zastupane slove q, x, y, w niti prijeglasi ä, ö, i ü.
Državni ugovor - član 7
BGBl. Nr. 152/1955
Prava slovenske i hrvatske manjine
1. Austrijanski državljani slovenske i hrvatske manjine u Koruškoj, Gradišću i Štajerskoj uživaju ista prava na temelju istih uvjetov kot svi drugi austrijanski državljani uključivši pravo na svoje vlašće organizacije, spravišća i štampu na vlašćem jeziku.
2. Oni imaju pravo na elementarno podučavanje na slovenskom i hrvatskom jeziku i na razmjeran broj vlašćih sridnjih škol; u vezi s tim ćedu se provjeriti nastavni plani i postaviti odiljenje školske nadzorne vlasti za slovenske i hrvatske škole.
3. U upravni i sudski kotari Koruške, Gradišća i Štajerske sa slovenskim, hrvatskim ili mišanim stanovničtvom dopustit će se slovenski ili hrvatski jezik dodatno k nimškomu kot službeni jezik. U takovi kotari ćedu se sastaviti nazivi i natpisi topografske naravi i na slovenskom ili hrvatskom jeziku kot i na nimškom.
4. Austrijanski državljani slovenske i hrvatske manjine u Koruškoj, Gradišću i Štajerskoj sudjeluju na kulturni, upravni i sudski ustanova u ti kraji na temelju istih uvjetov kot drugi austrijanski državljani.
5. Djelovanje organizacijov, usmirenih na to, da oduzmu hrvatskomu ili slovenskomu stanovničtvu njegovu osebinu ili njegova prava kot manjina, mora se prepovidati.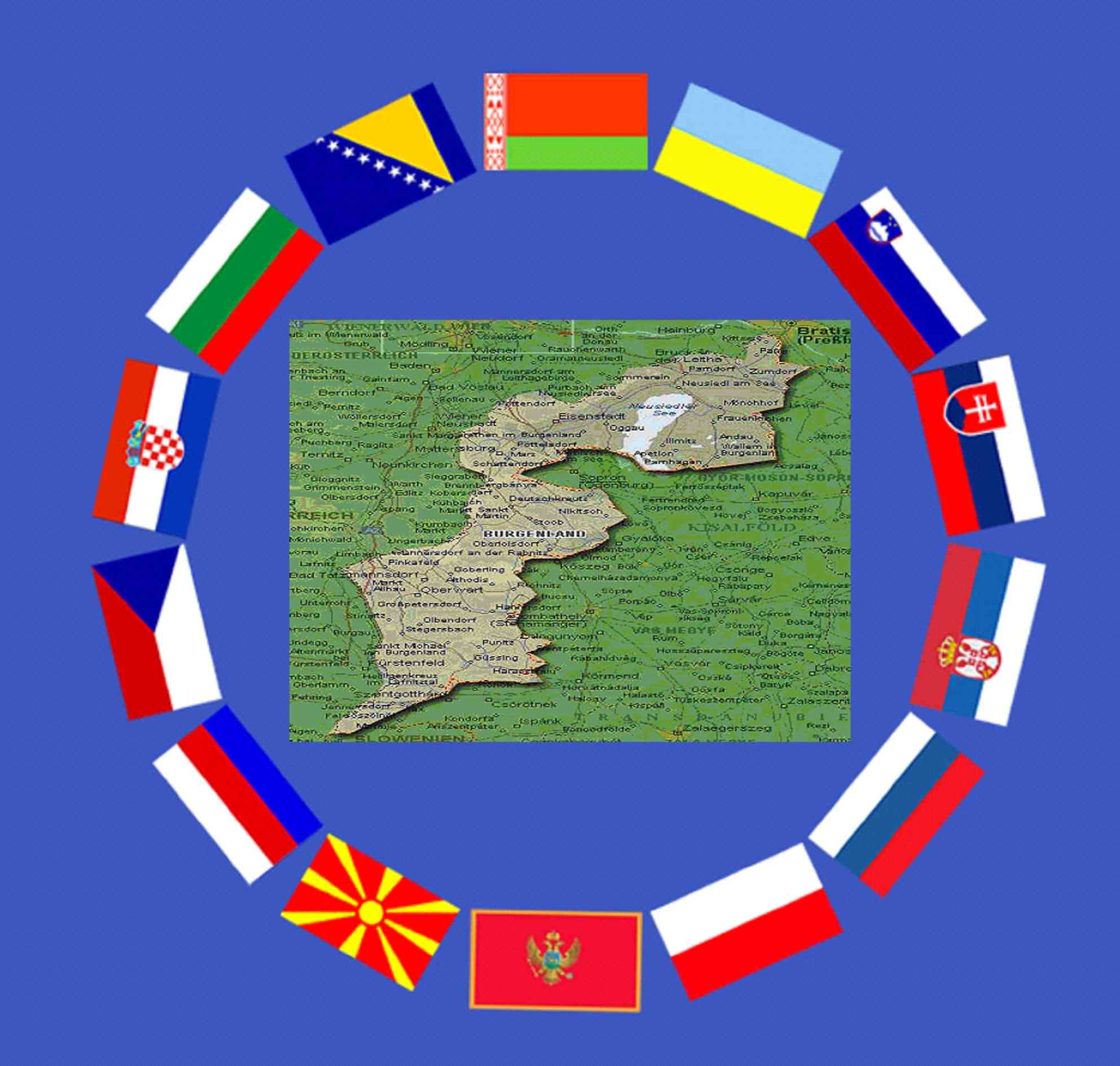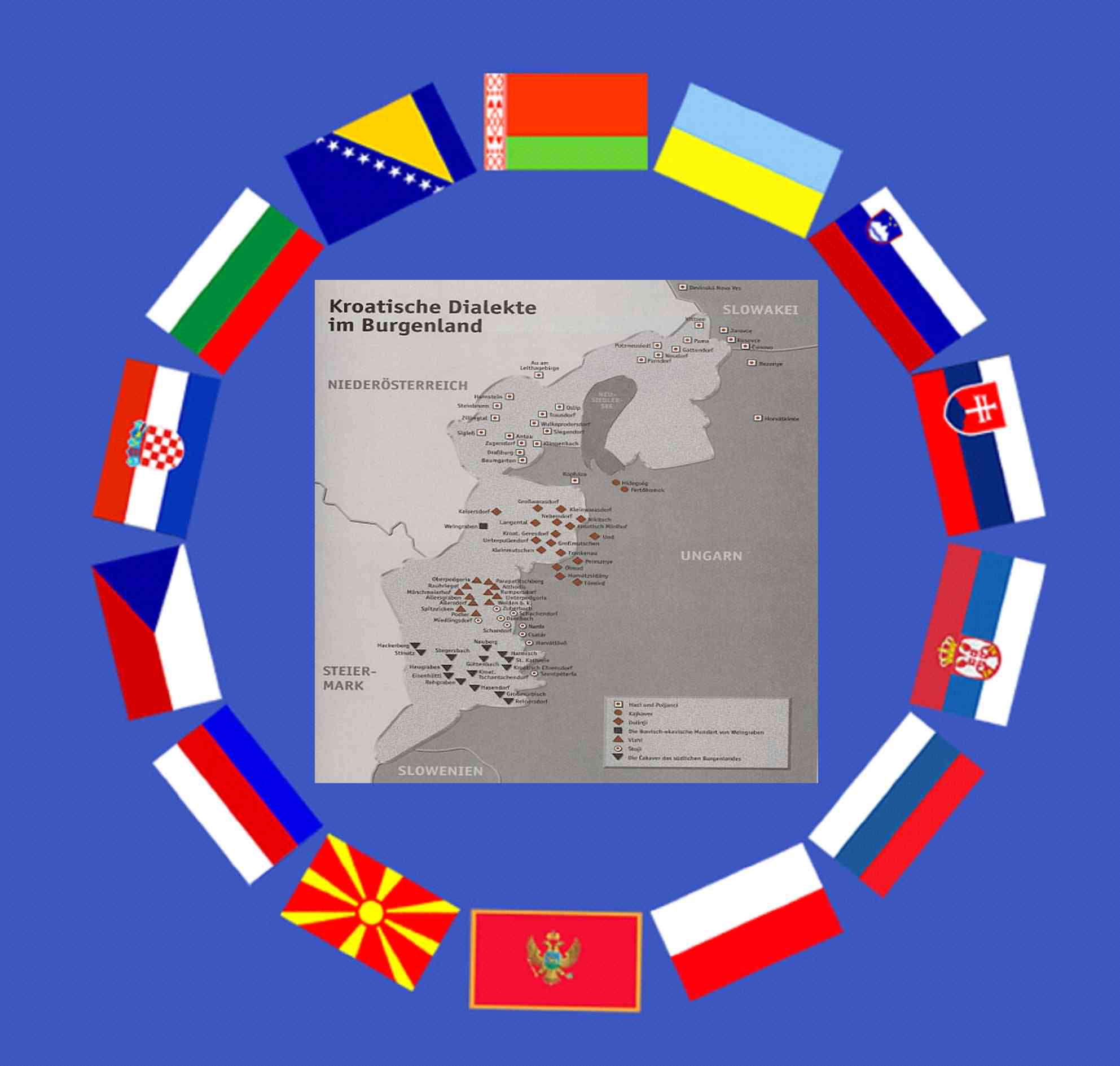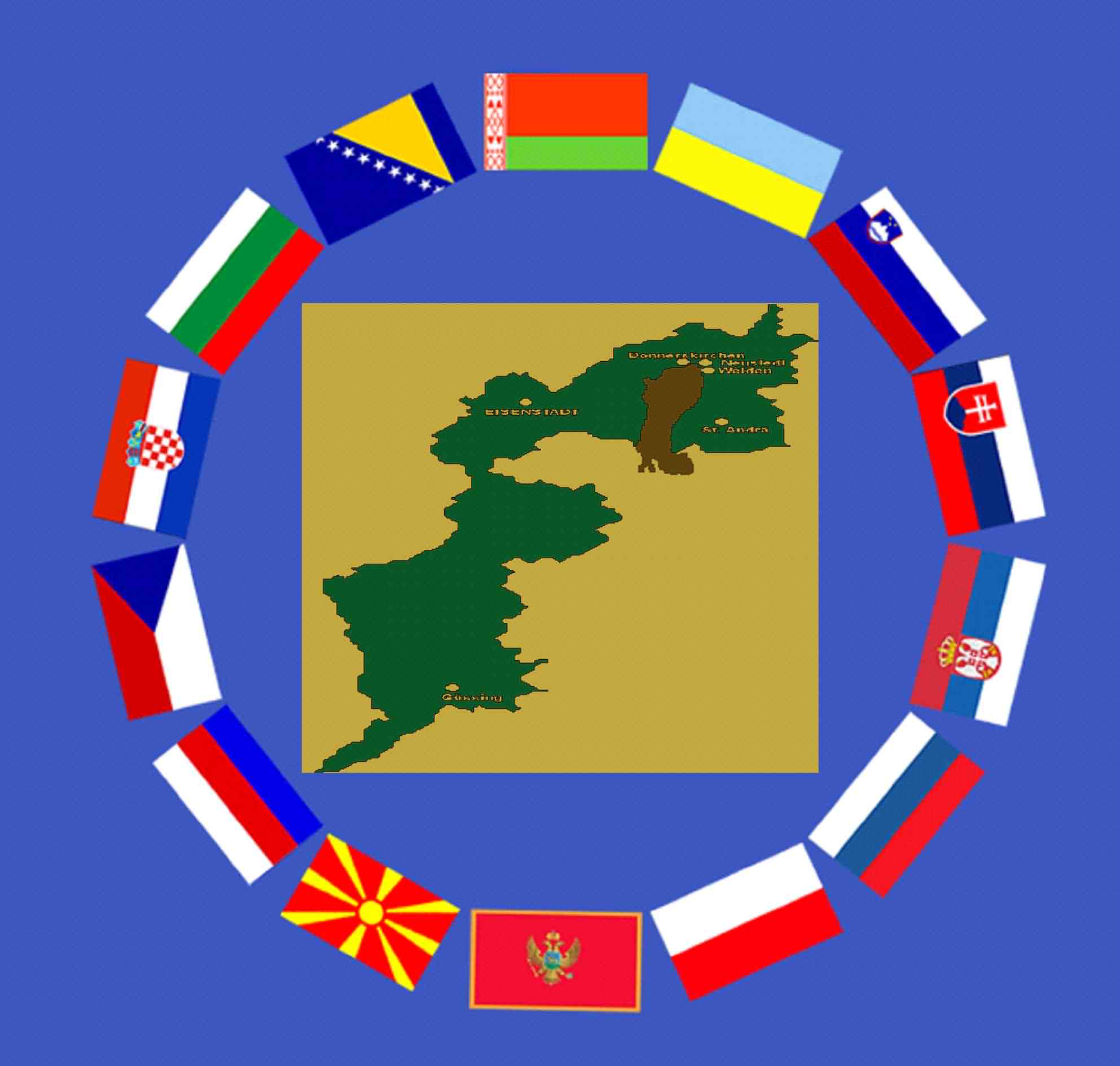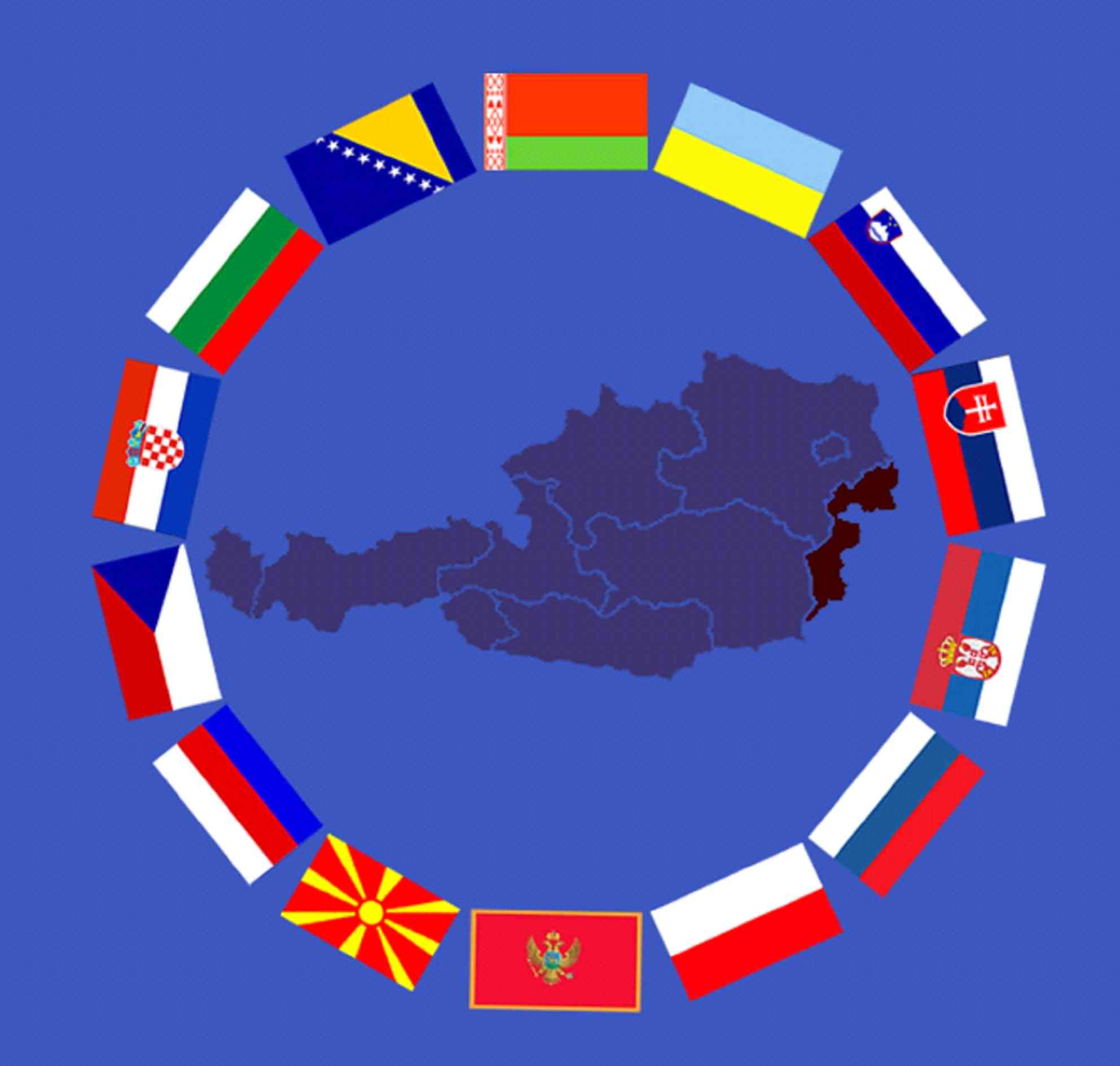 ( hrvatski )
JUŽNI SLAVENI .. HRVATI .. GRADIŠČANSKI HRVATI
Gradišćanske Hrvate su naselili u 16. stoljeću u graničnom prostoru između današnje Austrije, Mađarske i Slovačke. Jezgra ondašnjega naseljavanja bilo je područje današnjega Gradišća i istočni dio Donje Austrije.
Danas u ovim krajevima prema pojedinim procjenama živi otprilike 50.000 do 60.000 ljudi sa znanjem hrvatskoga jezika, većina njih u današnjem Gradišću i u Beču. Tim su Gradišćanski Hrvati i Hrvatice brojčano najveća priznata narodna grupa u Austriji.
"Stara domovina" Gradišćanskih Hrvata leži u graničnom prostoru između današnje Hrvatske i Bosne i Hercegovine.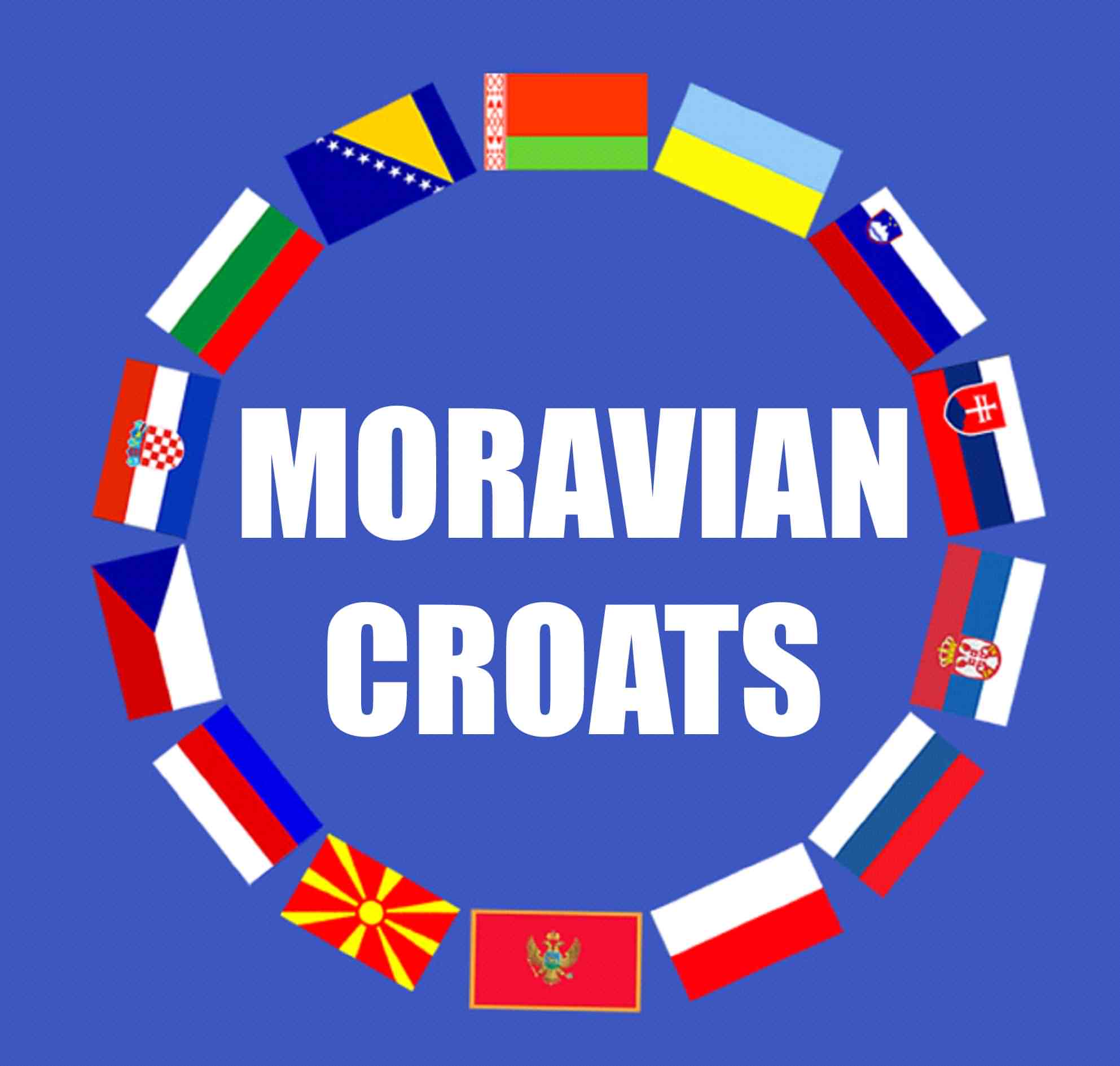 SOTH SLAVS .. CROATS .. MORAVIAN CROATS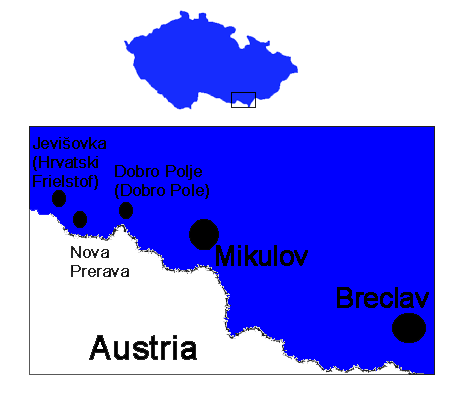 The three Croatian villages in Moravia
The ancestors of the Moravian Croats arrived during the sixteenth century from central Croatia, fleeing before the Turkish invasion. The period of their settling overlaps with arrival of the Croats to Austria, Hungary and Slovakia, who together are called the Burgenland Croats (Cr. Gradiscanski Hrvati). The migration of the Croats to Moravia aroused the attention of ethnographers, linguists, and historians. The first mention of Croats at the end of the eighteenth century, they attempted to explain the reasons for the migration of the Croats from their ancestral homeland. The belief that the colonization of the Croats started from the Croatian regions south of the Kupa and Petrova Gora, the regions better known as Banska Krajina [or today Banovina], was summarized by the Czech academician Adolf Turek. The first Croatian historian who carefully researched the causes and the periods of the migration of the Burgenland Croatians was Dr. Mirko Valentic. According to his beliefs, the causes of the migrations were along with the Turkish aggression and "better agrarian pastures" in Hungary as well as the initiatives that came from Croatian and Hungarian nobles who "at the same time had their holdings in Croatia and Hungary" (M. Valentic, Gradiscanski Hrvati od XVI st do danas, Zagreb 1970). In researching the suffering of our "oldest, northernmost, and farthest Croatian diaspora", Dr. Dragutin Pavlicevic in his book Moravski Hrvati (Zagreb 1994), states the fundamental characteristics and reasons that influenced their survival in a Czech-German surrounding. Strangely, the Moravian Croats support the fact that they had two migrations. As stated before, the cause of the first migration was the Turkish attacks in Croatia, and the other after 1950, the dispersion by the Czech government. Because of the strong resistance towards "Czech-ization" and under an agreement of cooperation with the Germans (in the interwar period, and during WWII), the Czech Communists forcefully dispered the Croats to more than 100 villages in Northern Moravia, and into the homes of the expelled Germans. This act caused irreversible damage to the once united Croatian ethnicum. Before that, Hrvatski Frielstof, which the Czechs renamed Jevisovka, Dobro Polje (Cz. Dobro Pole) and Nova Prerava were successful in preserving their language, culture, and basic costume, which was supported by the research of Adolf Turek and Josef Breu (a longtime researcher of the Moravian Croats). In 1930 there were 1,682 Croats, 552 Czechs and 532 Germans in these villages. The unbroken consciousness of the Moravian Croats of their national origins as well as their deep-rooted religious beliefs particularly illuminated the researchers. Seeing that these three Croatian villages from the Bohemian protectorate would fall directly under the German Reich, or annexed to Austria, the above mentioned facts have even more meaning. Because of that historical event, Croats were compelled to fight all over Europe. With the return of the new Czechoslovak authority in 1945, individuals were unfairly expelled, and the entire Croatian population suffered a brutal repression. The scale of the repression is impossible to catch sight of. To corroborate, there are just two Croatian families in Jevisovka today, while the others, some 2,225 families were dispersed and their properties confiscated. Before the expulsion, the Croats attempted to get aid from their mother homeland, however, their hopes were for nothing. Communist Yugoslavia did not have the ears for this Croatian island, even though the Croats attempted to call Frielstof - Jevisovka "Titovo."
( hrvatski )
JUŽNI SLAVENI .. HRVATI .. MORAVSKI HRVATI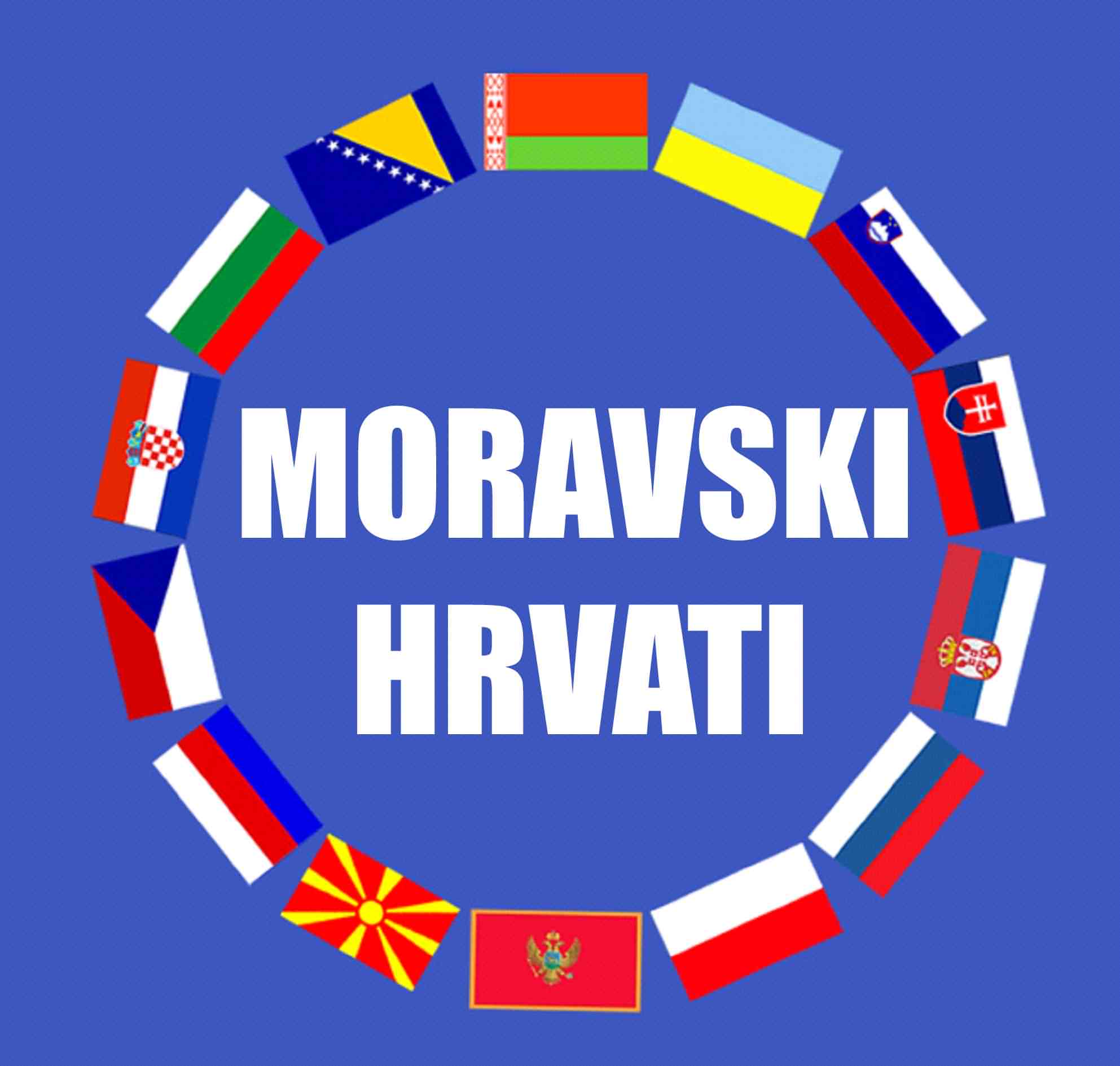 Moravski Hrvati su etnička skupina koja se bježeći pred Turcima u 16. i 17. stoljeću naselila na području Južne Moravske, u današnjoj Češkoj Republici. Iako su po podrijetlu i vremenu doseljenja slični Gradišćanskim Hrvatima, smatraju se posebnom zajednicom. Većinom potječu s područja današnje Banovine i Korduna. Enklava Moravskih Hrvata je do do svog raseljavanja predstavljala najsjeverniju autohtonu hrvatsku skupinu u Europi.
Hrvati su naselili čitav niz naselja oko grada Mikulova ( njem. Nikolsburg ) južno od Brna, ali su se do početka 20. stoljeća uslijed asimilacije održala samo tri većinski hrvatska naselja : Frielištof, Dobro Polje i Nova Prerava. Prema čehoslovačkom popisu iz 1918. godine u njima je živjelo ukupno 1.682 Hrvata. Čehoslovačka vlada je provodila politiku asimilacije, uskraćujući Hrvatima pravo na vlastiti jezik u školstvu i crkvi. U takvoj situaciji, Hrvati su se priklonili manjinskim njemačkim strankama, koje su bile brojnije i bolje organizirane.
1938. godine to je područje Münchenskim sporazumom pripalo Njemačkoj, te je politiku češke asimilacije samo zamijenila njemačka. Veliki broj Hrvata bio je mobiliziran u njemačku vojsku i stradao na ruskom frontu.
Nakon Drugog svjetskog rata, Južna Moravska je vraćena u sastav Čehoslovačke. Nova komunistička vlada je Moravske Hrvate smatrala nepouzdanim elementom zbog sukoba s Titom, ali i zbog njihove prijeratne suradnje s njemačkim strankama. Stoga je odlučeno da budu raseljeni i uništeni kao etnička zajednica. Tijekom 1948 godine tri hrvatska sela su potpuno ispražnjena, a njihovi stanovnici preseljeni po čitavoj Češkoj, gdje su se razbijeni na male skupine brzo asimilirali.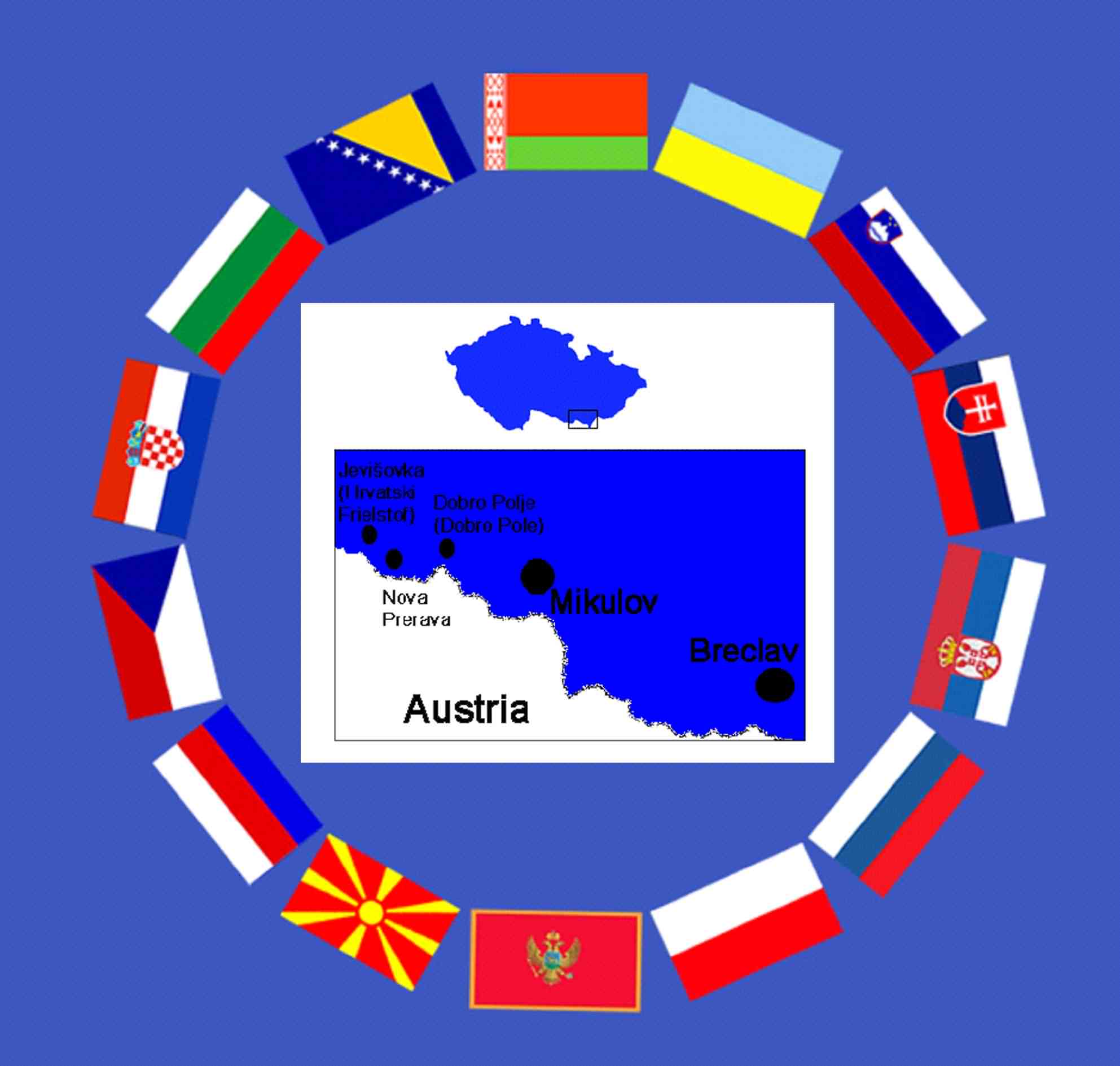 ( česky )
JIŽNI SLOVANÉ .. CHORVATI .. MORAVŠTI CHORVATI
Moravští Chorvati byli etnická skupina Chorvatů, kteří v 16. a 17. století prchali před Turky a usadili se na jižní Moravě (vedle toho i v Rakousku a v Uhrách u Bratislavy). Představovali nejsevernější výspu chorvatského osídlení v Evropě.
Chorvati se usadili v okolí Mikulova, ale následkem přirozené asimilace (někde po Chorvatech zůstalo jen jméno, jako např. Charvátská Nová Ves) se do začátku 20. století udržely jen tři vesnice: Nový Přerov, Dobré Pole a největší z nich, Jevišovka (dříve Frélichov). Podle československého sčítání z r. 1921 v nich dohromady žilo 1682 obyvatel. Vlivem německého a českého jazykového okolí byla běžná trojjazyčnost.
Československá vláda se po r. 1918 chovala k Chorvatům nepřátelsky a pokoušela se o jejich asimilaci. Po Mnichovské dohodě, kdy připadlo pohraniční území jižní Moravy Německu, českou asimilaci vystřídala německá, Chorvati dostali automaticky německé občanství a museli nastoupit do německé armády.
Po skončení války se Chorvati vrátili na jižní Moravu, téměř od počátku však byli trnem v oku komunistů. Ve volbách 1946 volila většina lidovce, komunisti na oplátku posílali do chorvatských vesnic násilná komanda se zastrašovacím úmyslem. Brzy se navíc pro komunisty Chorvati stali podezřelí ze vztahů k Němcům a k tehdy démonizovanému Titovi. Moravský Zemský národní výbor 11. června 1948 rozhodl o rozptýlení chorvatského obyvatelstva po severní a střední Moravě. Už v r. 1954 uznal stát protiprávnost svého dřívějšího kroku, ale návrat Chorvatů do původních sídel nedovolil. Ani po roce 1989 se československý a český stát nezmohl k nápravě starých křivd, dnes je nevelká menšina moravských Chorvatů před zánikem.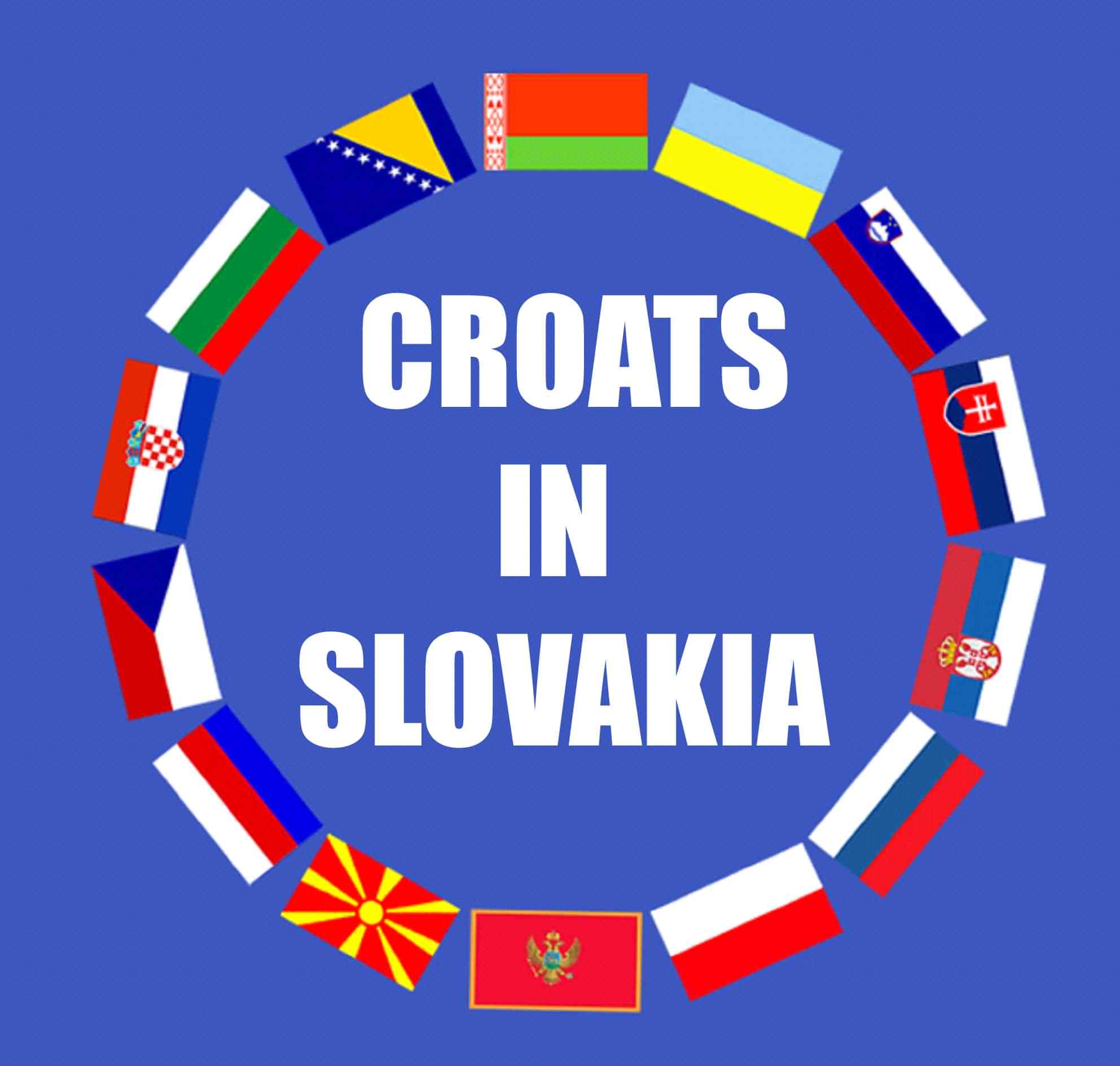 SOUTH SLAVS .. CROATS .. CROATS IN SLOVAKIA
The Croats (Hrvati in Croatian, Chorváti in Slovak) are an ethnic minority in Slovakia, numbering 890 people according to the 2001 census, although the relatively compact Croatian community may number as many as 3000 people. Croats mainly live in the Bratislava Region,
Traditionally Croat-populated villages in Slovakia are Chorvátsky Grob (Hrvatski Grob), Čunovo, Devínska Nová Ves (Devinsko Novo Selo), Rusovce (Rosvar) and Jarovce (Hrvatski Jandrof).
Croatian organzations in Slovakia include the Croatian Cultural Alliance as well as several smaller folklore groups.
Croatian-Slovak Ties
The generally friendly and good relations between Croatia and Slovakia, which formally began with their independence from Communist state creations, have in fact, begun much earlier. This closeness was founded on the centuries old ties between the Croats and Slovaks, which developed with the start of their joint existence in this part of Europe. Arriving to Bratislava from their ancestral homeland in the mid sixteenth century, the Croats of Slovakia came to a historically and culturally similar region. In the period prior to the battle of Mohacs in 1526, the Croatian nobility and middle-class settled here. These sporadic settlers were the precursor to a systematic settling of Croatian peasants during the sixteenth century. Researching the genealogy of ИmigrИ Croats in Slovakia, Dr. Kvetoslava Kucerova in the book "Hrvati u srednjoj Evropi" (Matica Hrvatska, Matica SlovenskА, Zagreb 1998) divides three stages of immigration on the territory of Slovakia: the first stage is the 1540's that strengthens the Croatian settlers of the 1530's, with 1548 as the year of culmination; the second stage is in the 1550's which sees a noticeable start in 1552 and 1553 and the third stage which lasts from the 1560's to the 1570's. Following this, a portion of the Croatian population arrived in the region of Zahoria to build new homes, and then spread north and east. This means organized groups of immigration, which during the entire sixteenth century and later, were followed by the immigration of Croats from Austria, Hungary and Moravia. Extensive reasons for the migration are hard to find. But, the most irrefutable reason can be found in this historical context: the invasion of the Ottoman Turks on Croatian territory. With the fall of Kostajnica in 1556 into Turkish hands, denotes the beginning of an organized immigration of Croats. However, this in any event the initial cause for immigration was followed by distinct economic or rather social motives. Aside from that, individual waves of migration were cause by military raids or rather the social situation in Croatia. A number of historian and ethnographers have worked to determine the region of their ancestral homeland from where these Croatian settlers came from. Research shows a large possibility that the Croatian population moved from Medimurje, the Kupa river region, Posavlje, Podravina and a portion from the Croatian littoral. The majority of the settlers originate from Slavonia, from the Sisak region, Kostajnica, Krizevac, Koprivnica, Kladusa, Slunj, Primislje and Krstinje.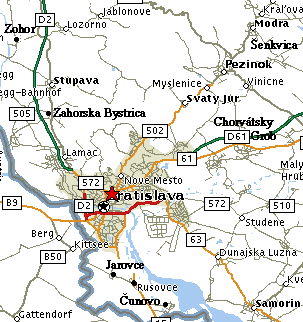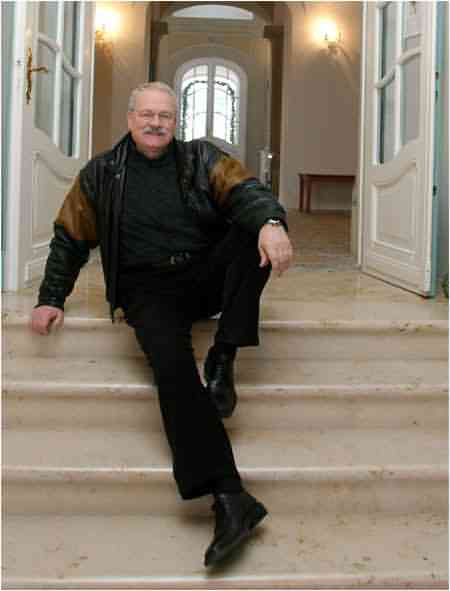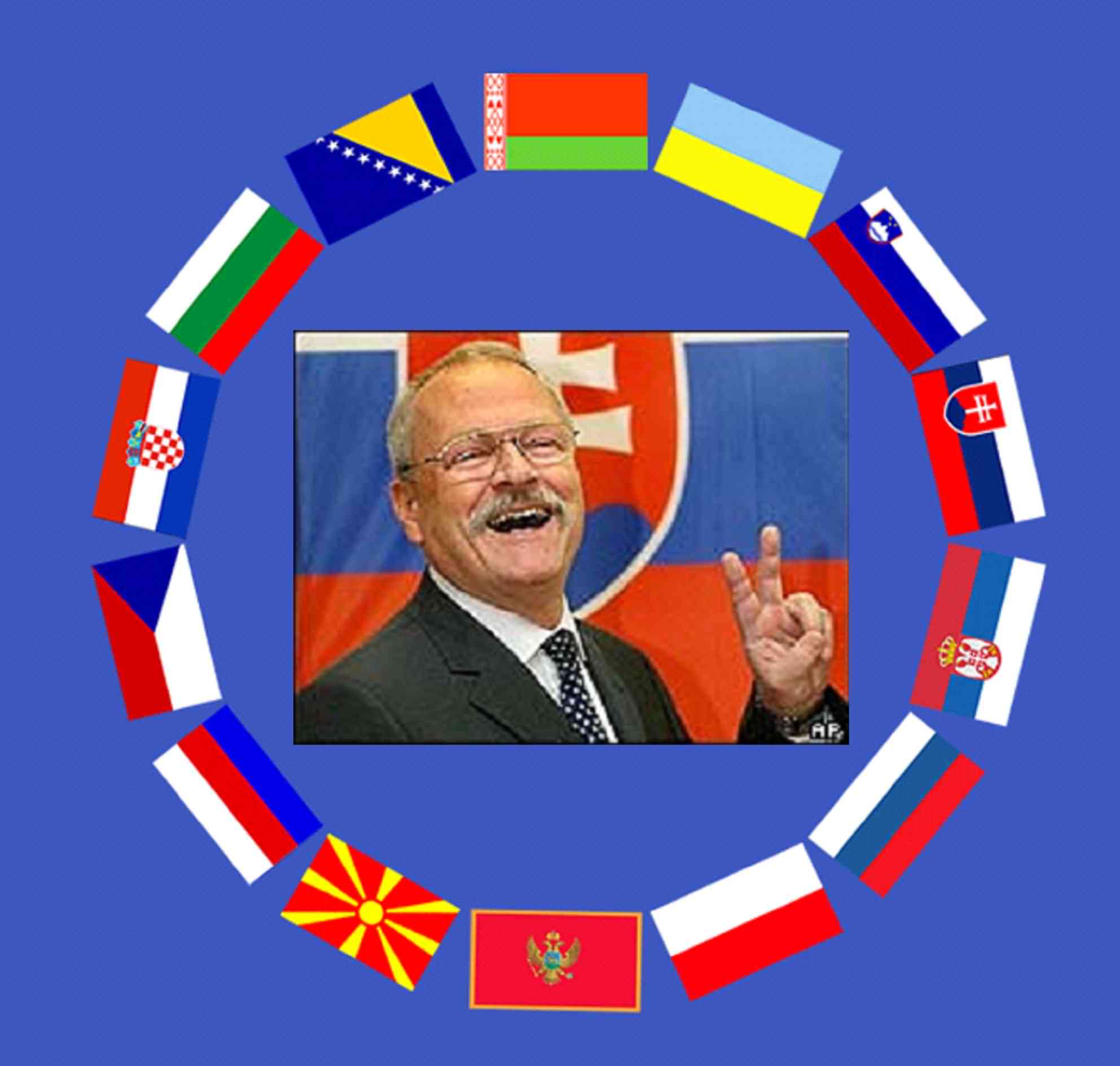 Ivan Gašparovič – probably the most famous Croat in Slovakia today....
Ivan Gašparović – vjerojatno najfamozniji Hrvat u Slovačkoj danas .....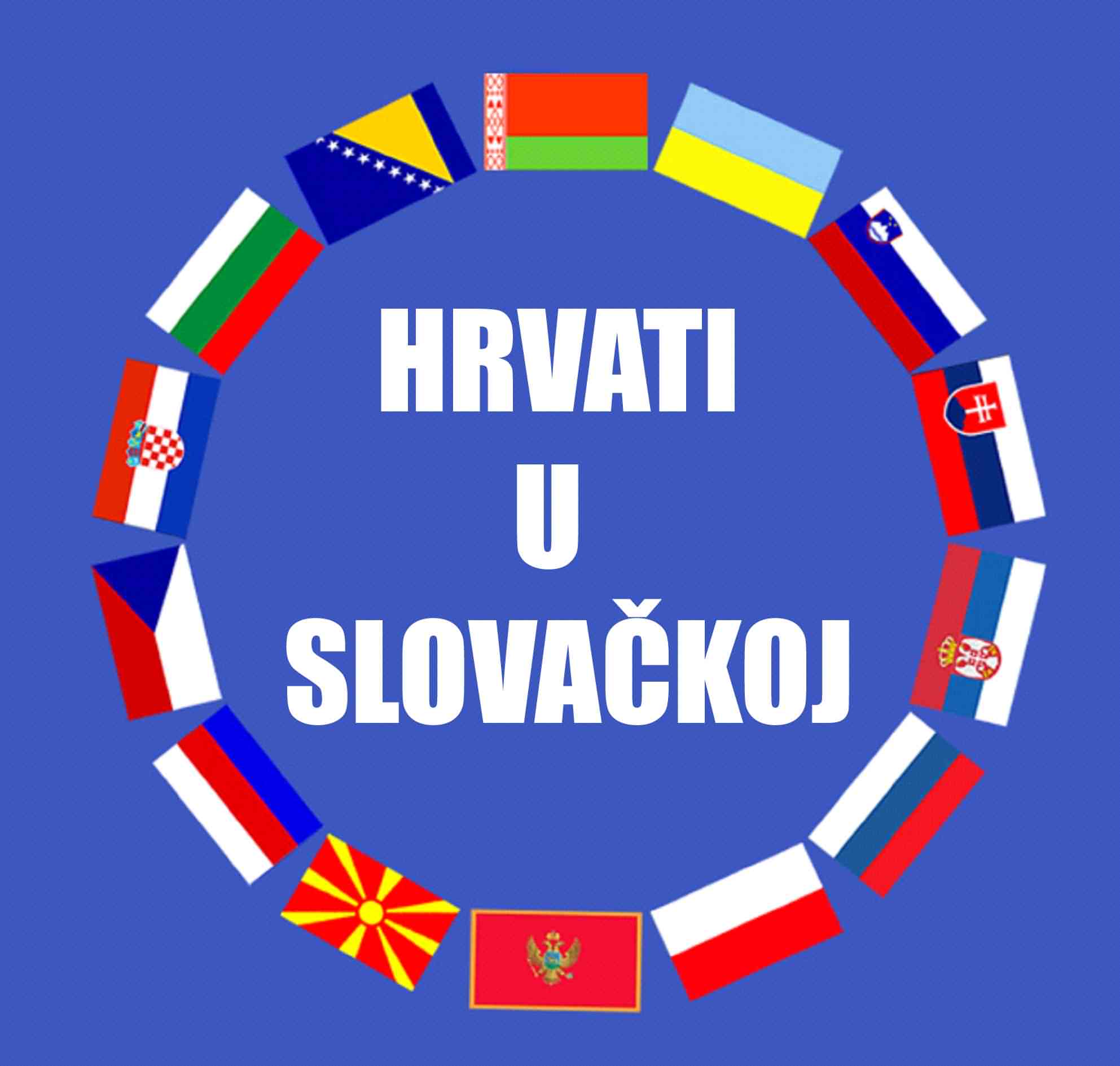 JUŽNI SLAVENI .. HRVATI .. HRVATI U SLOVAČKOJ
Hrvati u Slovačkoj su dio veće skupine hrvatskog naroda koja se bježeći pred Turcima u 16. stoljeću naselila u Srednjoj Europi. Njihovo podrijetlo, naseljavanje i običaji su usko povezani s Gradišćanskim i Moravskim Hrvatima, od kojih su ih tek u 20. stoljeću razdvojile nove državne granice.
Slovački Hrvati se mogu podijeliti u dvije skupine :
1. Hrvatska sela južno od Bratislave - Čunovo, Hrvatski Jandrof (slovački Jarovce) iRosvar (slovački Rusovce). Do 1918. godine smatrani su sastavnim dijelom gradišćanske skupine, a tada su od nje razdvojeni novom austrijsko-mađarskom granicom. 1947. godine ova tri sela su prešla iz sastava Mađarske u Čehoslovačku, da bi se Bratislavi kao pograničnom gradu osigurala strateška zaštita. Kako su povijesno bili okruženi njemačkim i mađarskim selima dugo su očuvali svoju posebnost. Danas su sastavni dio Bratislave, te su širenjem grada i doseljavanjem novog stanovništva izloženi brzoj asimilaciji.
2. Hrvatska sela sjeverno od Bratislave - u 16. stoljeću Hrvati su naselili veliki broj naselja oko grada Trnave, ali je u pretežno slovačkom okruženju zbog srodnog jezika i običaja asimilacija bila mnogo brža nego u Gradišću. Do 20. stoljeća su se održala hrvatska sela Hrvatski Grob (slovački Chorvatsky Grob) i Šenkvice. Zanimljivo je da su stanovnici Šenkvica sve do danas očuvali svijest o mjestu podrijetla, te održavaju veze s Hrvatskom Kostajnicom, odakle su doselili prije 400 godina.
Nepostojanje škola i crkvi na hrvatskom jeziku dovelo je do gotovo potpune asimilacije Hrvata u Slovačkoj, posebno nakon Drugog svjetskog rata. Oni se danas većinom osjećaju pripadnicima slovačke nacije, ali i dalje njeguju kulturne veze s Hrvatskom.
Prema popisu iz 2001. godine u Slovačkoj je živjelo svega 890 Hrvata, uglavnom u slovačkom glavnom gradu (što uključuje i tri nekadašnja hrvatska sela). Na području Trnave gdje je početkom 20. stoljeća bilo oko 2.000 Hrvata, danas se tako izjašnjava samo stotinjak ljudi.
( slovenčina )
CHORVÁTI NA SLOVENSKU
Chorváti sa usídľovali na juhozápadnom Slovensku na začiatku novoveku, kedy utekali z juhu pred Turkami. Veľa osád, ktoré sú dnes periférnymi časťami Bratislavy, bolo často až do začiatku 20. storočia chorvátskych.
Na Slovensku existuje teda už niekoľko storočí chorvátska komunita, ich najznámejšími centrami sú Chorvátsky Grob, Devínska Nová Ves, Jarovce, Čunovo, Záhorská Bystrica (predtým aj Dúbravka, Lamač, Rusovce a Šenkvice). Niektorí si dodnes uchovávajú národné tradície a venujú sa folklóru. Ich jazyk je však značne odlišný od spisovnej chorvátčiny (ktorá bola poznamenaná srbčinou). Súčasný slovenský prezident Ivan Gašparovič, ktorý je po otcovi chorvátskeho pôvodu, k tejto komunite nepatrí, pretože ten sa prisťahoval na Slovensko z Rijeky po skončení prvej svetovej vojny.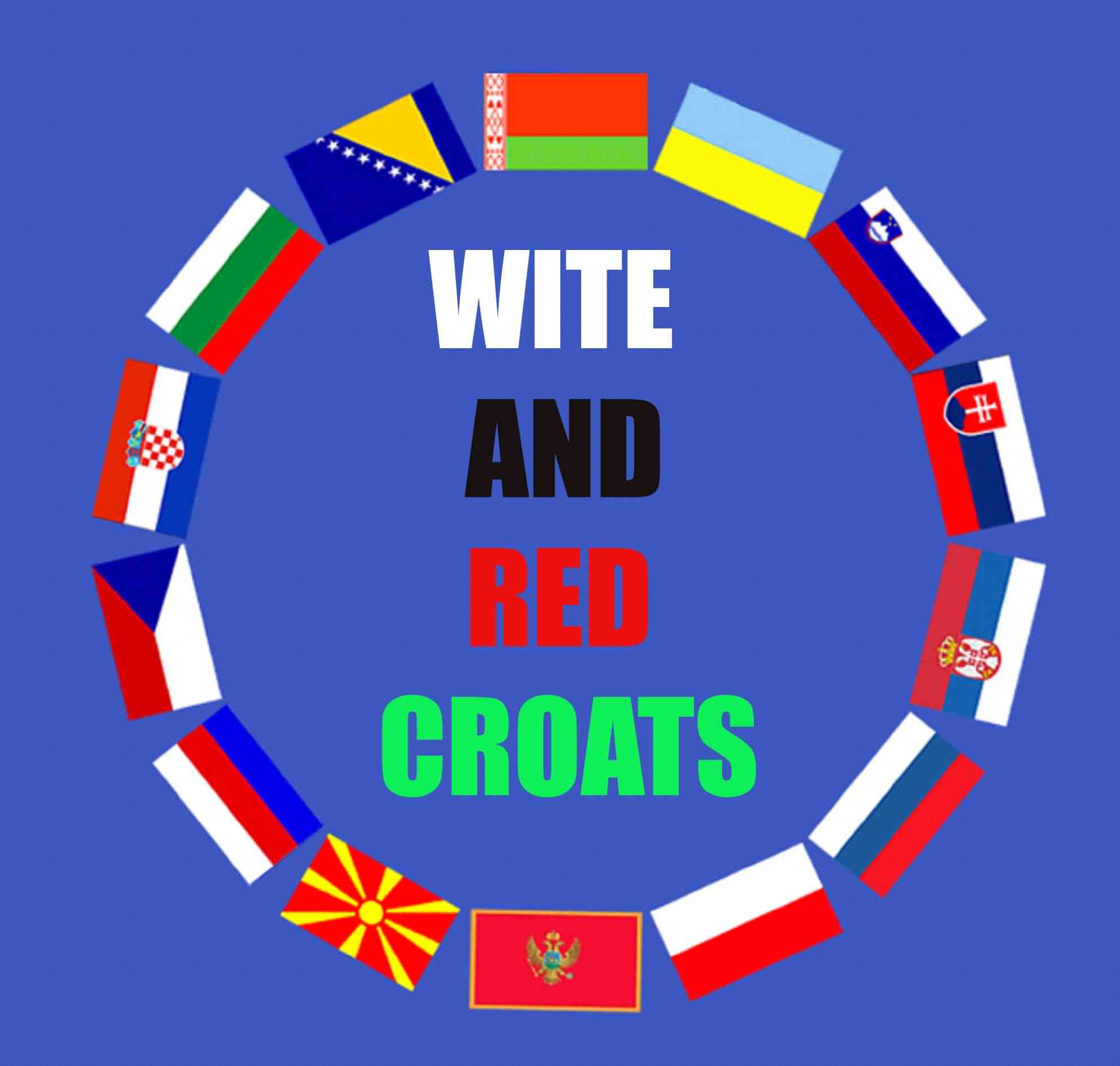 WHITE CROATS
Constantine Porphygenitus (905-959), a Byzantine emperor and writer, mentions the state bearing the name of White Croatia. His description shows that it occupied a wide region around its capital Krakow, in parts of Bohemia, Slovakia, and Poland. The state disappeared in 999. St. Adalbert (Vojtech, 10th century) was a descendant of the White Croats, son of the White-Croatian duke Slavnik. He was spreading Christianity, education and culture, and to this end founded the benedictine monastery in Brevnov in 993. Also St. Ivan Hrvat, who died in Tetin in Bohemia in 910, was a son of White-Croatian King Gostumil. It is interesting to add that according to some American documents from the beginning of this century there were about 100,000 immigrants to the USA born around Krakow (Poland) who declared themselves to be Bielo-Chorvats, i.e. White Croats by nationality. See US Senate-Reports on the Immigration commission, Dictionary of races or peoples, Washington DC, 1911, p. 40,
GORANI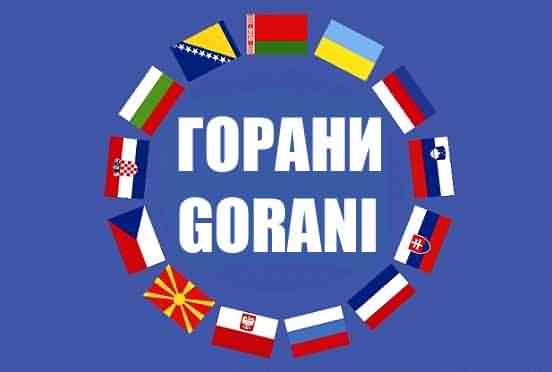 ГОРАНЦИ

SOUTH SLAVS .. SERBS .. GORANI
The Gorani (the term GORAN roughly translates as "Highlander"), are an ethnic group living in a region called Gora (Slavic for "Mountain"), or Gora/Dragaš municipality in the south of Kosovo, just south of Prizren, in the province of Serbia, called Kosovo (officially Kosovo and Metohija).
They also make the majority in the Sar mountain rang, (ŠAR PLANINA), (ШАР ПЛАНИНА), where they live in 4 župas (ЖУПА) GORA, (ГОРА), OPOLJE (ОПОЉЕ), SREDSKA (СРЕДСКА) and SIRINIĆ (СИРИНИЋ)
The Gorani are SLAVIC by origin and Muslim by faith. In addition to speaking their variant of Serbian known as Goranski or Gorani, most also speak Albanian or Macedonian.
Gorani caled own speech also as НАШИНСКИ , НАШЕНСКИ , NAŠINSKI NAŠENSKI
The Gorani speech has been dialectally differentiated into three types:
1. BRODSKI (БРОДСКИ) the speech of BROD
2. RESTELIČKI (РЕСТЕЛИЧКИ ) the speech of RESTELICA
3. DOLOIŠTANSKI (ДОЛОИШТАНСКИ ) the speech of DOLOIŠTE
They were Orthodox Serbs who converted to Islam in the late 18th century. Calls for a independence of the province or amalgamation of the province with neighbouring Albania to Greater Albania led to an increasing deterioration of Gorani-Albanian relations.
The 1980s saw the advent of a Gorani national revival, many officially broke away from the name of 'Muslims by nationality' (the term used by the Yugoslav government to describe primarily the Slavic Muslims in Bosnia). Most began Slavicizing their surnames (i.e. Ahmeti became Ahmetovic) which many claimed had been Albanized during the Kosovo Communist Albanian rule in the 1970s and 1980s. As the Gorani resided in the southernmost tip of the province many prided themselves as being the "sole guardians of Serbia's southern flank".
The Gora is covered with rough terrain. It is an underdeveloped region, and for almost two centuries its male inhabitants would go off to more distant regions in order to find work. Due to this, a true Gorani diaspora has come to life with many living in parts of inner Serbia (particularly the Eastern parts).
The Gorani numbered some 16,000-strong in the Gora administrative division, according to the 1991 census. This figure grew to over 20,000 by the start of the Kosovo War in 1999. The Gorani became targets of the Kosovo Liberation Army and the Kosovo Protection Force after the retreat of the Yugoslav Army and arrival of Kfor in June 1999. As a result, Gorani leaders estimate that fewer than 10,000 are left in Gora. The UN administration in Kosovo, UNMIK, has redrawn internal boundaries in the province in such a way that a Gorani-majority county no longer exists. The Gora was combined with the neighbouring Albanian-populated region of Opolje (some 20,000 strong) into a new subdivision which now has an Albanian majority.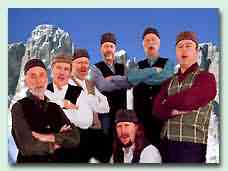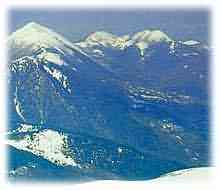 Sar mountain Sar Planina (ШАР ПЛАНИНА), ŠAR PLANINA
is a mountain on the border of Serbia and Montenegro and the Republic of Macedonia.

The mountain is around 80 kilometers long, some 10-20 kilometers wide. Its tallest peak has 2747 meters.

Vegetation on the mountain includes crops up to around 1000 meters, forests up to 1700 meters, and above that lie high pastures which encompass around 550 square kilometers. This mountain is most known as the origin of the dog breed šarplaninac which was bred on these pastures.
ŠAR PLANINA is also the national park in SERBIA from 1986.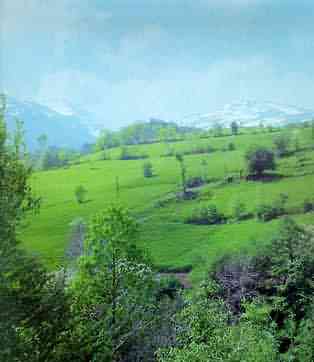 (српски)
ЈУЖНИ СЛОВЕНИ .. СРБИ .. ГОРАНЦИ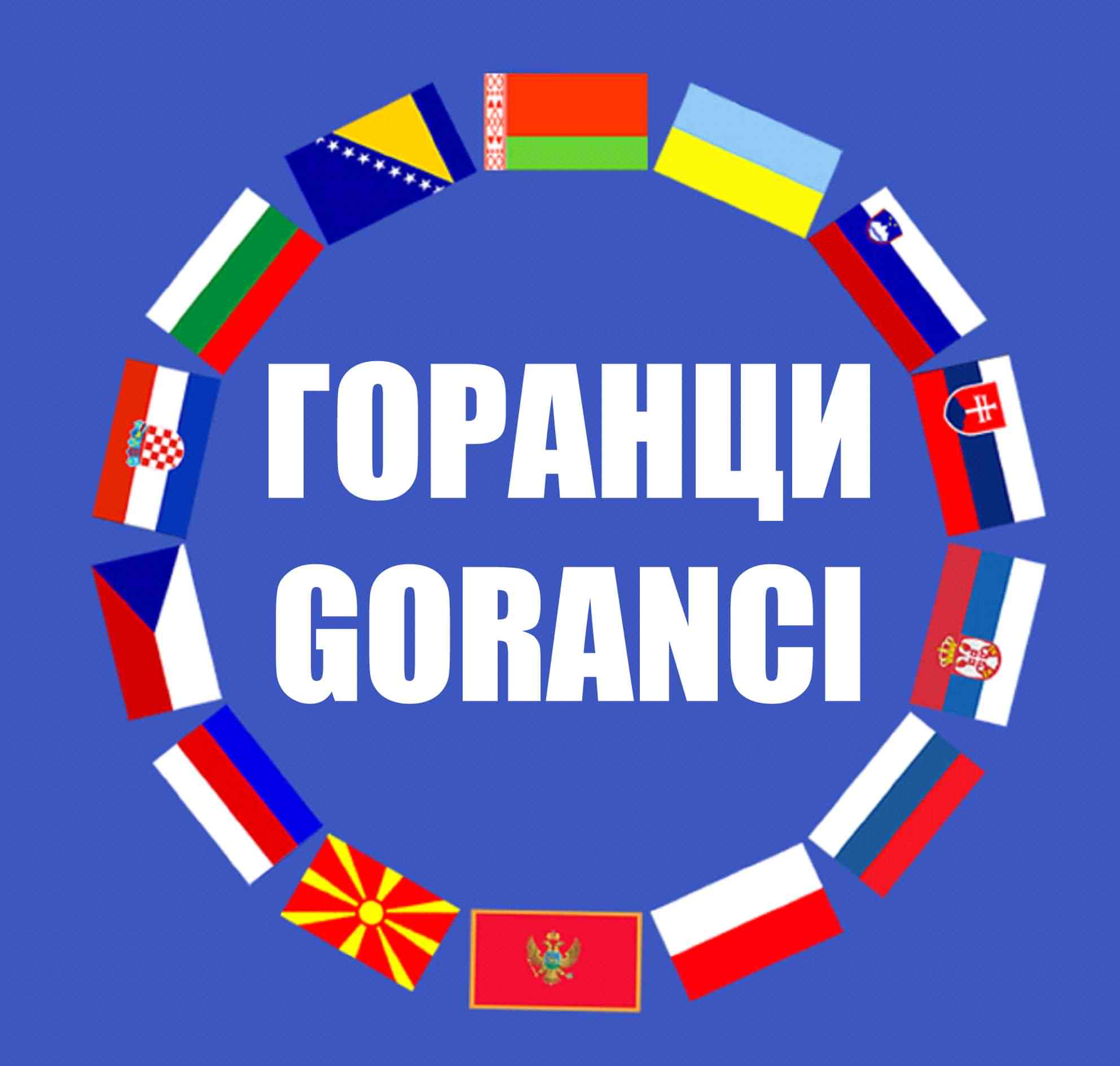 Горанци (Горани) су јужнословенски народ, насељени претежно на Косову и Метохији, односно у региону Гора (општина Драгаш). Исламске су вероисповести, а говоре торлачким говором, који се обично опредељава као српски. Према попису становништва из 2002. године, у Србији (без Косова) је живело 4.581 Горанаца. Укупно их има око 18.000. Иако су Горанци у Србији од стране државе признати као посебан народ, неки их сматрају етничком групом Срба или Македонаца, с обзиром на њихово етничко порекло.

KRANJCI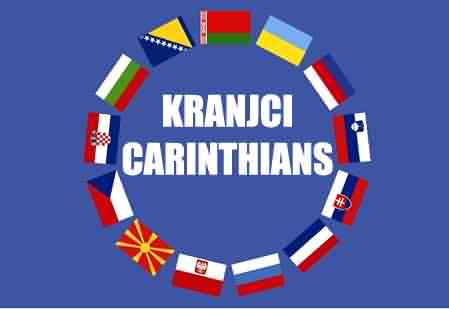 CARINTHIANS
SOUTH SLAVS .. SLOVENIANS .. CARINTHIANS
Carinthians (Kranjci) are an ethnic group considered as part of the Slovene nation. Their name is purely geographical, derived from the Austrian and Slovene province of Carinthia (Koroška) and were involved in many migrations during the rule of the Habsburgs. The Lika region includes many important Carinthian settlements such as Slunj, Tisovac, Kuterevo, Donji Kosinj, Gornji Kosinj, Bakovac, Saborski etc. Carinthians (Slovene Korošci) are residents of Carinthia (in Slovene region Carinthia and also on the other side of the border in Austrian federal state Austrian Carinthia). This term might also refer to inhabitants of the first Slovene state in the 7th century, also called Karantanians (Karantanci).
Carinthia (province)
Carinthia (Slovenian Koroška) is an informal province in the north of Slovenia. It consists of the towns of Dravograd, Slovenj Gradec, Ravne, Črna, Mežica, Prevalje, Mislinja, Muta and Radlje. Carinthia was historically part of Austria-Hungary and populated by a significant number of Slovenians. The Carinthian Plebiscite on October 20, 1920, determined the lines of division between Austria and the Kingdom of Serbs, Croats and Slovenes. After the Plebiscite, Carinthia fell into two parts separated by in a way quite artificial border. The border was quite impermeable until the recent fall of Berlin wall and somehow coincident downfall of Yugoslavia. Since June 25, 1991 Carinthia has been a part of Slovenia.
Carinthia was settled by Slavic tribes around the 6th century. They formed a new people, called Karantanians and Carinthia became the central part of the duchy of Karantania, the first state of Old Slovenians and also the first stable Slavic state ever. Karantania lost autonomy in the early 9th century when it fell under Frankish power. Carinthia was later controlled by Austrian Habsburgs (1335 - 1918). After the Carinthian Plebiscite following the World War I, the region was divided in two parts of which the larger belonged to Austria and the smaller to the Kingdom of Serbs, Croats and Slovenes.
Dravograd is a small town and municipality with the same name in Slovenia, located at the crossing of the Sloveinan-Austrian border by the Drava river. The municipality numbers about 9,000 inhabitants and is of area 105 km².
Dravograd is located at northern part of Slovenia, at the confluence of three rivers: the Drava, the Meža and the Mislinja. The municipality consists of 24 settlements which are contained in 5 local communities: Dravograd, Črneče, Libeliče, Šentjanž pri Dravogradu, and Trbonje.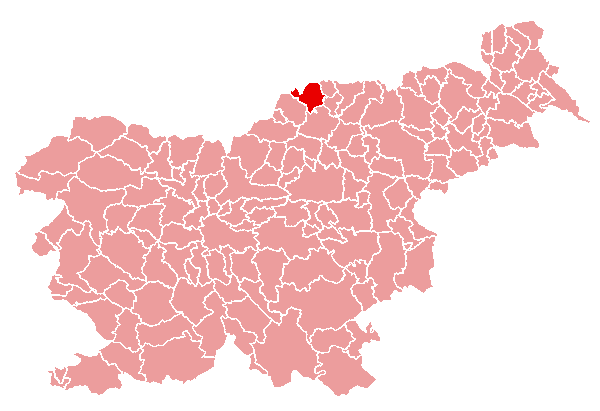 Location of Dravograd in Slovenia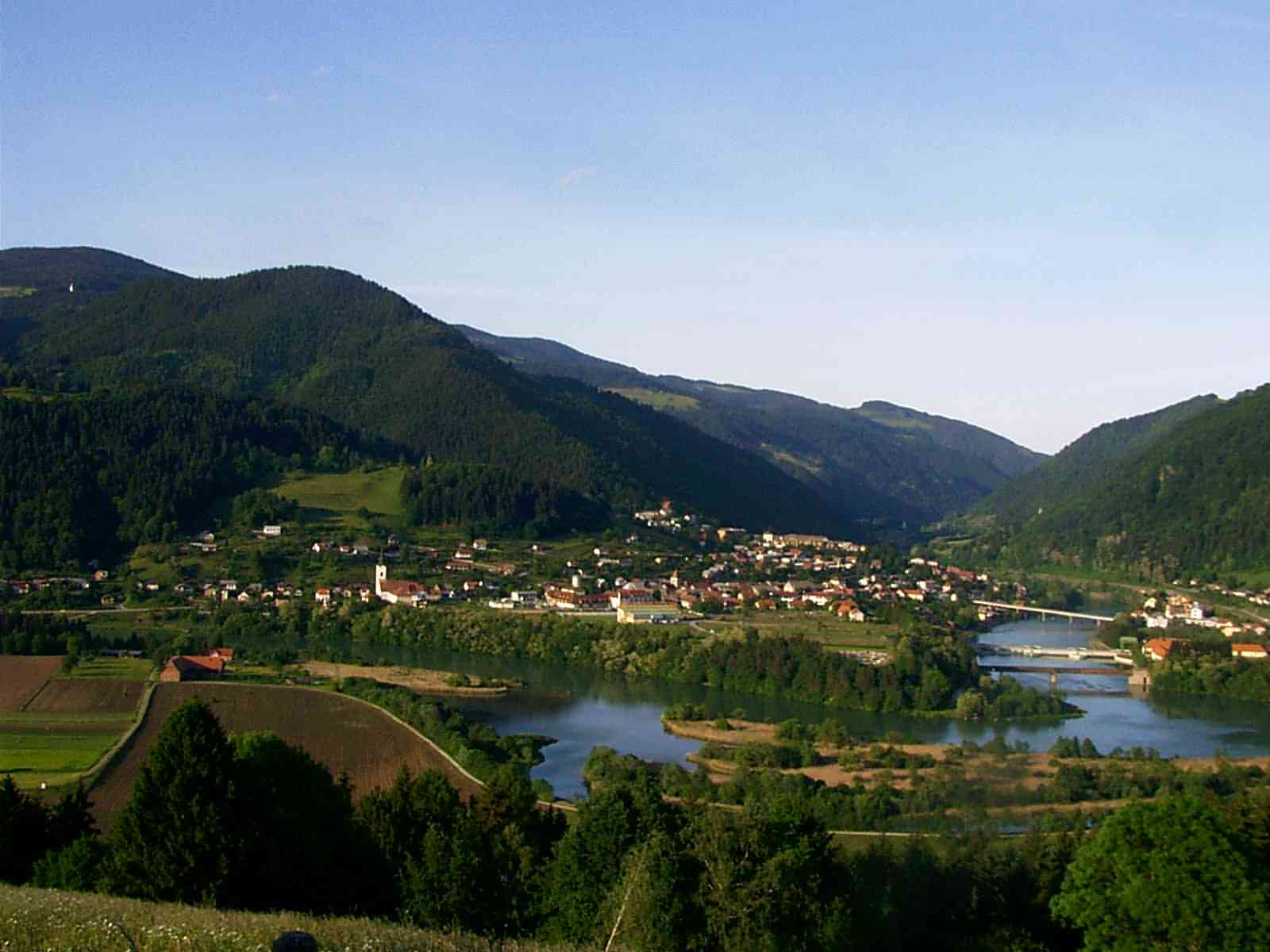 Caranthanians (Latin Quarantani, Slovenian Karantanci) were the only Alpine Slavs in the early middle ages and the first ethnic name of an old Slovenian people as a separate part of the Slavs (Latin Sclavi qui dicuntur Quarantani, Slavs called Caranthanians).
In the Eastern Alps they established the duchy of Caranthania (independent from 660 to 745, partly independent to 820), the first stable Slavic state(like entity) ever. They are direct ancestors of Slovenians.
Caranthanians were also the first Slavic people who accepted Christianity from the West. At the beginning of 9th century they settled also Pannonia inferior or Lower Pannonia, so the name Caranthanians spread there too (Latin Carantanorum regio, 819).
Name Caranthanians (Quarantani) lasts to 13th century, but in scriptures at the end of 9th c. we also find name Slovens (Sloveni) and for the land Slovenia. Caranthanians were the name later a bit changed to Slovenci (Slovenians or Slovenes). They spoke Old Slovenian (a very archaic form of Slovenian) we find today only in the very first preserved Slavic scripture written in the Latin script caled Freising Manuscripts, Slovenian Bri?inski spomeniki, and lived in Slavic "?upas", parts of early midle ages duchies, and zadrugas, joint families. Mysterious Kosezes (Kasazes, Lat. at first Kosentzez, German Edlinger (noble people), Lombardian Arimanni (members of a special warrior class)) were a subject of much debate. They were probably a private army of the Caranthanian duke
.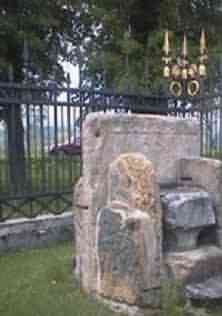 Duke's stone at the Gosposvetsko poljevojvodski stol
The ancient ritual of installing Karantanian dukes carried out in the Slovenian language on the Duke's Stone (Knežji kamen) at the Gosposvetsko polje (Gosposvetsko Field), today in Carinthia, Austria. This ceremony was conducted until the 15th century and it inspired Thomas Jefferson in writing the United States Declaration of Independence in 1776.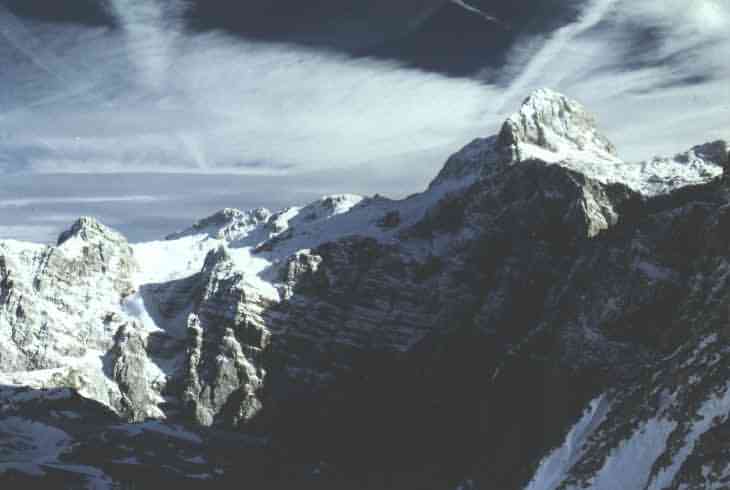 ( Slovenščina )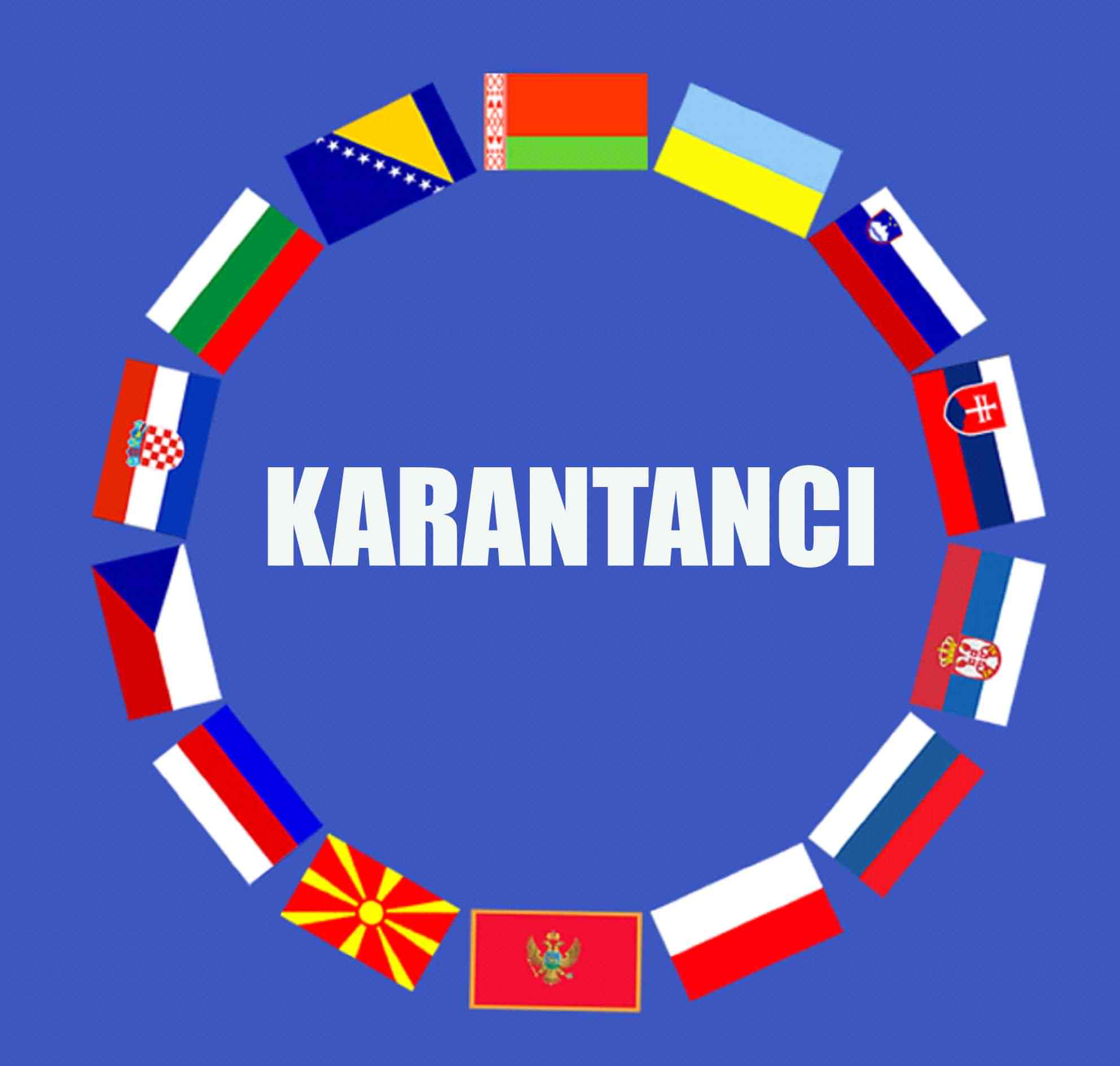 Karantanija (tudi Korotan) je bila slovanska plemenska kneževina v vzhodnih Alpah. Nastala je v 7. stoletju in je obstajala skoraj 300 let. Najverjetneje je bila najstarejša slovanska državna tvorba.
Leta 568 so se s sedanjega slovenskega ozemlja v Italijo premaknili germanski Langobardi. V izpraznjeni prostor so se začeli naseljevati Avari in Slovani. Prostor, ki so ga poselili Slovani, so naseljevali tudi ostanki romaniziranih staroselcev, ki so deloma še ohranili krščanstvo. Naselitev Slovanov v Vzhodne Alpe potrjujejo propadi škofij v vzhodnoalpskem prostoru v drugi polovici 6. stoletja, sprememba poselitve in materialne kulture, predvsem pa uveljavitev novega, slovanskega govora.
Po letu 591 so Slovani prodrli vse do ozemlja blizu izvira Drave in se spopadli z Bavarci. Meja z Bavarci se je začasno ustalila na vzhodnem Tirolskem. Že leta 595 se v zgodovinskih virih za vzhodnoalpski prostor pojavi ime dežela Slovanov (Sclaborum provincia). Slovani v Vzhodnih Alpah, so bili, tako kot Slovani v Panoniji, podrejeni oblasti avarskih kaganov. Ob slabitvi avarske oblasti pa se je na prostoru južne Koroške v začetku 7. stoletja razvila relativno samostojna »krajina Slovanov« (»marca Vinedorum«), s svojim knezom. V virih se pojavlja Valuk (Wallux dux Winedorum). Leta 623 se je verjetno pridružila plemenski zvezi Alpskih Slovanov pod vodstvom frankovskega trgovca, kralja Sama. Po propadu Samove plemenske zveze leta 658 je »krajina Slovanov« s središčem na Krnskem gradu severno od današnjega Celovca, ki se je že začela imenovati Karantanija, ohranila neodvisnost.
Ime Karantanija je nedvomno predslovanskega izvora, o njem pa sta možni dve razlagi. Po prvi razlagi je ime izpeljano iz predindoevropske besede *karra v pomenu 'skala', po drugi razlagi pa je ime keltskega izvora in izpeljano iz besede *karantos v pomenu 'prijatelj'.
Karantanija je latinizirana oblika imena, ki so ga uporabljali njeni slovanski prebivalci. O tem priča že končnica -ija, ki je v taki obliki povsem tuja izvornim slovenskim toponimom (sam izraz "Slovenija" je učena beseda, ki je nastala šele v 19. stoletju). Po drugi strani pa je zelo malo verjetno, da so slovanski naseljenci izraz vzeli neposredno iz keltskih jezikov; najverjetneje je bila staroslovenska oblika imena Korotan (*korǫtanъ) prevzeta iz latinskega *carantanum. Iz te osnove se je kasneje (najverjetneje v visokem srednjem veku) razvilo moderno ime pokrajine Koroške (< praslovansko *korǫt'ьsko). Kljub temu se je vse do 19. stoletja ohranilo tudi staro ime, Korotan, ki je po vsej verjetnosti izvira neposredno iz domačega staroslovanskega imena za Karantanijo.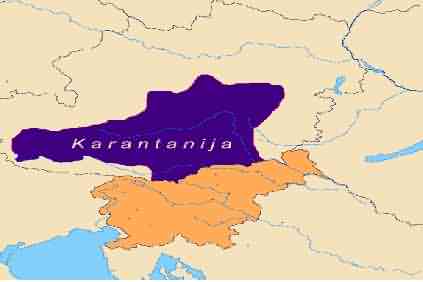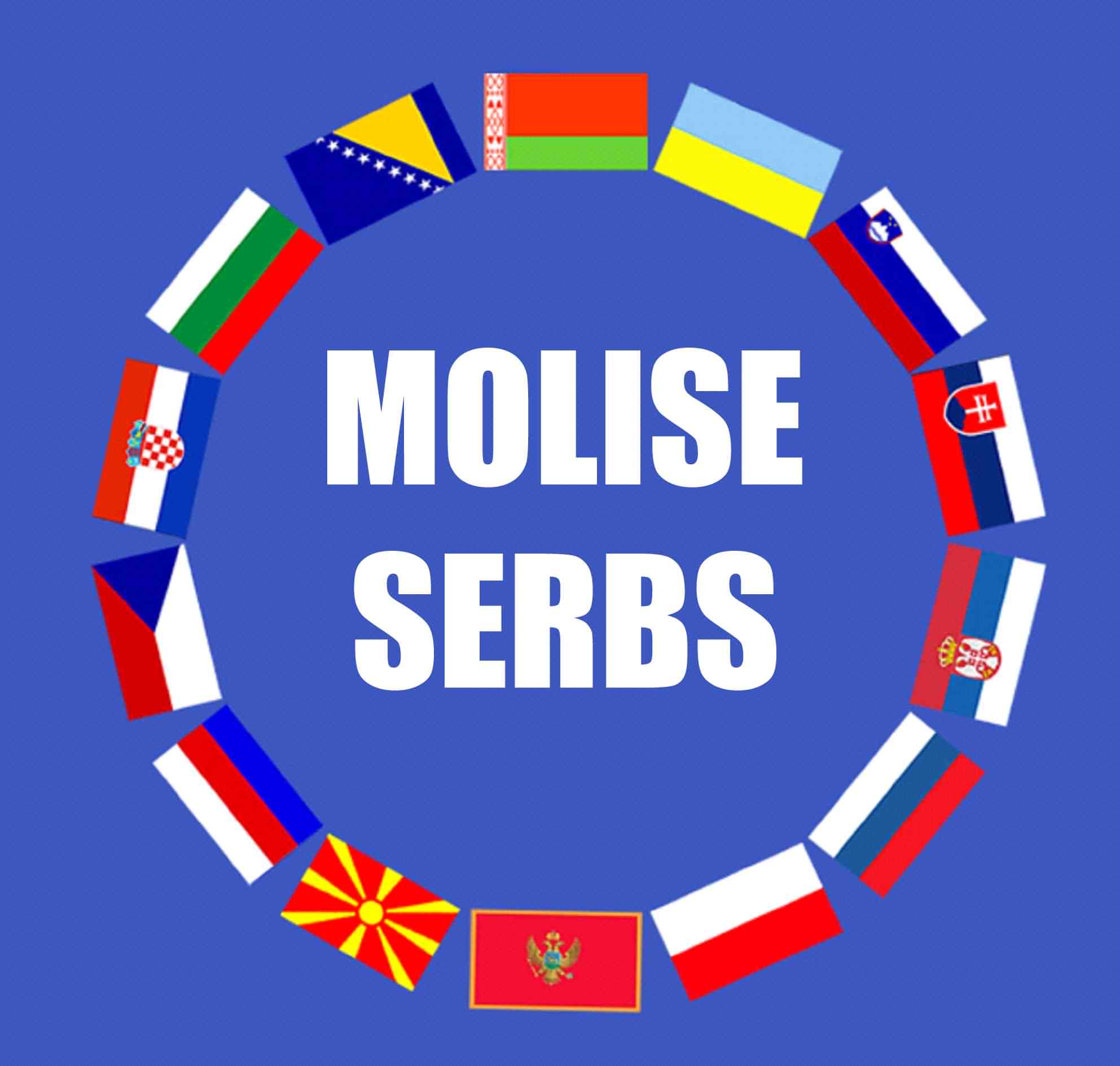 SOUTH SLAVS .. SERBS .. MOLISE SERBS
Molise Serbs are Serbian subgroup, found in the Molise region of Italy. They form majority in areas of Molise, 3 villages adjacent to Molise, 10 villages and towns in Sicily.
There are around 28,000 members of this ethnic group, and 2000 live in three villages in regions adjacent to Molise. There are 2000 living in Rome. 8000 in areas of Sicily. There are also 3845 in other regions of Italy.
There are around 43 845 Molise Serbs living in Italy.
Of all the members most speak Italian, along with Molise Serbian, and some know Serbian. Molise Serbian has some connections to Serbian, and is considered to be a diaspora language due to the many differences.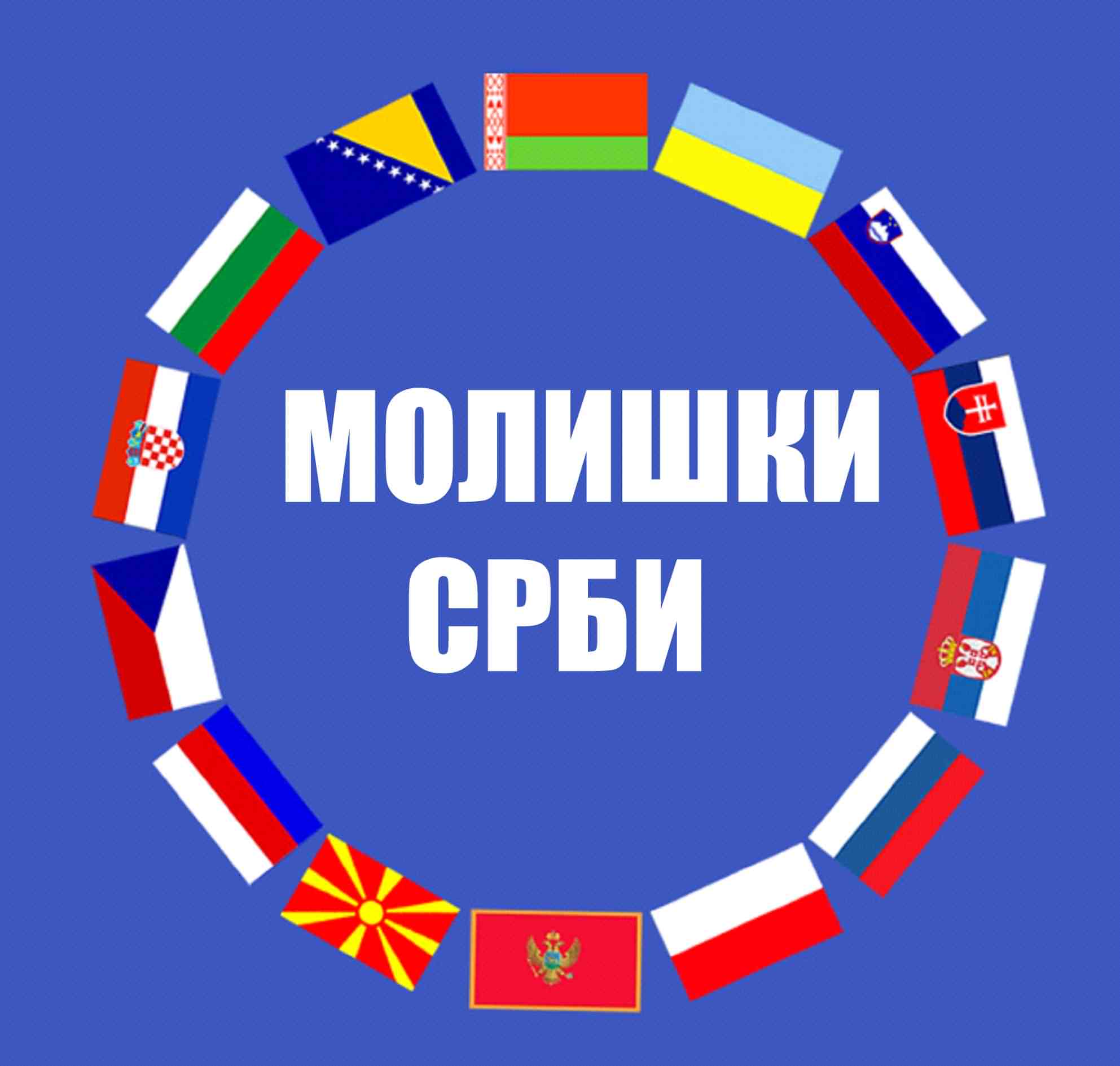 ЈУЖНИ СЛОВЕНИ .. СРБИ .. МОЛИШКИ СРБИ
Tакозвани Молишки Срби живе углавном у региону Молизе у Италији. По неким слободним проценама у целој Италији данас живи око 43 000 Молишких Срба.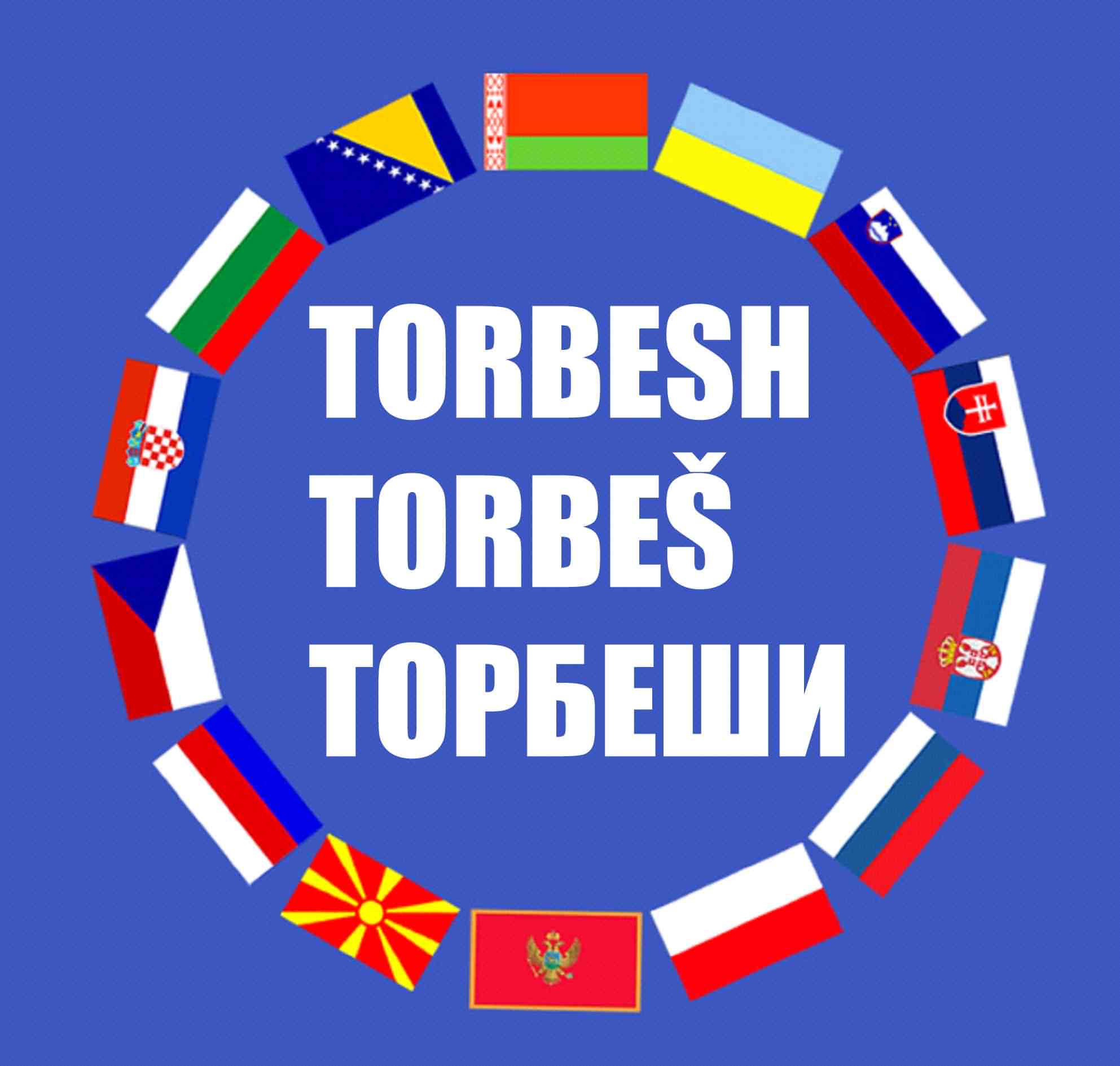 SOUTH SLAVS .. MACEDONIANS .. TORBESH
The Macedonian Muslims (Macedonian: Македонци Муслимани or Makedonski Muslimani), also known as Muslim Macedonians or Torbesh (the later name is somewhat pejorative and means the bag carriers), are a minority religious group within the community of ethnic Macedonians who are Sunni Muslims, although not all espouse a Macedonian national identity. They have been culturally distinct from the majority Orthodox Christian Slavic Macedonian community for centuries.
The Macedonian Muslims are largely the descendants of Christian Slavs who converted to Islam during the centuries when the Ottoman Empire ruled the Balkans. The main factor prompting their conversion, was the Ottoman Empire. The Ottoman Empire regularly compelled a conquered population to convert. Social and economic factors also contributed to their conversion to Islam. Non-Muslims were regarded by the state and Ottoman society as being of an inferior status. They were treated differently under the law and the taxation system, being subjected to special taxes such as the jizya head tax. Muslims had a lighter tax burden than unbelievers and enjoyed more favourable treatment from the law and the state; the testimony of Christians, for instance, was inadmissible as evidence in legal proceedings. They also benefited from the prestige accorded to the religion of the ruling class of the empire - in practice, Christianity was the religion of a conquered underclass.
The largest concentration of Macedonian Muslims is in the western part of the country, in the town of Debar and surrounding villages and in the Reka region between Mavrovo, the state border with Albania, Debar and Kičevo. The region is mountaneous, positioned in the slopes of Sar Mountain on the north, and the northern parts of the Deshat on the south. Mount Korab lie on the western border, while Mount Bistra and Stogovo mountains are situated on the eastern one. The region takes its name from the Radika river (reka is the Macedonian word for a river). The region has approximately 10,000 inhabitants. However, there are smaller concentrations of Macedonian Muslims in other places of the country as well.
The exact numbers of Macedonian Muslims are not easy to establish. The writer Ivo Banac estimates that in the old Kingdom of Yugoslavia, before World War II, the Macedonian Muslim population stood at around 27,000. Subsequent censuses have produced dramatically varying figures: 1,591 in 1953, 3,002 in 1961, 1,248 in 1971 and 39,355 in 1981. Commentators have suggested that the latter figure includes many who previously identified themselves as Turks. Meanwhile the Association of Macedonian Muslims has claimed that since World War II more than 70,000 Macedonian Muslims have been assimilated by other Muslim groups, most notably the Albanians.
Like their Christian ethnic kin, Macedonian Muslims speak the Macedonian language as their first language. Despite their common religion, Macedonian Muslims rarely intermarry with the country's other Muslims. Macedonian ethnologists do not consider the Muslim Slavs a separate ethnic group from the Christian Macedonian Slavs, but instead a religious minority within the Macedonian Slav ethnic community.
They should not be confused with the Macedonian Albanians, who are an entirely different ethnic group which is also divided into Muslim and Christian populations.
Some Turkish ethnologists have claimed that the Macedonian Muslims are in fact Slavicized Turks, although this interpretation is not widely supported. The Macedonian writer Jakim Sinadinovski has similarly claimed that the Macedonian Muslims are not, in fact, Slavic Macedonians; this prompted a strong reaction when his thesis was first published in 1988.
The principal outlet for Macedonian Muslim political activities has been the Association of Macedonian Muslims. It was established in 1970 with the support of the authorities, probably as a means of keeping Macedonian Muslim aspirations in control.
The main occupation of the Macedonian Muslims is cattle breeding and working abroad. Macedonian Muslims are well-known as fresco-painters, wood carvers and mosaic-makers. In the past few decades large numbers of Macedonian Muslims have emigrated to Italy and other Western European countries.
(македонски)
ЈУЖНИ СЛОВЕНИ .. МАКЕДОНЦИ .. ТОРБЕШИ
Торбеши е назив кој се користи за Македонците со исламска вероисповед. Торбешите се Македонци по националност и говорат на македонски јазик.
Бројноста на Македонците муслимани во Македонија се движи од 100000 до 150000 луѓе. Највеќе се населени во Долна Река (поранешната Општина Ростуше), Торбешијата (Скопско), повеќе села во Струшко (поранешната Општина Лабуништа), Општина Центар Жупа и поширокиот Дебарски регион, Општина Пласница, Општина Долнени, Велешко идр. Македонците со исламска вероисповед се истотака мнозинство и во македонските етнички територии надвор од границите на Република Македонија, особено во областите Гора (во Косово и Албанија) и Голо Брдо (во Албанија).
Потеклото на името Торбеши има негативна и погрдна конотација. Има неколку теории за настанокот на името од кои најпознати се дека поради маките од Турците овие луѓе ја ставиле главата во торба (и преминале во исламот) и дека ја продале својата христијанска вера за торба сирење.
Други називи за Македонците муслимани
Покрај името Торбеши кое е општоприфатено (но сепак погрешно и погрдно) за Македонците муслимани во разни краишта постојат разни имиња. За Македонците муслимани и од областа Гора се користи името Горанци, за Македонците муслимани од Пиринска Македонија (Невропкопско) се користи името Помаци, а во некои краишта во источна Македонија се користи и името Потури кое пред се има погрда конотација.
Поради тоа што овие луѓе се Македонци, нивните здруженија и организации постојано апелираат да се престане со употребата на разните имиња (кои често имаат погрдно значење) и за нив да се користи само името Македонци бидејќи тоа и се.
Првите податоци за исламизирањето на Македонци во Македонија датираат некаде од средината на XV век. Отпрвин примањето на исламот било доброволно и најчесто во ислам преминувале оние луѓе кои имале големи имоти и кои биле побогати со цел да ги зачуваат своите имоти и богатства од одземање од страна на Турците. Со примањето на исламот на побогатите Македонци, Турците отпрвин сметале дека тоа ќе послужи за пример на останатото македонско население да ја прими исламската вера. Подоцна откако доброволното примање на исламот земало многу мали размери, Турците започнале и со насилна исламизација на македонското население која се остварувала или преку директно исламизирање или преку принуда најчесто со киднапирање на женски членови на семејствата, ослободување од плаќање на даноци итн. Македонците муслимани иако ја смениле својата вера, тие низ вековите не го примиле турскиот јазик и го задржале македонскиот јазик, а останале и македонските обичаи и традиции (прослава на Ѓурѓовден, посета и дарување во христијанска црква кога се има болно дете, а во некои куќи на Македонци муслимани сеуште се чуваат православни икони итн.).
Во поново време (особено во текот на 90-тите години на ХХ век и во денешницата) Македонците со исламска вероисповед се предемет на напади на големонационалистичките апетити и проганди особено од страна на Албанци, а во помала мера и на Бошњаците, Турците и Србите. Во последно време се поголеми и пожестоки се притисоците и на Бугарите, особено во областите Гора и Голо Брдо, врз Македонците муслимани со цел тие да се претстават како "Бугари" Во косовскиот дел на Гора постои здружение на Бугари-мохамедани (муслимани), а се прават и неуспешни обиди да се направи такво здружение и во Голо Брдо.
Организациите на Македонците муслимани жестоко реагираа (особено г-дин Исмаил Бојда) преку повеќе написи во весниците и јавноста поради притисоците вршени од страна на Албанците во западна Македонија да се попишуваат како Албанци, заведувањето со албански имиња и презимиња во матичните книги во повеќе општини, насилното воведување на албански јазик во училиштата итн.
Истотака организациите на Македонците со исламска вероисповед реагираат на тоа дека под разни околности Македонците муслимани на пописите се попишуваат како Турци или Албанци и бараат поголема грижа на државата за овие луѓе. Светскиот Македонски Конгрес (СМК) на последното собрание (одржано во Скопје, 2006 година), достави барања до државата за поголема грижа кон овие луѓе и усвои програма за помош и поддршка на Македонците муслимани.
Во селото Броштица(Дебарско) секоја година на од 4-ти до 6-ти мај се одржува манифестацијата посветена на Гоце Делчев наречена "Гоцеви денови" и се прославува празникот Ѓурѓовден.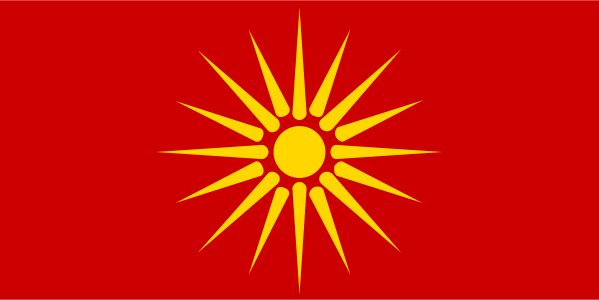 Шеснаесет-зрачното сонце од Кутлеш национален симбол на Македонскиот народ (се користи и од повеќе организации на Македонците муслимани)

MIYAKS (Мijaci), (Мијаци) and TORBESH (Торбеш) (Torbeš), mostly in Macedonia, name for Slavs who turned to Islam religion.
Accepting the Islam with the Mijak Macedonians in Reka is a process that started in XVI and lasted until the second half of XIX century. However, this conversion from one into another confession was not massive but rather individual and lasted for a long period of time.
First records of Muslims in the Reka region date from 1852, and are recorded in Turkish defters. They say that in the regions of Dolna (Lower), Mala (Small) and Golema (Big) Reka there are 23 villages with Christian and Muslim households; 559 Christian households and 239 bachelor Christians, as well as 120 Muslim households and 14 bachelor Muslims. In addition, in the region of Gorna (Upper) Reka there were 13 villages with 383 Christian households and 132 Islamized Christians, as well as 42 Muslim households, in the same period.
Next document that speaks about the Islamization of the Macedonians is a letter from the Sultan Yahya to the Roman Pope in 1644, where there is a record of coverting into Islam by numerous Christian families. The letter states the conversion of 800 Catholics from upper and lower Debar and of another 800 people from Reka into Islam.
History science says that there was no single reason for accepting the Islam, but rather many motives. The main motive is the need for protection of the population (especially the one in the Reka region) from the Albanian gangs which were intruding from Albania and raiding the region on daily basis. In fact, the only way out from this state of raids and plunders done by Albanian kachaks – mainly from Ljuma and Mat – who also killed people, was accepting the Islam, as in that case the Ottoman Empire would provide more efficient protection of the inhabitants.
In addition, a strategic target of the Turks in late medieval period was creation of Muslim zone between rebellion Albanians and tactical ravines (Reka and Kičevo-Jama.
(Hrvatski)
JUŽNI SLAVENI .. MAKEDONCI .. MIJACI
Mijaci su makedonska etnička grupa iz zapadne Makedonije nastanjena u planinskim predjelima oko srednjeg toka rijeke Radike, gdje se bave stočarstvom. Glavna naselja su im Lazaropolje, Galičnik, Selce, Rosoki, Osoj, Gari, Sušica i Tresonče, koja sve više ostaju pusta jer mlađi Mijaci odlaze za kruhom u veće gradove (pečalba). Neki od Mijaka doselili su se i u druge krajeve, i to u četiri sela u okolici Debra, u veleški kraj, i područja kod Bitole, Smiljeva i Kičeva. Mijaci govore makedonskim jezikom i članovi su kršćansko-pravoslavne vjere odnosno pripadaju makedonskoj pravoslavnoj crkvi. Poznati su kao vrsni majstori i umjetnici (naročito) po vrsnom crtanju ikona i fresaka te drvorezima (manastir sveti jovan bigorski), a poznata je i njihova čipka. Dio Mijaka primio je u vrijeme širenja islama muslimansku vjeru, pa su ih ostali Mijaci prozvali Torbešima, to jest onima, koji su vjeru prodali za torbu. Ovaj podrugljivi naziv ukorijenio se, pa su ga prihvatili i sami Torbeši.
SOUTH SLAVS - Muslims by nationality was a term used in Socialist Federal Republic of Yugoslavia to describe mainly native Slavic Muslims. In connection to the national rebirth and awakening in Yugoslavia during the 1990s they are now officially historically recognized as Bosniaks, Gorani, Pomak, etc. However some people still consider themselves to be Muslims by nationality.
SOUTH SLAVS – Yugoslavs by nationality
Yugoslav (Bosnian: Jugosloveni; Macedonian, Serbian Cyrillic: Југословени; Latinic: Jugosloveni; Croatian: Jugoslaveni, Slovenian: Jugoslovani) is an ethnic designation used by some people in former Yugoslavia, which continues to be used in some of its successor countries.
In socialist Yugoslavia, 1943-1991, official designation for those who wanted to declared themselves that way was with quotation marks, "Yugoslavs" (introduced in census 1971). Quotation marks were added to distinguish the ethnicity from statehood (legal statuses such as citizenship), which was written without quotation marks.
A few years before the dissolution of Yugoslavia, most of those who declared themselves "Yugoslavs" reverted to or adopted traditional nationalities such as "Muslims" (in the sense of nationality), Croats, Macedonians, Montenegrins, Serbs, Slovenes as well as those which were played down including Janjevs, Bunjevci and Šokci etc) but the designation continues to be used by some.
It was estimated, according to comparison of census numbers, that "Yugoslavs" came mostly from constitutional Slavic peoples.
In the 2002 census, 49,881 inhabitants of the Serbian province Vojvodina declared themselves as "Yugoslav" (at a time when Serbia was part of the country still called FR Yugoslavia).